---
South Carolina State Symbols, Songs, and Emblems
For the latest symbols information, visit the NETSTATE CHRONICLE.
Designation
Symbol / Emblem
Adopted

Sources...

State of South Carolina. South Carolina Code of Laws. Columbia: State of South Carolina, 2011. Web. 1 Jun 2011. <http://www.scstatehouse.gov/code/statmast.htm>.
Shankle, George Earlie. State Names, Flags, Seals, Songs, Birds, Flowers, and Other Symbols. Irvine, Calif.: Reprint Services Corp, Revised edition, 1971.
Shearer, Benjamin F. and Barbara S. State Names, Seals, Flags and Symbols: A Historical Guide Third Edition, Revised and Expanded. Westport, Conn: Greenwood Press, 3 Sub edition, 2001.

American folk dance
Square dance
1994
Amphibian
Spotted salamander (Ambystoma maculatum)
1999
Animal
White-tailed deer (Odocoileus virginianus)
1972
Beverage
Milk
1984
Bird
Carolina wren (Thryothorus ludovicianus)
1948
Botanical garden
The botanical garden of Clemson University
1992
Butterfly
Tiger swallowtail (Pterourus glaucus)
1994
Color
Indigo blue
2009
Dance
The Shag
1984
Dog
Boykin spaniel (Canis lupus familiaris)
1985
Duck
Wood duck (Aix sponsa)
2009
Fish
Striped bass (Morone saxatilis)
1972
Flag
Find out more...
1776
Flower
Yellow jessamine (Gelsemium sempervirens)
1924
Folk art and crafts center
South Carolina Artisans Center, Walterboro
2000
Fossil
Columbian mammoth
2014
Fruit
Peach (Prunus persica)
1984
Grass
Indian grass (Sorghastrum nutans)
2001
Gem stone
Amethyst
1969
Great seal
Find out more...
1776
Hall of fame
South Carolina Hall of Fame, Myrtle Beach Convention Center
2001
Heritage horse
Marsh tacky (Equus caballus)
2010
Heritage work animal
Mule (Equus asinus

x

Equus caballus)
2010
Home of the beach music hall of fame
Coastal Carolina University
2009
Hospitality beverage
Tea
1995
Insect
Carolina mantid or praying mantis (Stagmomantis carolina Johnson)
1988
Language
English
1987
Lowcountry handcraft
Sweet grass basket
2006
Marine mammal
Bottlenose dolphin (Tursiops truncatus)
2009
Migratory marine mammal
Northern right whale (Eubalaena glacialis)
2009
Military academy
Camden Military Academy, Camden
2001
Music
The spiritual
1999
Opera
Porgy and Bess
2001
Pecan festival
South Carolina Pecan Festival in Florence County
2011
Picnic cuisine
Barbecue
2014
Pledge to state flag
Find out more...
1966
Poet laureate
Find out more...
1934
Popular music
Beach music
2001
Railroad museum
South Carolina Railroad Museum, Winnsboro, Fairfield County
1997
Reptile
Loggerhead turtle (Caretta caretta)
1988
Rural drama center
Abbeville Opera House, Abbeville
2001
Shell
Lettered olive (Oliva sayana)
1984
Snack food
Boiled peanuts
2006
Song
"Carolina," words by Henry Timrod, music by Anne Custis Burgess
1911
Song
"South Carolina on My Mind," by Hank Martin and Buzz Arledge
1984
Spider
Carolina wolf spider (Hogna carolinensis)
2000
Stone
Blue granite
1969
Tapestry
"From the Mountains to the Sea"
2000
Tartan
Find out more...
2002
Tobacco museum
South Carolina Tobacco Museum, Mullins
2004
Tree
Palmetto tree, commonly known as the cabbage palmetto (Inodes palmetto)
1939
Waltz
The Richardson Waltz," arranged by Mary S. Richardson Briggs
2000
Vegetable
Collard greens (Brassica oleracea)
2011
Wildflower
Goldenrod (Solidago altissima)
2003
Wild game bird
Wild turkey (Meleagris gallopavo)
1976
Making laws in South Carolina
The South Carolina legislature, called the South Carolina General Assembly, offers the "Student Connection," full of interesting information in sections called What goes on here?, Explore the state house, Cool stuff, Give me a hand, and What's happening?. To help understand how laws are made in South Carolina, one can review What Does the Legislature Do?; List of Memebers

; and Could My Idea Become Law?.
Additional Information
State Symbols & Emblems : A very nice compilation from the South Carolina General Assembly.


South Carolina
Facts and Symbols
Bill McAuliffe
South Carolina Facts and Symbols, by Bill McAuliffe. 24 pages. Publisher: Capstone Press; Rev Upd edition (August 2003) Reading level: Grades 3-4. Interest level: Grades 3-9. Perfect for report writing! Easy-to-read text covers major South Carolina symbols such as the state flag, seal, bird, tree, flower, animal, and more. A "Fast Facts" section highlights the state's capital city, largest city, physical size, population, natural resources, farm products, and primary manufactured goods. Also included are full-page maps that introduce the concept of the map key, which is great for teaching map-reading skills.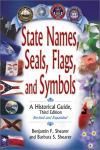 State Names, Seals
Flags and Symbols
Benjamin F. Shearer
Barbara S. Shearer
State Names, Seals, Flags and Symbols, by Benjamin F. Shearer, Barbara S. Shearer. 544 pages. Greenwood Press; 3 Sub edition (October 30, 2001) This is one of the best, and most comprehensive, books we could find about the official state names and nicknames, mottoes, seals, flags, capitols, flowers, trees, birds, songs, and miscellaneous designations of each state. This, coupled with the 1938 Shankle book, formed the basis of our symbol library. If you're serious about your states symbols, you'll want to have this book and the one below. This book also contains information about state holidays, license plates, sports teams, universities and other trivia.
State Names, Flags, Seals, Songs, Birds, Flowers, and Other Symbols, by George Earlie Shankle. 522 pages. Reprint Services Corp; Revised edition (June 1971) Reprint of the 1938 revised edition. The first comprehensive book about our state symbols! From the preface: "This book grew out of the desire of its author to know, about his native state, a great many facts which he found exceedingly difficult to obtain. After three years of research in the Library of Congress, he is able to give to the public this storehouse of information, which could have been gathered from not library less fertile in source material..."
Visit the NETSTATE South Carolina State Book Store for additional South Carolina related books, including South Carolina Reference Books, History, Biographies and Cookbooks.