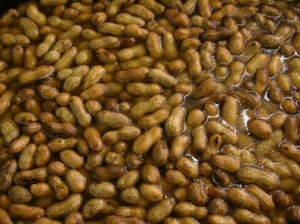 South Carolina State Snack Food: Boiled Peanuts
South Carolina Law
The following information was excerpted from the The South Carolina Code of Laws, title 1, chapter 1, article 9, section 1-1-682.
Title 1 - Administration of the Government
CHAPTER 1. GENERAL PROVISIONS
ARTICLE 9. STATE EMBLEMS, PLEDGE TO STATE FLAG, OFFICIAL OBSERVANCES
SECTION 1-1-682.
SECTION 1-1-682. Official state snack food.
Boiled peanuts are the official state snack food. Nothing in this section requires or encourages any school district in this State to serve peanuts to students, especially students with food allergies.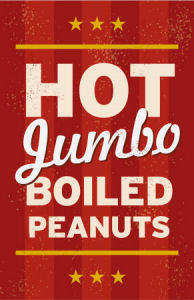 State Snack Food: Boiled Peanuts
Boiled peanuts poster
Additional Information
History of Boiled Peanuts: History of Boiled Peanuts from Linda Stradley's What's Cooking American.
Lee Bros. Boiled Peanuts Catalog: Boiled peanuts and southern fare from Matt and Ted Lee; the Lee Brothers.
Boiled Peanuts: Recipe posted by Elise on SimplyRecipes.com.
Boiled Peanuts: Recipe posted by Paula Deen on FoodNetwork.com.
Boiled Peanuts: Cookin' with Dave, the world's greatest chef, on YouTube.
Boiled peanuts
: Boiled peanuts in cans and pouches from Margaret Holmes, the Superior Nut Company, Sunland...
State foods: Complete list of official state foods from NETSTATE.COM.
More symbols & emblems: Complete list of official South Carolina state symbols from NETSTATE.COM.


The Lee Bros.
Simple Fresh Southern
Matt / Ted Lee
Simple Fresh Southern: Knockout Dishes with Down-Home Flavor, by Matt and Ted Lee. 256 pages. Publisher: Clarkson Potter; First Edition edition (November 3, 2009) From two South Carolina-bred brothers comes the ground-breaking cookbook for new Southern cooking: The Lee Bros. Simple, Fresh, Southern. Matt and Ted Lee were raised on long-simmered greens, slow-smoked meats, and deep-fried everything. But after years of traveling as journalists and with farm fresh foods more available than ever, Matt and Ted have combined the old with the new, infusing family recipes with bright flavors. Using crisp produce, lighter cooking methods, and surprising combinations, these are recipes to make any night of the week.

The Lee Bros.
Southern Cookbook
Matt / Ted Lee
The Lee Bros. Southern Cookbook: Stories and Recipes for Southerners and Would-be Southerners, by Matt and Ted Lee. 600 pages. Publisher: W. W. Norton & Company; Probable First Edition edition (October 17, 2006) From The New York Times food writers who defended lard and demystified gumbo comes a collection of exceptional southern recipes for everyday cooks. The Lee Bros. Southern Cookbook tells the story of the brothers' culinary coming-of-age in Charleston-how they triumphed over their northern roots and learned to cook southern without a southern grandmother. Here are recipes for classics like Fried Chicken, Crab Cakes, and Pecan Pie, as well as little-known preparations such as St. Cecilia Punch, Pickled Peaches, and Shrimp Burgers. Others bear the hallmark of the brothers' resourceful cooking style-simple, sophisticated dishes like Blackened Potato Salad, Saigon Hoppin' John, and Buttermilk-Sweet Potato Pie that usher southern cooking into the twenty-first century without losing sight of its roots. With helpful sourcing and substitution tips, this is a practical and personal guide that will have readers cooking southern tonight, wherever they live.