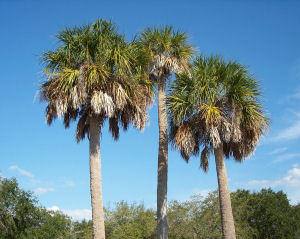 South Carolina state tree: Palmetto Tree
South Carolina Law
The following information was excerpted from the The South Carolina Code of Laws, title 1, chapter 1, article 9, section 1-1-660.
Title 1 - Administration of the Government
CHAPTER 1. GENERAL PROVISIONS
ARTICLE 9. STATE EMBLEMS, PLEDGE TO STATE FLAG, OFFICIAL OBSERVANCES
SECTION 1-1-660.
SECTION 1-1-660. Official State tree.
The palmetto tree is hereby designated and adopted as the official tree of the State.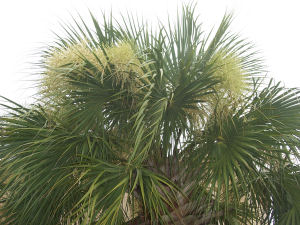 South Carolina state tree: Palmetto Tree
Additional Information
Plants & Edibles: The State Tree: The South Carolina Statehouse: Student Connection.
Palmetto Moon – Charleston, South Carolina: SCIWAY: South Carolina's Information Highway.
CalPhotos Photo Database: Photographs of Sabal palmetto from CalPhotos, a project of the Biodiversity Sciences Technology group (BSCIT), part of the Berkeley Natural History Museums at UC, Berkley.
Plant Profile for Sabal palmetto (L.) (Walter) Lodd. ex Schult. & Schult. f. (cabbage palmetto): USDA, NRCS. 2004. The PLANTS Database, Version 3.5 (http://plants.usda.gov). National Plant Data Center, Baton Rouge, LA 70874-4490 USA.
Sabal palmetto (Walt.) Lodd. ex J. A. & J. H. Schult (Cabbage Palmetto): United States Department of Agriculture: Forest Service: Agriculture Handbook 654: Silvics of North America.
Sabal palmetto - (Walt.) Lodd. ex J.A. & J.H. Schultes, Cabbage Palmetto: A network connecting science with conservation - NatureServe Explorer: An Online Encyclopedia of Life.
Sabal palmetto (Walter) Lodd. ex Schult. & Schult. f.: Integrated Taxonomic Information System (ITIS) Here you will find authoritative taxonomic information on spiders, animals, fungi, and microbes of North America and the world.
State Trees: Complete list of official state trees from NETSTATE.COM.
More symbols & emblems: Complete list of official South Carolina state symbols from NETSTATE.COM.


The Sabal Palm
A Native Monarch
Barbara Oehlbeck
The Sabal Palm: A Native Monarch, by Barbara Oehlbeck. 86 pages. Gulfshore Communications; First Edition edition (December 1996) This exhaustively researched yet simply written book includes the sabal palm's life history, its relationship with man and place within natural systems. With an introduction by Marjory Stoneman Douglas and a chapter by James Billie, Chief of the Seminole Tribe of Florida as well as contributions by other prominent botanists and conservationists, the book also includes delightful miscellany such as first-person accounts of 18th-century botanists of the tree, how hummingbirds construct nests using the trees, instructions on how to grow the trees from seed and transplant them and how to build a flutter mill of the fronds.


An Encyclopedia of
Cultivated Palms
Robert Lee Riffle
An Encyclopedia of Cultivated Palms, by Robert Lee Riffle. 528 pages. Publisher: Timber Press, Incorporated (February 1, 2003) Cowritten by the author of the award-winning The Tropical Look, An Encyclopedia of Cultivated Palms offers a definitive account of palms that may be grown in the garden and landscape. Because palms are often underutilized as a result of their unfamiliarity --- even to tropical gardeners --- Robert Lee Riffle and Paul Craft have exhaustively documented every genus in the palm family. Approximately 890 species are described in detail, including cold hardiness, water needs, height, and any special requirements. Generously illustrated with more than 900 photos, this volume is as valuable as an identification guide as it is a practical handbook. It even contains photos of several palm species that have never before appeared in a general encyclopedia. Interesting snippets of history, ethnobotany, and biology inform the text and make this a lively catalog of these remarkable plants.


Essential Guide
to Palms
David Leaser
Betrock's Essential Guide to Palms, by David Leaser. 99 pages. Publisher: Betrock Information Systems, Inc; 1st edition (November 15, 2007) The ultimate guide for selecting, growing, and maintaining palms. By David Leaser, author of several books and journal articles about palms including Palm Trees: A story in Photographs and Growing Palms in Hawaii. Includes an At-A-Glance PALM FINDER with characteristics of 279 Palm Species - Height, Spread, Light Requirements, Water Needs, Trunk Type, Minimum Temperatures, Leaf Type, Growth Rate, Salinity Tolerance and Key Traits. More than 300 color photographs. Tips on everything from propagating palms to preventing pests and diseases. Seasonal checklist for maintaining palms.


Timber Press
Pocket Guide to Palms
Robert Lee Riffle
Timber Press Pocket Guide to Palms, by Robert Lee Riffle. 240 pages. Publisher: Timber Press (February 14, 2008) Native to every continent except Antarctica, palms are most closely identified with tropical regions and one species in particular, Cocos nucifera, the coconut palm, is the universally recognized symbol of all things tropical. Yet, many palms can withstand freezing and thus can be grown in mild temperate climates where the average low temperature does not drop below 5°F (−15°C). In addition, palms thrive in a wide range of habitats from swamps to deserts, rain forests to plains and grasslands. Some prefer full sun, others deep shade. Some are stemless shrubs, others are solitary or clustering trees, and still others are vinelike, but all are evergreen.
Given such diversity and versatility, it is surprising that palms are underutilized in landscapes and gardens, even in tropical climes. This pocket guide remedies both problems. It unlocks the keys to successfully growing 200 of the most common and easily obtainable palm species and hybrids, and it highlights botanical characteristics that are of interest to gardeners and landscapers.


50 Seeds Sabal palmetto
Tropical Oasis
50 Seeds Sabal palmetto, Patio tree, specimen plant, mass planting, or container plant. Indoors or outdoors. Selected for use where tropical effect is desired. Medium sized, spineless, evergreen palm. Un-branching trunk. Very large, fan-shaped leaves that form a circular crown. When young, gray-brown trunk is rough and covered with old boots of leaf stalks. These stalks fall away, revealing the trunk as the palm matures. Large clusters of inconspicuous flowers appear among the leaves when plants are mature. Fast and easy to grow, particularly in moist, sandy soil. Quite likes wet feet and is also salt tolerant. Seeds germinate easily. Hardy zone 7-10.