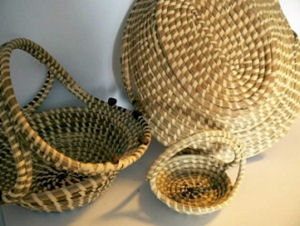 State Lowcountry Handcraft: Sweet Grass Basket
Photograph: Teresa Prendusi
South Carolina Law
The following information was excerpted from the The South Carolina Code of Laws, Title 1, Chapter , Article 9, section 1-1-676.
Title 1 - Administration of the Government
CHAPTER 1. GENERAL PROVISIONS
ARTICLE 9. STATE EMBLEMS, PLEDGE TO STATE FLAG, OFFICIAL OBSERVANCES
SECTION 1-1-676.
SECTION 1-1-676. Official State lowcountry handcraft.
The sweet grass basket is the official state lowcountry handcraft.
Additional Information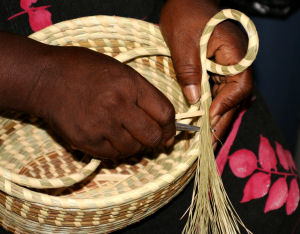 Sweetgrass basket-making demonstration
Photograph: Purdue University, Purdue News Service
Information and History About the Sweetgrass Basket: From "Simply Baskets Basket Shop," a seller of a wide variety of handcrafted baskets.
Sweetgrass: History, Basketry, and Constraints to Industry Growth: 1993 paper from Purdue University's Center for New Crops & Plants Products.
Grass Roots: African Origins of an American Art - Touring Exhibit: This exhibit organized by the Museum for African Art in collaboration with the Avery Research Center for African American History and Culture at the College of Charleston and the McKissick Museum at the University of South Carolina features approximately 225 objects including baskets from the Lowcountry of South Carolina and Georgia and from diverse regions of Africa, as well as African sculpture from the rice-growing societies which, through the agency of the trans-Atlantic slave trade, exported their cultures to America.
Coiled Gullah Sweetgrass Basketry: A comprehensive informational site for basketmakers, basket artists, vendors of basketmaking materials and all others interested in the art of basket weaving.
Mt. Pleasant's sweetgrass basket makers go further afield to obtain materials : 2008 Charleston City Paper article about grass shortage.
Centuries-old basket-weaving tradition in S.C. is threatened: 2007 Savannah Morning News article. This news story about how rapid development has negatively impacted Gullah Sweetgrass Basketry.
Collecting Baskets - Is This Basket a Fake?: Charleston's sweetgrass basketmakers are finding it difficult to compete with baskets made in China. Lowcountry sweetgrass basket "sewers" are concerned about cheap knockoffs from abroad. The article includes tips about some of the telltale characteristics of an import so that collectors can recognize the difference between the two.
The Origin of Sweetgrass Baskets: From Sciway.Net, gateway to South Carolina.
More symbols & emblems: Complete list of official South Carolina state symbols from NETSTATE.COM.

Sweetgrass Baskets and
the Gullah Tradition
Joyce V. Coakley
Sweetgrass Baskets and the Gullah Tradition, by Joyce V. Coakley. 128 pages. Publisher: Arcadia Publishing (January 16, 2006) The ancient African art of sweetgrass basket making has been practiced for more than 300 years in the Christ Church Parish of Mount Pleasant, South Carolina. Seen on the roadways of Charleston County and in museums and galleries worldwide, these unique handmade baskets are crafted from sweetgrass, bullrush, pine needles, and palm leaves. Traditionally, artisans use a piece of the rib bone of a cow and a pair of scissors as their only tools for construction. When English settlers founded Christ Church Parish in the late 1600s, they saw a place rich in natural beauty and ideal for harvesting rice, cotton, and indigo. Skilled agricultural laborers were needed, and consequently, South Carolina became the top importer of enslaved West Africans. Finding a landscape similar to their homeland, those who came kept many of their traditional practices. Today, the richness of the West African presence can be seen in Charleston's architecture, basketry, and ironworks.


Row upon Row
Dale Rosengarten
Row upon Row: Sea Grass Baskets of the South Carolina Lowcountry, by Dale Rosengarten. 68 pages. Publisher: Univ of South Carolina (September 1986) The persistence of the coiled sea grass basket tradition over a span of three centuries is a tribute to the African American basketmakers who value their craft as an important part of their cultural heritage and as a means of self-expression. The tradition faces many challenges from increasing modernization in the lowcountry. As better economic opportunities arise, daughters undoubtedly will turn away from the craft of their mothers and grandmothers to pursue more profitable work. But, according to one basketmaker reflecting on whether her children will continue the tradition, "It may be hard for them to see it, but days will come when they will sew baskets... This basket here is strictly just in the lowcountry, and if the generation don't take it up when we gone, it's going to die away. But, they will sew baskets. They will, time will come, they will sew."