South Carolina Law
The following information was excerpted from the The South Carolina Code of Laws, Title 1, Chapter , Article 9, section 1-1-692.
Title 1 - Administration of the Government
CHAPTER 1. GENERAL PROVISIONS
ARTICLE 9. STATE EMBLEMS, PLEDGE TO STATE FLAG, OFFICIAL OBSERVANCES
SECTION 1-1-692.
SECTION 1-1-692. Official State beverage.
South Carolina grown tea is designated as the official hospitality beverage of the State.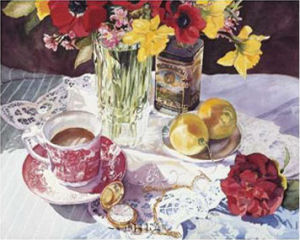 Official state hospitality beverage: Tea
Prints, posters, photographs
Additional Information
South Carolina ? History of South Carolina Tea Farms: SCIWAY: South Carolina's Information Highway.
Charleston Tea Plantation: Official website. The Charleston Tea Plantation is located on historic Wadmalaw Island in the heart of the Lowcountry of South Carolina.
American Classic Tea: Article by Sally Bernstein.
Bigelow buys South Carolina tea plantation: 2003 article in USAToday.
State Beverages: Complete list of official state beverages from NETSTATE.COM.
More symbols & emblems: Complete list of official South Carolina state symbols from NETSTATE.COM.

The Story of Tea
The Story of Tea: A Cultural History and Drinking Guide, by Mary Lou Heiss and Robert J. Heiss. 432 pages. Publisher: Ten Speed Press (October 1, 2007) Whether it's a delicate green tea or a bracing Assam black, a cup of tea is a complex brew of art and industry, tradition and revolution, East and West. In this sweeping tour through the world of tea, veteran tea traders Mary Lou Heiss and Robert J. Heiss chronicle tea's influence across the globe and provide a complete reference for choosing, drinking, and enjoying this beverage.
The Story of Tea begins with a journey along the tea trail, from the lush forests of China, where tea cultivation first flourished, to the Buddhist temples of Japan, to the vast tea gardens of India, and beyond. Offering an insider'?s view of all aspects of tea trade, the Heisses examine Camellia sinensis, the tea bush, and show how subtle differences in territory and production contribute to the diversity of color, flavor, and quality in brewed tea. They profile more than thirty essential tea varietals, provide an in depth guide to tasting and brewing, and survey the customs and crafts associated with tea. Sharing the latest research, they discuss tea's health benefits and developments in organic production and fair trade practices. Finally, they present ten sweet and savory recipes, including Savory Chinese Marbled Eggs and Green Tea Pot de Cr?me, and resources for purchasing fine tea.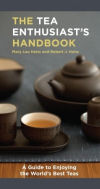 The Tea
Enthusiast's Handbook
The Tea Enthusiast's Handbook: A Guide to the World's Best Teas, by Mary Lou Heiss and Robert J. Heiss. 208 pages. Publisher: Ten Speed Press; 1 edition (March 30, 2010) Did you know that tea is the most widely consumed beverage on the planet after water? Or that all of the world?s tea originates from only three varieties of a single plant? While a cup of tea may be a simple pleasure for most of us, there are a dizzying number of tastes from which to choose. And every tea, whether a delicately sweet green tea from Japan or a bracing, brisk Darjeeling black, tells a story in the cup about the land that nurtured it and the tea-making skills that transformed it.
In this authoritative guide, veteran tea professionals Mary Lou and Robert J. Heiss provide decades of expertise on understanding tea and its origins, the many ways to buy tea, and how to explore and enjoy the six classes of tea (green, yellow, white, oolong, black, and Pu-erh). Additional advice on steeping the perfect cup and storing tea at home, alongside a gallery of more than thirty-fi ve individual teas with tasting notes and descriptions make The Tea Enthusiast's Handbook a singular source of both practical information and rich detail about this fascinating beverage.
Victoria The Essential Tea Companion: Favorite Menus for Tea Parties and Celebrations, by Kim Waller. 204 pages. Publisher: Hearst (May 5, 2009) Whether we?re enjoying a morning break, a quiet afternoon respite, or a soothing moment at day?s end, tea is a ready indulgence. And Victoria has the ideal accompaniment to this celestial beverage.
Victoria The Essential Tea Companion collects the best of three classic Victoria books in a single completely redesigned and beautiful volume. It serves up history and lore, advice on brewing the perfect pot, notes on collectible china, and best of all, menus for eight themed parties, from a children?s tea to a bridal shower. Here are more than 100 recipes for sandwiches, scones, tarts, cakes, savories, breads, and biscuits, as well as flavored teas both hot and iced, and honeys, spreads, and jams. An authoritative appendix provides the elegant final touch.