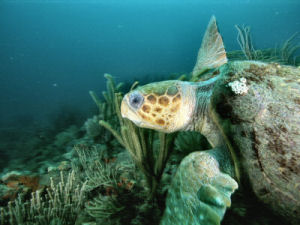 State Reptile: Loggerhead Turtle (Caretta caretta)
Photographs, prints, posters
South Carolina Law
The following information was excerpted from the The South Carolina Code of Laws, Title 1, Chapter 1, Article 9, Section 1-1-625.
Title 1 - Administration of the Government
CHAPTER 1. GENERAL PROVISIONS
ARTICLE 9. STATE EMBLEMS, PLEDGE TO STATE FLAG, OFFICIAL OBSERVANCES
SECTION 1-1-625.
SECTION 1-1-625. Official State reptile.
The loggerhead turtle (Caretta caretta) is the official reptile of the State.
HISTORY: 1988 Act No. 588, Section 1.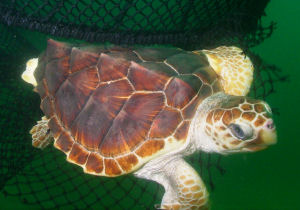 State Reptile: Loggerhead Turtle (Caretta caretta)
Photograph: National Oceanic and Atmospheric Administration
Photographs, prints, posters
Additional Information
Caretta caretta, Loggerhead Sea Turtle: MarineBio Conservation Society.
Loggerhead Turtle (Caretta caretta): National Oceanic and Atmospheric Asscociation(NOAA): National Marine Fisheries Service, Office of Protected Resources.
Sea Turtles: Defenders of Wildlife website.
Caretta caretta (loggerhead sea turtle): The University of Michigan Museum of Zoology: Animal Diversity Web.
Caretta caretta - (Linnaeus, 1758), Loggerhead: A network connecting science with conservation - NatureServe Explorer: An Online Encyclopedia of Life.
Caretta caretta (Linnaeus, 1758): Integrated Taxonomic Information System (ITIS) Here you will find authoritative taxonomic information on plants, animals, fungi, and microbes of North America and the world.
Loggerhead Images: World Wide Web.
State Reptiles: Complete list of official state reptiles from NETSTATE.COM.
More symbols & emblems: Complete list of official South Carolina state symbols from NETSTATE.COM.


Into the Sea
Brenda Z. Guiberson
Into the Sea, by Brenda Z. Guiberson. 32 pages. Publisher: Henry Holt and Co. (BYR); 1st edition (August 15, 1996) Reading level: Ages 4-8. A beautiful, compelling book about the fragile life cycle of the endangered sea turtle. Experience the life of a female sea turtle as she breaks from her shell, splashes into the sea, and navigates for survival, eventually returning to the place of her birth to lay eggs.
"In particular, the illustration of the tropical coral reef will attract many viewers, both for its scientific detail and for its intriguing composition. A perfect choice for primary oceanography or endangered species units, this has a strong-enough story to use as a read-aloud as well." --Kay Weisman (Booklist).


Sea Turtles
Mary Jo Rhodes
Sea Turtles (Undersea Encounters), by Mary Jo Rhodes. 48 pages. Publisher: Scholastic Library Publishing (September 2005) Reading level: Ages 9-12. Experience an underwater adventure! The series has been praised by the National Science Teachers Association for its "fabulous images" and for its potential to "spark a deeper interest in marine science." Photographs by award-winning National Geographic photographer David Hall. More than any other series, Undersea Encounters paints a complete and fascinating picture of the marine environment.

Loggerhead Sea Turtles
Loggerhead Sea Turtles, Edited by Alan B. Bolten and Blair E. Witherington. 352 pages. Publisher: Smithsonian Books (October 17, 2003) Sea turtles have been the focus of research and intense conservation efforts for decades and the Loggerhead Sea Turtle, currently listed as a threatened species, is arguably one of the best studied of the seven species. Loggerhead Sea Turtles brings together, for the first time, international experts to synthesize the knowledge of Loggerhead biology and conservation and sets the stage for future ecological, biological, and conservation research. Highly detailed coverage includes diet, growth, nesting, migration, habitat selection, and conservation.


Sea Turtles
James R. Spotila
Sea Turtles: A Complete Guide to Their Biology, Behavior, and Conservation, by James R. Spotila. 240 pages. Publisher: The Johns Hopkins University Press (October 26, 2004) For more than a hundred million years, sea turtles have been swimming in the world's oceans. These magnificent, long-lived creatures spend their lives in the water, coming ashore to lay their eggs. Upon hatching, the baby turtles leave the nest and enter a dangerous world of storms and predators. The females will return to the same beach to lay their own eggs when they reach maturity a decade later. Today, there are seven species of sea turtle: the grass–eating green turtle; the sea sponge–eating hawksbill; the olive ridley; the Kemp's ridley, which is the smallest species; the loggerhead; the flatback of Australia; and the giant leatherback. Having escaped the mass extinction that wiped out the dinosaurs, these ancient reptiles today face new dangers that threaten their survival: pollution, hunting, and the destruction of their nesting grounds.
Winner, Professional and Scholarly Publishing Awards in Biological Sciences; Winner, National Outdoor Book Award, Nature and the Environment; Outstanding Academic Title, Choice Magazine.