---
Texas State Symbols, Songs, and Emblems
For the latest symbols information, visit the NETSTATE CHRONICLE.
Designation
Symbol / Emblem
Adopted

Sources...

"Legislation." Legislative Reference Library of Texas. Legislative Reference Library of Texas, 2012. Web. 3 Mar 2012. <http://www.lrl.state.tx.us/legis/billsearch/lrlhome.cfm>.
"Texas Constitution and Statutes." Texas Legislature Online. Texas State Legislature, 2012. Web. 3 Mar 2012. <http://www.statutes.legis.state.tx.us/>.
"State Symbols." Texas State Library and Archives Commission. Texas State Library and Archives Commission, 09 Jan 2012. Web. 3 Mar 2012. <https://www.tsl.state.tx.us/ref/abouttx/symbols.html>.
Shankle, George Earlie. State Names, Flags, Seals, Songs, Birds, Flowers, and Other Symbols. Irvine, Calif.: Reprint Services Corp, Revised edition, 1971.
Shearer, Benjamin F. and Barbara S. State Names, Seals, Flags and Symbols: A Historical Guide Third Edition, Revised and Expanded. Westport, Conn: Greenwood Press, 3 Sub edition, 2001.

10K
Texas Round-Up 0K
2005
Air force
Confederate Air Force
1989
Amphibian
Texas toad (Bufo speciosus)
2009
Aquarium
Texas State Aquarium, Corpus Christi
1985
Bird
Mockingbird (Mimus polyglottos)
1927
Bison herd
Texas bison herd ad Caprock State Park
2011
Bluebonnet city
Ennis
1997
Bluebonnet festival
The Chappell Hill Bluebonnet Festival
1997
Bluebonnet trail
Ennis Bluebonnet Trail
1997
Bread
Pan de campo, also called cowboy bread
2005
Butterfly Capital
Jasper
2015
Cooking implement
Cast iron Dutch oven
2005
Cobbler
Peach cobbler
2013
Cotton gin museum
Burton Cotton Gin & Museum, Burton
2009
Dinosaur
Paluxysaurus jonesi
2009
Dish
Chili
1977
Dog breed
Blue Lacy (Canis lupus familiaris)
2005
Domino game
42
2011
Epic poem
"The Legend of Old Stone Ranch"
1969
Fiber and fabric
Cotton (Genus Gossypium)
1997
Fish
Guadalupe bass (Micropterus treculi)
1989
Flag
Find out more...
1839
Flower
Bluebonnet (Lupinus subcarnosus)
1901
Flower song
"Bluebonnets," by Julia D. Booth and Lora C. Crockett.
1933
Flying mammal
Mexican free-tailed bat (Tadarida brasiliensis)
1995
Folk dance
Square dance
1991
Footwear
Cowboy boot
2007
Fruit
Texas red grapefruit (Citrus X paradisi)
1993
Gem
Texas blue topaz
1969
Gemstone cut
Lone Star Cut
1977
Grass
Sideoats grama (Bouteloua curtipendula) (Michx.) Torr.
1971
Hat
Cowboy hat
2015
Hashtag of the State of Texas
#Texas
2015
Hashtag of the Texas Legislature
#texleg
2015
Hashtag of Texas Tourism
#TexasToDo
2015
Hero
Earl Campbell
1981
Hero
Carl Lewis
1985
Health nut
Pecan (Carya illinoinensis)
2001
Home of "Old Rip--The Most Famous Horned Toad in Texas."
Eastland
2001
Horned lizard capital of Texas
Kenedy
2001
Horse
American quarter horse (Equus caballus)
2009
Insect
Monarch butterfly (Danaus plexippus)
1995
Large state mammal
Longhorn (Bos taurus)
1995
Longhorn herd
Texas Parks and Wildlife's foundation herd
1969
Maritime museum
Texas Maritime Museum, Rockport, Aransas County
1987
Music
Western swing
2011
Musical instrument
Guitar
1997
Native pepper
Chiltepin (Capsicum annuum)
1997
Native shrub
Texas purple sage (Leucophyllum frutescens)
2005
Pastries
Sopaipilla and Strudel (Until January 31, 2005)
2003
Pepper
Jalapeno (Capsicum annuum)
1995
Pie
Pecan pie
2013
Plant
Prickly pear cactus (Opuntia spp.)
1995
Plays
"The Lone Star," presented in Galveston Island State Park until 1990.
"Texas," presented in Palo Duro Canyon State Park.
"Beyond the Sundown," presented at the Alabama-Coushatta Indian Reservation.
"Fandangle," presented in Shackelford County.
1979
Pledge to the flag
Find out more...
1933
Pollinator
Western honey bee (Apis mellifera)
2015
Precious metal
Silver
2007
Railroad
Texas State Railroad
2003
Reptile
Horned lizard (Phrynosoma cornutum)
1993
Rodeo drill team
Ghostriders
2007
Saltwater fish
Red drum (Sciaenops ocellatus)
2011
Sea turtle
Kemp's ridley sea turtle (Lepidochelys kempii)
2013
Shell
Lightning whelk (Busycon contrarium)
1987
Ship
Battleship Texas
1995
Shrub
Crape myrtle (Lagerstroemia)
1997
Small mammal
Armadillo (Family: Dasypodidae)
1995
Snack
Tortilla chips and salsa
2003
Song
"Texas, Our Texas," words by William J. Marsh and Gladys Yoakum Wright, music by William J. Marsh.
1929
Sport
Rodeo
1997
State seal
Find out more...
1845
Stone
Petrified palmwood
1969
Tall ship
Elissa
2005
Tartan
Find out more...
1989
Tejano music hall of fame
Tejano Music Hall of Fame, Alice
2001
Tie
Bolo tie
2007
Tree
Pecan tree (Carya illinoinensis)
1919
Vegetable
Sweet onion
1997
Vaquero Capital
Jim Hogg County
2015
Vehicle
Chuck wagon
2005
Waterlily
Nymphaea Texas Dawn
2011
Making laws in Texas
The Texas legislature offers information about itself on two distinct levels.
Each house of the Legislature maintains a section devoted to "kids." The House of Representatives' interactive "Kid's House, Where Texas Kids Meet Texas State Government," breaks down a general presentation into three level, grades 1-3, grades 4-6, and grades 7-8. The Texas Senate also maintains an interactive section called Senate Kids. It breaks down its presentation into sections for grades 4+ and grades 3-.
The 2007 Citizen Handbook: How the Legislature Works

is a comprehensive guide and is obviously intended for adults. You may find the Legislative Lexicon--January 2011

, published by the Texas Senate Research Center, a useful companion to the Citizen Handbook.
Additional Information
Texas State Symbols: List of adopted symbols - Texas State Library and Archives Commission.
TPWD Kids: Texas Symbols: Texas animal symbols and coloring book - Texas Parks and Wildlife Department.
Flags & Other Symbols: Texas State Historical Association: Texas Almanac.


Texas
Facts and Symbols
Emily McAuliffe
Texas Facts and Symbols, by Emily McAuliffe. 24 pages. Publisher: Capstone Press; Rev Upd edition (August 2003) Reading level: Grades 3-4. Interest level: Grades 3-9. Perfect for report writing! Easy-to-read text covers major Texas symbols such as the state flag, seal, bird, tree, flower, animal, and more. A "Fast Facts" section highlights the state's capital city, largest city, physical size, population, natural resources, farm products, and primary manufactured goods. Also included are full-page maps that introduce the concept of the map key, which is great for teaching map-reading skills.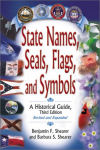 State Names, Seals
Flags and Symbols
Benjamin F. Shearer
Barbara S. Shearer
State Names, Seals, Flags and Symbols, by Benjamin F. Shearer, Barbara S. Shearer. 544 pages. Greenwood Press; 3 Sub edition (October 30, 2001) This is one of the best, and most comprehensive, books we could find about the official state names and nicknames, mottoes, seals, flags, capitols, flowers, trees, birds, songs, and miscellaneous designations of each state. This, coupled with the 1938 Shankle book, formed the basis of our symbol library. If you're serious about your states symbols, you'll want to have this book and the one below. This book also contains information about state holidays, license plates, sports teams, universities and other trivia.
State Names, Flags, Seals, Songs, Birds, Flowers, and Other Symbols, by George Earlie Shankle. 522 pages. Reprint Services Corp; Revised edition (June 1971) Reprint of the 1938 revised edition. The first comprehensive book about our state symbols! From the preface: "This book grew out of the desire of its author to know, about his native state, a great many facts which he found exceedingly difficult to obtain. After three years of research in the Library of Congress, he is able to give to the public this storehouse of information, which could have been gathered from not library less fertile in source material..."
Visit the NETSTATE Texas State Book Store for additional Texas related books, including Texas Reference Books, History, Biographies and Cookbooks.