---
Dbl click any word in
document for definition.
Texas State Native Pepper
Chiltepin
Capsicum annuum
Adopted:
June 18, 1997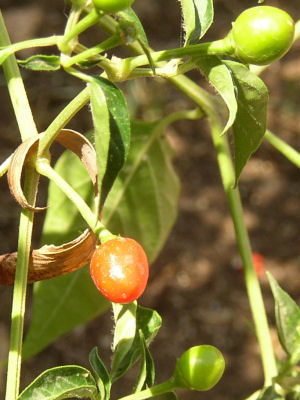 Texas State Native Pepper: Chiltepin
This file is licensed under the Creative Commons
Attribution-Share Alike 3.0 Unported license.
Scoville heat units, a heat factor assigned to peppers, is measured in multiples of 100 units. Sweet bell peppers are assigned a value of 0 Scoville heat units.
It should be noted that the heat units produced by a particular variety can be greatly influenced by growing conditions, environment, water, and heat.
The Texas chiltepin registers 100,000 ~ 265,000 in Scoville heat units. In addition to being native to the State of Texas, it's also generally much hotter--about 20 times as hot--than the jalapeño (2,500 ~ 9,000), named the official state pepper in 1995.
When adopted back in 1995, the jalapeño was described as a "culinary, economic, and medical blessing to the citizens of the Lone Star State." This would seem a hard act to follow.
On the other hand, the chiltepin is simply described as an "endemic" natural resource, and an "integral part of our heritage;" faint praise, in our opinion, to that received by the jalapeño.
Perhaps being a native pepper that will serve as a global ambassador for the State of Texas... and being hotter than the jalapeño, is enough.
Read on...
H.C.R. No. 82

HOUSE CONCURRENT RESOLUTION

WHEREAS, The Lone Star State's reputation as a haven for lovers of hot and spicy food is well deserved, and the native chiltepin pepper has contributed greatly to this proud legacy; and

WHEREAS, A member of the genus Capsicum, the chiltepin grows wild in our temperate climate and is both undeniably American and typically Texan; its distinctive flavor makes it ideal for hearty stews and red hot Texas chili, and it is a staple in many Tex Mex favorites; and

WHEREAS, Even the mockingbird, our state bird, recognizes the appeal of this piquant pod, choosing to dine on it almost exclusively when the pepper is in season; wild turkeys, too, are often seen feeding on these tasty little morsels, and these and other fruit eating wild birds play a vital role in the chiltepin's proliferation; and

WHEREAS, Found in abundance from the southern United States to northern South America, the chiltepin has been used for many years by the various peoples who have populated our great state; known variously as chile mosquito and chile bravo, the Spanish described this zesty fruit as "arrebatado," meaning that although its spiciness is immediate and intense, this bold sensation does not linger long; and

WHEREAS, The chiltepin is used in both fresh and dried forms, combined with vinegar to make a tangy sauce or sprinkled into soup to provide just the right seasoning; perhaps the most amazing attribute of this indigenous spice is that it has been shown to increase the human metabolism by as much as 25 percent, making it a promising means of controlling weight gain; and

WHEREAS, The chiltepin's storied history even includes a footnote to one of our greatest American presidents, Thomas Jefferson; an avid gardener, President Jefferson acquired some of these exotic tiny peppers from a fellow horticulturist and displayed a keen interest in establishing a market for this Texas pepper; and

WHEREAS, It is important to acknowledge and promote our endemic natural resources, for they are an integral part of our heritage and help to make us recognizable to other cultures around the globe; the chiltepin is Texas' only native pepper, and its long history and wide variety of uses make it truly deserving of special recognition and endorsement; now, therefore, be it

RESOLVED, That the 75th Legislature of the State of Texas hereby declare the chiltepin the official State Native Pepper of Texas.
The chiltepin became the official native pepper of Texas when Governor George W. Bush signed House Concurrent Resolution No. 82 on June 18, 1997.
Additional Information

Chiltepin: EatMoreChiles.com.
Chiltepin: The Jalapeño Cafe.
Chiltepin Chili Peppers: Chili Pepper Madness.
State vegetables: Complete list of official state vegetables from NETSTATE.COM
More symbols & emblems: Complete list of official Texas state symbols from NETSTATE.COM.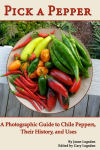 Pick a Pepper
Jason W Logsdon
Pick a Pepper: A Photographic Guide to Chile Peppers, Their History, and Uses, by Jason W Logsdon. 88 pages. Publisher: CreateSpace (March 18, 2011) Here is a look at 39 different chile peppers. Some, like the jalapeno, are well known and common while others are obscure and specific to their region. Some are mild like the Anaheim and some are so hot they are literally being used as weapons. Regardless of the properties, each one of these peppers plays an important part in at least one culture around the world.


The Peppers Cookbook
Jean Andrews
The Peppers Cookbook: 200 Recipes from the Pepper Lady's Kitchen, by Jean Andrews. 229 pages. Publisher: Texas A&M University Press (June, 2005) Award-winner Jean Andrews has been called "the first lady of chili peppers" and her own registered trademark, "The Pepper Lady." She now follows up on the success of her earlier books, Peppers: The Domesticated Capsicums and The Pepper Trail, with a new collection of more than two hundred recipes for pepper lovers everywhere. Andrews begins with how to select peppers (with an illustrated glossary provided), how to store and peel them, and how to utilize various cooking techniques to unlock their flavors. A chapter on some typical ingredients that are used in pepper recipes will be a boon for the harried cook. The Peppers Cookbook also features a section on nutrition and two indexes, one by recipe and one by pepper type, for those searching for a recipe to use specific peppers found in the market.
The majority of the book contains new recipes along with the best recipes from her award-winning Pepper Trail book. The mouth-watering recipes herein range from appetizers to main courses, sauces, and desserts, including Roasted Red Pepper Dip, Creamy Pepper and Tomato Soup, Jicama and Pepper Salad, Chipotle-Portabella Tartlets, Green Corn Tamale Pie, Anatolian Stew, South Texas Turkey with Tamale Dressing, Shrimp Amal, Couscous-Stuffed Eggplant, and Creamy Serrano Dressing.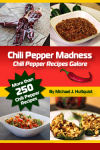 Chili Pepper Madness
Michael Hultquist
Chili Pepper Madness: Chili Pepper Recipes Galore, by Michael Hultquist. 328 pages. Publisher: CreateSpace (March 18, 2011) 250+ chili pepper recipes. Are you a chili pepper lover? Do you demand heat and flavor with your meals? Did your garden bless you with an overabundance of chili peppers this year? This book is for you!
This fun and crazy chili pepper book contains step-by-step recipes for a multitude of occasions. You'll never wonder what to do with all those chili peppers again!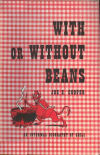 With or Without Beans
Joe E. Cooper
With or Without Beans: An Informal Biography of Chili, by Joe E. Cooper. 247 pages. Publisher: William H. Henson (1952) A compendium to perpetuate the internationally-famous Bowl Of Chili (Texas Style). Not strictly a cookbook, With or Without Beans is a book of wit, philosophy, humor, history and whimsey with some "bowl of red" receipe's and chili making methods of various men who made chili including the comments and writings of over a hundred statesmen, authors, military men, journalists and humorists on the subject.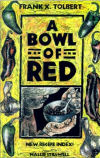 A Bowl of Red
Frank X. Tolbert
A Bowl of Red, by Frank X. Tolbert. 200 pages. Publisher: TAMU Press (January 2, 2002) Written by the late Dallas newspaper columnist, author, and namesake of Terlingua International Frank X. Tolbert - Wick Fowler Championship Chili Cookoff, A Bowl of Red is an entertaining history of the peppery cowboy cuisine. This new printing of the book is based on Tolbert's 1972 revised edition, in which he describes the founding of the World Championship Chili Cookoff, now held annually in the ghost town of Terlingua, Texas.
Foreword by Hallie Crawford Stillwell: For this edition, Big Bend resident rancher Hallie Stillwell has added her voice and favorite chili recipe to her friend Frank X. Tolbert's classic book, A Bowl of Red.
Hallie Stillwell was one of the three judges at the first Terlingua cookoff, held in 1967. "We were blindfolded to sample the chili," the ninety-six-year-old writer/rancher says in her foreword. She voted for one of the milder concoctions; another judge cast his vote for a hotter version. The third judge, who was mayor of Terlingua, sampled each pot but then pronounced his taste buds paralyzed and declared the contest a tie. There's been a "rematch" in Terlingua every November since then. "I have never failed to attend," Stillwell says.


The Ultimate
Chili Cookbook
W. C. Jameson
The Ultimate Chili Cookbook, by W. C. Jameson. 219 pages. Publisher: Taylor Trade Publishing (February 17, 1999) More than any other food, a big ol' steaming hot bowl of chili is recognized as the premier Texas dish. This book explores the long history of chili, from the early San Antonio Chili Queens to the many different cultural approaches to preparing chili that have evolved throughout the U.S. It also includes fascinating folklore and over 135 mouth-watering recipes for this most favored dish.