---
Double click any word in document for definition.
Texas State Sport
Rodeo
Adopted:
June 18, 1997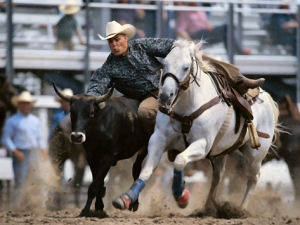 Texas State Sport: Rodeo (steer wrestling or bulldogging)
Photographs, posters, prints
The competitive sport of rodeo grew out of a set of skills that cowboys were required to develop for working and herding cattle.
Current rodeo events, involving horses and other livestock, are designed to test the skill, speed and ruggedness of participants. The events fall into two general categories; rough stock events and timed events.
Learn more at
ProRodeo.Com
!
State Representative Bill Siebert authored House Concurrent Resolution No. 21 and filed the bill on December 19, 1996.
The resolution was passed without fanfare though it was amended in the Senate to add Fort Worth as one of the "internationally known rodeos."
H.C.R. No. 21

HOUSE CONCURRENT RESOLUTION

WHEREAS, Texas is blessed with a rich and colorful history, and no event captures the unique spirit of the Lone Star State better than rodeo; and

WHEREAS, The cattle industry of the Southwest flourished throughout the 1800s, but the fencing of the open range in the latter part of that century forever changed the nomadic existence of the cowboy; bronc riding and roping contests at community celebrations quickly gained popularity as opportunities for cowboys to test their skills against counterparts from other ranches, and these informal contests eventually gave way to organized competitions that awarded prize money to the top finishers; and

WHEREAS, From the earliest days of the sport, Texas has played a key role in the development of the modern rodeo; the world's first recorded rodeo was held in Pecos in 1883, and Fort Worth staged the first indoor rodeo in 1917; Rockdale's legendary Bill Pickett laid the foundation for the popular steer wrestling event when he developed a method of bulldogging a steer by the lip, and his success on the rodeo circuit opened the door for other African American cowboys; and

WHEREAS, Problems soon emerged for the competitors, however, and when the need for an organization representing the cowboys' interests became apparent, Texas was again at the leading edge; the Rodeo Cowboys Association, the forerunner to today's famed Professional Rodeo Cowboys Association (PRCA), was established in Houston in 1945, and renowned Bandera calf roper Toots Mansfield, a seven time world champion, was installed as its first president; and

WHEREAS, Female competitors such as Fort Worth's Barbara Inez "Tad" Lucas also gained fame and fortune on the rodeo circuit in the early part of this century, and cowgirls eventually banded together to establish the Women's Professional Rodeo Association in San Angelo; many of these women have been honored for their unique contributions in the National Cowgirl Hall of Fame, which is located in Fort Worth; and

WHEREAS, Today, internationally known rodeos in Houston, Fort Worth, and San Antonio, as well as countless others across the state, continue the Lone Star rodeo legacy and preserve this invaluable link to our past; no other sport so embodies the independence, fortitude, and courage exhibited by our state's forebears, and thus the rodeo holds a special place in the hearts of all Texans; now, therefore, be it

RESOLVED, That the 75th Legislature of the State of Texas hereby declare rodeo to be the official sport of Texas.
Rodeo became the official sport of Texas when Governor George W. Bush signed House Concurrent Resolution No. 21 on June 18, 1997.
Rodeo is also the state sport of South Dakota (2003) and Wyoming (2003). Florida named the Silver Springs Rodeo, in Kissimmee, an official state rodeo in 1994.
Additional Information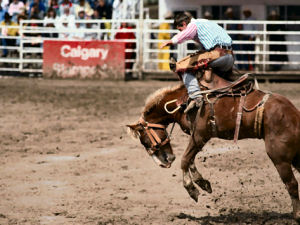 Texas State Sport: Rodeo (Saddle bronc riding)
Photographs, posters, prints
Fort Worth Stock Show and Rodeo: Official website.
Houston Livestock Show and RodeoTM: Official website.
San Antonio Stock Show & Rodeo: Official website.
The Professional Rodeo Cowboys Association: Official website.
Womens' Professional Rodeo Association: Official website.
National Cowboy & Western Heritage Museum: Official website.
State sports: Complete list of official state sports from NETSTATE.COM
More symbols & emblems: Complete list of official Texas state symbols from NETSTATE.COM.


Cowboy
David Murdoch
Cowboy (Eyewitness Books), by David Murdoch. 64 pages. Publisher: DK CHILDREN; 1st edition (July 1, 2000) Reading level: Ages 8-17. Discover the real-life world of working cowboys from longhorns and lariats to chuckwagons, chaps, rodeos, and ranches.
Here is an energetic and informative look at the working lives of cowboys from around the world. Spectacular real-life photographs of horses, cattle, branding irons, and lariats offer a unique "eyewitness" view of life on the range. See what an authentic chuckwagon looks like, how an expert ropes a calf, a rodeo rider in action on a wild steer, how a saddle is made, and a Mongolian herdsman lassoing a wild horse. Learn where wild horses and bulls live in France, why cowboys wear chaps, how to tame a bucking bronco, and why a gaucho decorates his belt with silver coins. Discover how Annie Oakley got her nickname, why an Australian saddle has no horn, and how the cowboy's romantic image influenced music and films, and much, much more!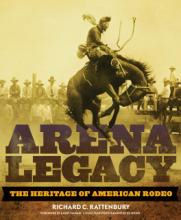 Arena Legacy: The Heritage of American Rodeo, by Richard C. Rattenbury. 432 pages. Publisher: University of Oklahoma Press (Trd); First Edition (October 1, 2010)
"I thought that I knew all there was to know about rodeo until I read Arena Legacy" – Larry Mahan
From its roots in cowboy and vaquero culture to the big-business excitement of today's National Finals competitions, rodeo has embodied the rugged individualism and competitive spirit of the American West. Now the long trajectory of rodeo culture comes fully alive in Arena Legacy. Showcasing the unrivaled collections of the National Cowboy & Western Heritage Museum, this lavishly illustrated volume is the first to depict rodeo's material and graphic heritage.
Richard Rattenbury opens Arena Legacy with an engaging and richly illustrated history of rodeo, from its first recorded competition in Colorado in 1869, to its role in county fairs, cattlemen's conventions, and old settlers' reunions across the West, to its rise to national prominence between 1920 and 1960.
Following its historical overview, Arena Legacy features an extensive pictorial gallery of signature materials. A series of colorful portfolios reveals treasured artifacts from rodeo life, including costumes, trophies, buckles, and riding equipment. Here the reader will discover lavish artistry in leather and silver, flamboyant expression in western dress, and the interpretive work of both fine artists and commercial illustrators.
Certain to delight a diverse audience of rodeo aficionados, participants, collectors, and historians, this stunning volume is a fitting tribute to America's truly western sport.


Wild Ride
Joel H. Bernstein
Wild Ride: The History of Western Rodeo, by Joel H. Bernstein. 176 pages. Publisher: Gibbs Smith; 1 edition (February 20, 2007) Wild Ride presents a fascinating history of rodeo from its rugged beginnings in Mexico to today's professional circuits. This book captures the mystique of the cowboy and his place in Western folklore, from the early days when groups of cowboys from neighboring ranches met to settle arguments over who was the best at performing ranching tasks to the multimillion-dollar prizes and endorsements awarded to today's professionals all over the world including Canada, Brazil, and Australia.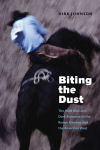 Biting the Dust
Dirk Johnson
Biting the Dust: The Wild Ride and Dark Romance of the Rodeo Cowboy and the American West, by Dirk Johnson. 239 pages. Publisher: Bison Books (May 1, 2005) To the fan, the rodeo cowboy is the distinctly American embodiment of the romantic Old West. But to the young men who live the profession, the realities are modest pay, continuous travel, and the constant threat of injury. While he was the Denver bureau chief of the New York Times, Dirk Johnson spent a year on the professional rodeo circuit with cowboys, watching them try to hang on to bucking horses and Brahma bulls—and to wives and livelihoods that seemed only one fall away from disappearing. Biting the Dust covers the circuit's biggest events in Denver, the capital of the New West, to small towns on the Great Plains like McCook, Nebraska, where rodeo continues to thrive even as the population shrinks. Johnson takes the reader beyond sentimental visions of the rodeo cowboy and the American West and provides an unforgettable and authentic story of the rodeo today.