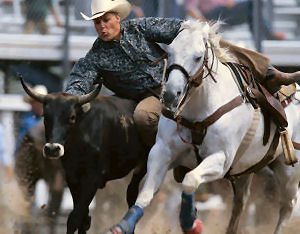 South Dakota State Sport: Rodeo
Photographs, posters, prints
Additional Information
History of South Dakota Rodeo: History of Rodeo in South Dakota from the South Dakota Rodeo Association.
Rodeo - South Dakota's State Sport: South Dakota Department of tourism. Includes schedule.
Official website: South Dakota Rodeo Association (SDRA).
Official website: South Dakota High School Rodeo Association.
Official website: South Dakota 4-H Rodeo Project.
Official website: Miss Rodeo South Dakota.
State sports: Complete list of official state sports from NETSTATE.COM.
More symbols & emblems: Complete list of official South Dakota state symbols from NETSTATE.COM.


Arena Legacy
Richard C. Rattenbury
Arena Legacy: The Heritage of American Rodeo, by Richard C. Rattenbury. 432 pages. Publisher: Univeresity of Oklahoma Press (Trd); First Edition edition (October 1, 2010) From its roots in cowboy and vaquero culture to the big-business excitement of today's National Finals competitions, rodeo has embodied the rugged individual-ism and competitive spirit of the American West. Now the long trajectory of rodeo culture comes fully alive in Arena Legacy. Showcasing the unrivaled collections of the National Cowboy & Western Heritage Museum, this lavishly illustrated volume is the first to depict rodeo's material and graphic heritage. Richard Rattenbury opens Arena Legacy with an engaging and richly illustrated history of rodeo, from its first recorded competition in Colorado in 1869, to its role in county fairs, cattlemen's conventions, and old settlers' reunions across the West, to its rise to national prominence between 1920 and 1960.
Certain to delight a diverse audience of rodeo aficionados, participants, collectors, and historians, this stunning volume is a fitting tribute to America's truly western sport.


Wild Ride
Joel H. Bernstein
Wild Ride: The History of Western Rodeo, by Joel H. Bernstein. 176 pages. Publisher: Gibbs Smith; 1 edition (February 20, 2007) Wild Ride presents a fascinating history of rodeo from its rugged beginnings in Mexico to today's professional circuits. This book captures the mystique of the cowboy and his place in Western folklore, from the early days when groups of cowboys from neighboring ranches met to settle arguments over who was the best at performing ranching tasks to the multimillion-dollar prizes and endorsements awarded to today's professionals all over the world including Canada, Brazil, and Australia.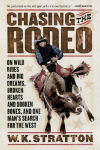 Chasing the Rodeo
W. K. Stratton
Chasing the Rodeo: On Wild Rides and Big Dreams, Broken Hearts and Broken Bones, and One Man's Search for the West, by W. K. Stratton. 336 pages. Publisher: Harvest Books (May 1, 2006) From its roots as the quintessential Western pastime, rodeo has grown into an international, prime-time television sport. Steeped in tradition and spirit, the rodeo calls aspiring cowboys and cowgirls to its rough-and-tumble fame as they repeatedly risk their lives for eight seconds of triumph. In Chasing the Rodeo, Kip Stratton takes us into the addictive core of bull riding and the circuit that has grown up around it. Immersing himself in the world of rodeo, Stratton collides with the specter of his runaway "rodeo bum" father, finding part of the cowboy dream that was his father's legacy.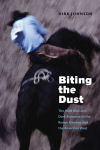 Biting the Dust
Dirk Johnson
Biting the Dust: The Wild Ride and Dark Romance of the Rodeo Cowboy and the American West, by Dirk Johnson. 239 pages. Publisher: Bison Books (May 1, 2005) To the fan, the rodeo cowboy is the distinctly American embodiment of the romantic Old West. But to the young men who live the profession, the realities are modest pay, continuous travel, and the constant threat of injury. While he was the Denver bureau chief of the New York Times, Dirk Johnson spent a year on the professional rodeo circuit with cowboys, watching them try to hang on to bucking horses and Brahma bulls—and to wives and livelihoods that seemed only one fall away from disappearing. Biting the Dust covers the circuit's biggest events in Denver, the capital of the New West, to small towns on the Great Plains like McCook, Nebraska, where rodeo continues to thrive even as the population shrinks. Johnson takes the reader beyond sentimental visions of the rodeo cowboy and the American West and provides an unforgettable and authentic story of the rodeo today.


Cowboy
David Murdoch
Cowboy (Eyewitness Books), by David Murdoch. 64 pages. Publisher: DK CHILDREN; 1st edition (July 1, 2000) Reading level: Ages 8-17. Discover the real-life world of working cowboys from longhorns and lariats to chuckwagons, chaps, rodeos, and ranches.
Here is an energetic and informative look at the working lives of cowboys from around the world. Spectacular real-life photographs of horses, cattle, branding irons, and lariats offer a unique "eyewitness" view of life on the range. See what an authentic chuckwagon looks like, how an expert ropes a calf, a rodeo rider in action on a wild steer, how a saddle is made, and a Mongolian herdsman lassoing a wild horse. Learn where wild horses and bulls live in France, why cowboys wear chaps, how to tame a bucking bronco, and why a gaucho decorates his belt with silver coins. Discover how Annie Oakley got her nickname, why an Australian saddle has no horn, and how the cowboy's romantic image influenced music and films, and much, much more!