The Missouri River runs through the central part of South Dakota. To the east of the river, lie low hills and lakes formed by glaciers. Fertile farm country covers the area. To the west of the Missouri River, the land consists of deep canyons and rolling plains.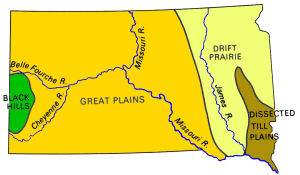 South Dakota Land Regions
South Dakota is comprised of four major land regions; the Drift Prairie, the Disected Till Plains, the Great Plains, and the Black Hills.
The Drift Prairie covers most of eastern South Dakota. This is the land of low hills and glacial lakes. This area was called Coteau des Prairies (Prairie Hills) by early French traders. In the north, the Coteau des Prairies is bordered on the east by the Minnesota River Valley and on the west by the James River Basin. The James River Basin is mostly flat land, following the flow of the James River through South Dakota from north to south.
The Dissected Till Plains lie in the southeastern corner of South Dakota. This area of rolling Hills is criss-crossed by many streams.
The Great Plains cover most of the western 2/3 of South Dakota. The Coteau de Missouri hills and valleys lie between the James River Basin of the Drift Prairie and the Missouri River. West of the Missouri River much landscape becomes more rugged and consists of rolling hills, plains, canyons, and steep flat-topped hills called buttes. These buttes sometimes rise 400 to 600 feet above the plains. In the south, east of The Black Hills, lie the South Dakota Badlands. Badlands National Park is located here.
The Black Hills are in the southwestern part of South Dakota and extend into Wyoming. This range of low mountains covers 6,000 square miles with mountains that rise from 2,000 to 4,000 feet high. The highest point in South Dakota, Harney Peak (7,242 feet above sea level), is in the Black Hills. The Black Hills are rich in minerals such as gold, silver, copper, and lead. The Homestake Mine, one of the largest gold mines in the in the United States, is located in the Black Hills. Here to are Mt. Rushmore, the Crazy Horse Memorial, and Wind Cave and Custer National Parks.