Additional Information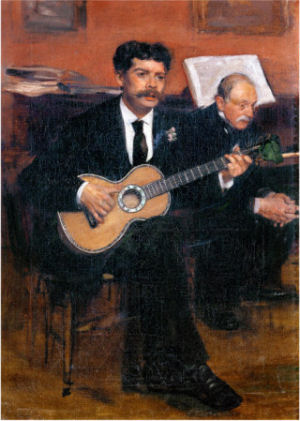 Texas State Musical Instrument: Guitar
Lorenzo Pagans, circa 1870-1871, Edgar Degas
Photographs, prints, posters
A brief history of the guitar: Paul Guy Guitars, Stolkholm Sweden.
Some Guitar History: Information provided by Allan Alexander, musician, author; guitars, mandolins, lutes.
The Unstrung History of the American Guitar: The Guitar and 19th Century American Music: by Dave Bradford, a growing compilation of articles and photographs exploring the Guitar in 19th-c. American music.
More symbols & emblems: Complete list of official Texas state symbols from NETSTATE.COM.

Martin Guitars:
A History
Martin Guitars: A History, by Dick Boak, Mike Longworth, Richard Johnston. 240 pages. Publisher: Hal Leonard; Revised edition (December 1, 2008) A Martin acoustic guitar is the beloved instrument of millions of fans and famous players worldwide. Starting with the early days in New York circa 1833, this fabled story comes to life in the long-awaited revision of the seminal Martin History book. Originally published in 1975, this new edition is completely updated and re-designed by well-known industry experts.
Part of a two-book set, The History: Book 1 covers the people, the places, and the stories of an American icon. Richly illustrated, this book covers the story right up to the fifth-generation president Chris Martin IV.

Martin Guitars:
A Technical Reference
Martin Guitars: A Technical Reference, by Dick Boak, Mike Longworth, Richard Johnston. 316 pages. Publisher: Hal Leonard Corporation; Revised edition (March 1, 2009) Part of a two book set, this book provides information on guitar bodies, necks, headstocks, bridges, woods, as well as other chapters covering Models by Style, the Custom Shop and limited editions. All the lesser known instruments like archtops, electrics, mandolins and ukuleles are included as well, all very collectible. The book ends with exhaustive appendices covering production numbers, retail prices, and instrument specifications.
If you own a Martin, you own a piece of history and this book will help you discover when it was made and how.


The Ultimate
Guitar Book
Tony Bacon
The Ultimate Guitar Book, by Tony Bacon. 192 pages. Publisher: Alfred A. Knopf; 1st American Pbk. ed edition (October 15, 1997) A stunning visual guide to the history and development of this instrument -featuring specially commissioned photographs of famous, rare, and vintage guitars, from the earliest acoustics to the latest electrics. Packed with construction and design information, and with detailed, informative profiles on everything from the legendary (Martin, Gibson, Fender) to the weird, the exotic, and the oddball (Burns, Hagstrom, Danelectro, to name a few), The Ultimate Guitar Book brings each instrument to life and makes immensely pleasurable browsing for players and collectors alike, from beginner to professional.
"When you get right down to it, these guitars represent something uniquely American . . . You're transported to a place where it's always Saturday night in the summertime, a place where cars are fast and girls are pretty. And when you pull into the parking lot and cut the engine, you can hear the music and know that everybody's inside, twisting the night away."---- David Nicholson, Washington Post Book World


With Strings Attached
Jonathan Kellerman
With Strings Attached: The Art and Beauty of Vintage Guitars, by Jonathan Kellerman. 368 pages. Publisher: Ballantine Books (October 28, 2008) For thirty-five years, bestselling author and accomplished musician Jonathan Kellerman has been, as he puts it in his Introduction to this lavishly illustrated, endlessly fascinating volume, "chasing fabulous sound." The result of that quest is a world-class collection of guitars, mandolins, and other stringed instruments that number more than 120 . . . and counting.
Kellerman takes us on a fascinating guided tour through his collection, complete with rich personal histories of his favorite instruments and of the brilliant, often eccentric craftsmen and musicians who brought them to life.


Guitar:
An American Life
Tim Brookes
Guitar: An American Life, by Tim Brookes. 353 pages. Publisher: Grove Press; First Trade Paper Edition (July 27, 2006) In this intensely personal memoir and informative history, National Public Radio commentator and essayist Tim Brookes recounts his quest to build the perfect guitar. Pairing up with a master artisan from the Green Mountains of Vermont, Brookes sees how a rare piece of cherry wood is hued, dovetailed, and worked on with saws, rasps, and files.
Brookes narrates the long and winding history of the guitar in the United States. Arriving with conquistadors and the colonists, the guitar has found itself in an extraordinary variety of hands: miners and society ladies, lumberjacks and presidents' wives. Nearly every immigrant group has appropriated the guitar to tell their individual story. In time, the guitar became America's vehicle of self-expression, its modern soundtrack.


Gibson Electric
Guitar Book
Walter Carter
Gibson Electric Guitar Book, by Walter Carter. 160 pages. Publisher: Backbeat Books (September 1, 2007) The Gibson Electric Guitar Book is a comprehensive, richly illustrated guide to Gibson electrics past and present. Starting with the ES-150 – generally acknowledged as the first commercially successful electric guitar – through the 335s, Les Pauls, SGs, Firebirds, and more, it is packed with facts, stories, and images that tell the story of Gibson's great guitars and their most famous and influential players.


The Gibson 335
Adrian Ingram
The Gibson 335: Its History and Its Players, by Adrian Ingram. 120 pages. Publisher: Centerstream Publications (June 1, 2006) Gibson's first "semi-acoustic" the ES-335, which was neither totally solid nor fully acoustic, is the guitar of choice used by many famous guitarists such as Andy Summers, Elvin Bishop, Lee Ritenour, Jay Graydon, Robben Ford, Freddie King, John McLaughin, Jimmy Page, Chuck Berry, Tony Mottola, Johnny Rivers, Jack Wilkins, Bono, Grant Green, Eric Clapton, Stevie Ray Vaughan, Alvin Lee, B.B. King, Emily Remler, Otis Rush, Pete Townshend, John Lee Hooker, and Larry Carlton. This book includes the complete history of the 335, the players, a beautiful color section, chronology, shipping totals and more. A must-have for every 335 player and guitar enthusiast or collector!


Fender Electric
Guitar Book
Tony Bacon
The Fender Electric Guitar Book, by Tony Bacon. 192 pages. Publisher: Backbeat Books; 3 edition (September 1, 2007) o mark the 60th anniversary of Fender, Backbeat's introduced a new, completely revised third edition of this bestseller. Fender guitars have long been the instruments of choice for artists such as Jeff Beck, Eric Clapton, Jimi Hendrix and Stevie Ray Vaughan. This book tells the complete story of Fender guitars, detailing classics such as the Telecaster, Stratocaster & Jazzmaster as well as lesser-known models. Dozens of photos reveal Fender's storied craftsmanship, while the text includes collector details for all models. The reference section lists all models and their statistics. This new edition has been refreshed and updated, with 56 extra pages and over 60 new photographs. The main text has added material and has been brought up to date to cover Fender's ever-changing history amid the fascinating developments for the company and its instruments during the eight years since the previous edition.


The Electric Guitar
AUTHOR
The Electric Guitar: A History of an American Icon, edited by André Millard. 248 pages. Publisher: The Johns Hopkins University Press (June 15, 2004) Since the guitar was first electrified in the 1930s, it has become an American icon and has transformed the soundtrack of our lives with its wide range of sounds—from seductive twang to howling distortion. Relatively inexpensive, easy to learn, and fun to play, the electric guitar is a truly democratic instrument. Millions have purchased Rickenbackers, Gibsons, Fenders, and other brands of guitars over the decades, fueling daydreams of fame and fortune.
In The Electric Guitar: A History of an American Icon, scholars working in American studies, business history, the history of technology, and musicology come together to explore the electric guitar's importance as an invention and its peculiar place in American culture. Documenting the critical and ever-evolving relationship among inventors, craftsmen, musicians, businessmen, music writers, and fans, the contributors look at the guitar not just as an instrument, but as a mass-produced consumer good that changed the sound of popular music and the self image of musicians.
Avoiding the familiar stories, The Electric Guitar covers the careers and influence of guitar heroes such as Buddy Holly and Jimi Hendrix, but it also looks at lesser known but equally influential guitarists, such as Sister Rosetta Tharpe and Ike Turner. It also explains the importance of record producers such as Lee Hazlewood, effects pioneers like Roger Mayer, and electronics engineers such as Jim Marshall—all of whom played vital parts in constructing the sounds we associate with the electric guitar. From inventor's workbench to factory floor to recording studio, André Millard and his colleagues trace the development of the instrument, its use across musical genres, and its profound impact on popular culture and American identity.