---
Double click any word in document for definition.
Texas State Snack
Totilla Chips and Salsa
Adopted:
June 22, 2003

Texas State Snack: Totilla Chips and Salsa
Photograph:Andrew Bossi.
Licensed under the Creative Commons
Attribution-Share Alike 2.5 Generic license.
An official state snack for the Lonestar State? Students at Leo Marcell Elementary School in Mission thought it was about time!
After discarding ideas that included pickles, Flamin Hot Cheetos®, and Doritos®, the students settled on a combination plate of tortilla chips and salsa.
Once they settled on tortilla chips and salsa, they contacted their State Representative, Kino Flores.
"I got a telephone call saying they wanted to propose a law, then an e-mail, then a visit," he said. "I thought if it's important enough for them to visit, it's important enough for me to look at."
(HennepinPrisoner)
When Rep. Flores understood how serious the students really were, he explained the bill approval process.
Flores said the bill must show that there is not already a state snack, and that tortilla chips and salsa are historically or culturally significant. He also warned that the bill must show that no one will be hurt economically if the chips and salsa are designated a state snack.
(Chapman 1)
On November 14, 2002 Rep. Flores introduced House Concurrent Resolution No. 16 which was referred to the House Committee on State Cultural and Recreational Resources.
H.C.R. No. 16

HOUSE CONCURRENT RESOLUTION

WHEREAS, The State of Texas has customarily recognized a variety of official state symbols as tangible representations of the state's historical and cultural heritage; and

WHEREAS, Like the square dance, the guitar, and the rodeo, tortilla chips and salsa are deeply rooted in Texas tradition and enjoy popularity throughout the length and breadth of the state; stocked in countless kitchens, they are brought out for solitary refreshment and for social gatherings of virtually every description and level of formality; and

WHEREAS, The primary ingredients of chips and salsa have nourished the people of this land for centuries; corn, peppers, and tomatoes all originated in the Western Hemisphere and were being cultivated by Native Americans along the Rio Grande when the Spaniards, who introduced onions to the New World, arrived in Texas; tortillas, developed in prehistoric times by the Indians of Latin America, have likewise long been a staple in parts of the state; and

WHEREAS, In addition to their traditional importance as a foodstuff, peppers, onions, and tomatoes have played a significant role in Texas folk medicine, and their value in fighting illness is being increasingly recognized by modern science; and

WHEREAS, Together with corn, these three plants also play a notable economic role in the state; in recent years, onions have ranked as the number one cash truck crop in Texas, while corn has accounted for about five percent of the state's agricultural economy; nationwide in 2000, Texas ranked 1st in the production of jalapeño peppers, 4th in the production of onions, and 16th in the production of tomatoes, while a 2002 report ranks the state 10th in the production of corn; and

WHEREAS, The importance of these crops in Texas is reflected by such celebrations as the annual Corn Festival in Holland, Hot Pepper Festival in Palestine, and Tomato Festival in Jacksonville, as well as onion festivals in Noonday, Presidio, and Weslaco; salsa itself enjoys a starring role at the Three Rivers Salsa Festival and at other hotly contested competitions in Houston and Austin; and

WHEREAS, Spectacular sales figures underscore what Texans already know: that tortilla chips and salsa enjoy popularity ratings in the stratosphere; moreover, Texas chip and salsa plants now command a major share of their respective national markets; joining the state's oldest and largest salsa manufacturer, which began production in San Antonio in 1947, smaller new salsa firms continue to spring up, often inspired by a cherished family recipe and encouraged by Texans' insatiable demand for this zesty concoction; and

WHEREAS, Folk foods that have become commercial giants, chips and salsa stand out among Texas snacks because of their historic origins and universal appeal; embraced today by Texans of every ethnic background, they constitute a much savored part of our shared cultural identity; now, therefore, be it

RESOLVED, That the 78th Legislature of the State of Texas hereby designate tortilla chips and salsa as the official State Snack of Texas.
On March 11, 2002, the second graders from Mission showed up to testify in front of the committee. Four students served as witnesses testifying for tortilla chips and salsa as the official state snack of Texas. "We're from Mission and we're on a mission," was the common refrain.
The students touched on different reasons for naming tortilla chips and salsa the state snack. All agreed that they were just plain good.
The following are parts of each student's recorded testimony from a transcript, prepared by NETSTATE, of that testimony.
Kathleen spoke directly to the issue of state pride.
Finally, people all over the world already know that chips and salsa from someplace else, like New York City, are not very good. Why not let them know that if they're from Texas, they must be the best.

That is why I think chips and salsa should become the official state snack of the great state of Texas and kids all over the state should learn about the new state symbol and how kids just like them made it happen.
(Texas House Committee on State Cultural and Recreational Resources Public Hearing)
Marc made the point that chips and salsa are part of the Texas culture.
....when my family goes out to eat many restaurants serve us chips and salsa for free. I have visited Florida and they do not serve chips and salsa there for free. Other students have visited other states and they said the same thing.
(Texas House Committee on State Cultural and Recreational Resources Public Hearing)
Audrey told how tortilla chips and salsa were like other state symbols. She also talked about the economic value of the proposed state snack and, finally, wanted everyone to know that one person can "make a difference."
First, salsa contains two ingredients that are state symbols already. The jalapeño is the state pepper and sweet onions are the state vegetable. Put them together with a few more ingredients and presto; perfect salsa. That just makes sense.

In social studies, we learned about goods and services and how people have different jobs to help each other. There are many jobs that are related to chips and salsa.

Farmers have to grow the corn, tomatoes, and jalapeños to make salsa. Some people are paid to make the ingredients into chips and salsa to sell. Other people are even paid to take them all over the state and country. I think that all of these people would probably be happy if they started selling more chips and salsa.

Another reason to make chips and salsa the state snack is to show other Texans that every person can make a difference. If you have an idea, just work hard and find other people who can help you. Our state representatives work very hard for all of us just like Kino worked very hard for us.
(Texas House Committee on State Cultural and Recreational Resources Public Hearing)
Michael wrapped it up. He talked about how state symbols were part of their studies in science, math, and history.
Last year in second grade, we had many lessons about Texas and not just reading from books. We actually grew the state pepper, the jalapeño, in flats. This was a combination of science and Texas history. We learned about the parts of the plant and that the jalapeño is a state symbol.

During open house, we prepared a batch of the state dish, chili, for our parents. We had to follow the directions on the recipe and measure like we had learned in math. The only thing that we had changed was adding a little, OK, a lot more chili powder.

Many of our parents did not know that chili was the state dish, but now they know. We were thrilled to be able to teach others what we had learned.

Snacks are pretty important to us kids so we thought it would be important for Texas to have an official state snack.

Even though we had many favorite snacks, we wanted to find one that was special to Texas. We quickly realized that chips and salsa were the perfect snack; even fried some tortillas that were in the shape of Texas and had people try them. They all loved them.
(Texas House Committee on State Cultural and Recreational Resources Public Hearing)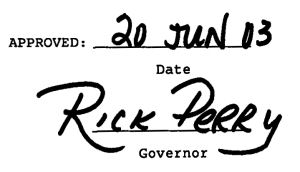 REMEMBER! We're from Mission and we're on a mission!
Tortilla chips and salsa became the official state snack when Governor Rick Perry signed House Concurrent Resolution No. 16 on June 22, 2003.
Additional Information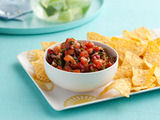 Salsa recipes: The Television Food Network.
Salsa recipes: Simply Recipes, Inc., by Elise Bauer.
Salsa recipes: AllRecipes.com.
Salsa recipes: Food.com.
State foods: Complete list of official state foods from NETSTATE.COM
More symbols & emblems: Complete list of official Texas state symbols from NETSTATE.COM.

Texas Home Cooking, by Cheryl Alters Jamison, Bill Jamison. 592 pages. Publisher: Harvard Common Press (October 25, 2011)
From the authors of Sublime Smoke and the best-selling Smoke and Spice, Texas Home Cooking offers delicious dishes from one of America's most distinctive and beloved culinary regions, home of Tex-Mex, barbecue, and down-home goodness. Cheryl and Bill Jamison put forth over 400 authentic recipes for All-American classics and regional favorite entrees, side dishes, salads, soups, desserts, breakfast foods and more. The Jamisons write with Lone-Star wit, wisdom, history, and tradition in sidebars throughout the book.

The El Paso Chile Company's Burning Desires: Salsa, Smoke, and Sizzle from Down by the Rio Grande, by W. Park Kerr, Michael McLaughlin. 296 pages. Publisher: William Morrow Cookbooks; 1st edition (June 21, 1994)
Following the success of his first El Paso book, Park Kerr is cooking up more fiery West Texas foods. With grilling recipes for palate-thrilling delights, Kerr includes suggested menus, regional side dishes, thirst quenchers, and mouth-cooling desserts.
More than 160 recipes for familiar favorites as well as fresh new fare. In the mouth of this volcano you'll find the necessary fiery ingredients - nine salsas, not to mentionsauces, bastes, mops, glazes, and dips; zesty spice mixtures, piquant marinades, and tangy dressings; plus canned heat add-ons like Salsa Vinegar, Pepper Jelly, ChileChowchow. There's a lot more where this heat comes from!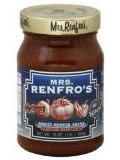 Mrs. Renfro's Great Salsas! Since 1940!
For 72 years, our family's been bringing you delicious and innovative products at affordable prices.
From our Peach, Black Beanand hottest Ghost Pepper Salsa, we're proud to offer a unique variety of flavors and authentic tastes of the Southwest.
Straight from the Lone Star State to your home.