Additional Information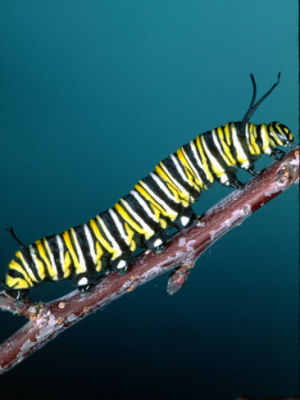 Texas State Insect: Monarch Butterfly Caterpillar
Photographs, prints, posters
Monarch Butterfly: Great Plains Nature Center, Wichita, Kansas.
Monarch Butterfly (Danaus plexippus): National Geographic Society: National Geographic Wildlife.
Monarch Watch: Monarch Watch is an educational outreach program based at the University of Kansas that engages citizen scientists in large-scale research projects. This program produces real data that relate to a serious conservation issue.
Monarch Watch gets children of all ages involved in science. The website provides a wealth of information on the biology and conservation of Monarch butterflies and many children use it as a resource for science fair projects or reports. Additionally, we encourage children to showcase their research or school projects on our website and we involve them in real science with the tagging program.
Monarch Butterfly: Journey North: Citizen scientists track the monarch butterfly migration each fall and spring as the monarchs travel to and from Mexico. Report your own observations of migrating butterflies to real-time migration maps.
Danaus plexippus - (Linnaeus, 1758), Monarch: A network connecting science with conservation - NatureServe Explorer: An Online Encyclopedia of Life.
Danaus plexippus (Linnaeus, 1758): Integrated Taxonomic Information System (ITIS) Here you will find authoritative taxonomic information on plants, animals, fungi, and microbes of North America and the world.
Danaus plexippus: Photographs from CalPhotos, a project of the Biodiversity Sciences Technology group (BSCIT), part of the Berkeley Natural History Museums at UC, Berkley.
State butterflies: Complete list of official state butterflies from NETSTATE.COM
State insects: Complete list of official state insects from NETSTATE.COM
More symbols & emblems: Complete list of official Texas state symbols from NETSTATE.COM.
Abilene Zoological Gardens: Official website.

Great Migrations
Butterflies
Laura Marsh
National Geographic Readers: Great Migrations Butterflies, by Laura Marsh. 48 pages. Publisher: National Geographic Children's Books (October 12, 2010) Reading level: Ages 7+. The monarch butterfly, one of the most seemingly delicate of all of nature's animals, proves to be one of the toughest in this reader. Making the yearly trip from the Northern United States and Canada to the Oyamel forest of Mexico is no easy task, and it takes five generations of butterflies in order to do so. Battling cold temperatures and the threat of starvation, these beautiful insects complete an almost 3,000 mile journey over the course of two months, only to have to turn and around and head back home.


The Amazing Monarch
Windle Turley
The Amazing Monarch: The Secret Wintering Grounds of an Endangered Butterfly, by Windle Turley. 112 pages. Publisher: BenBella Books (October 5, 2010) In The Amazing Monarch, author and photographer Windle Turley chronicles the life cycle of the monarch butterfly. Replete with page after page of full-color photographs, the book shows the monarch's rarely captured destination wintering grounds.
With carefully researched text and consultation with leading entomologists, The Amazing Monarch tracks the monarch's migration and interesting life spans. Amazingly, this migration only takes place every three to five generations, but somehow, by the last week of October, they arrive at the same small groups of oyamel fir trees their ancestors populated the year before.
The Monarch Butterfly
The Monarch Butterfly: Biology and Conservation, Edited by Karen S. Oberhauser, Michelle J. Solensky. 256 pages. Publisher: Comstock Publishing Associates; 1 edition (May 27, 2004) Monarch butterflies are arguably the most recognized, studied, and loved of all insects, and the attention that scientists and the general public have paid to this species has increased both our understanding of the natural world and our concern about preserving it. The unique combination of basic research, background information, and conservation applications makes this book a valuable resource for ecologists, entomologists, naturalists, and teachers.
The knowledge of citizen scientists, biologists, and naturalists informs this book's coverage of every aspect of the monarch butterfly's life cycle (breeding, migration, and overwintering) from the perspective of every established monarch population (western North American, eastern North American, and Australian).
Where Butterflies Grow , by Joanne Ryder, 32 pages. Puffin (June 1, 1996) Reading level: Ages 4-8. In a field of lacy leaves, a small caterpillar hatches, grows, and sheds its skin, becoming a smooth, green creeper. It eats and changes some more, then in a sequence of remarkable close-ups, spins a sliken sling in which to pupate--until it finally bursts forth as a brilliant black swallowtail butterfly. Includes suggestions on how children can grow butterfiles in their own gardens.


I Wish I Were
a Butterfly
James Howe
I Wish I Were a Butterfly, by James Howe. 40 pages. Voyager Books (February 28, 1994) Reading level: Ages 4-8. After the frog at the pond's edge tells him that he's ugly, the cricket of Swampswallow Pond loses his zest for life and for singing. The glowworm and the ladybug try to persuade the cricket that he's just as good as the rest of them, while the dragonfly declares, "Wishing is a waste of time." Finally, the Old One, a spider who lives on the other side of the pond, spins a wise tale about the real beauty of friendship and convinces the cricket to sing again. A simple fable that deserves to stay in print a long, long, time.
Peterson First Guide to Butterflies and Moths, by Paul A. Opler, edited by Roger Tory Peterson. 128 pages, Houghton Mifflin Harcourt; 2nd edition (February 20, 1998) Peterson First Guides are the first books the beginning naturalist needs. Condensed versions of the famous Peterson Field Guides, the First Guides focus on the animals, plants, and other natural things you are most likely to see. They make it fun to get into the field and easy to progress to the full-fledged Peterson Guides. DESCRIPTION


The Butterfly Book
Kersten Hamilton
The Butterfly Book: A Kid's Guide to Attracting, Raising, and Keeping Butterflies, by Kersten Hamilton. 40 pages. Avalon Travel Publishing; 1st edition (March 26, 1997. Reading level: Ages 9-12. An introduction to the life cycle, food, habitat, and behavior of butterflies shares advice on butterfly observation and conservation, explaining how to design a garden to attract butterflies and offering a color identification guide to twenty common North American butterflies.
National Audubon Society Field Guide to North American Butterflies, 928 pages. Knopf; Chanticleer Press ed edition (July 12, 1981) A handy field guide with more than 1,000 photographs of all the butterflies of North America north of Mexico, including all true butterflies, the most common skippers, and many migrants and strays. The color plates are visually arranged by shape and color, and thumb-tab silhouettes provide a convenient index to identification of butterflies in the field. The species account for each butterfly provides measurements, descriptions of each stage of the life cycle, and information on coloring or distinguishing markings, flight period, habitat, and range.
The Life Cycles of Butterflies: From Egg to Maturity, by Judy Burris and Wayne Richards. 160 pages. Storey Publishing, LLC (April 1, 2006) This book describes in text and photos the butterflies that commonly visit gardens in the eastern states. Beginning with a chapter that looks at the basics of butterfly egg laying, the growth of caterpillars, metamorphosis, and butterfly behavior, the authors move to the heart of the book. With exquisite close-up photography, the eggs, caterpillars, chrysalids, and adults of 23 well-known butterflies are revealed.
Attracting Butterflies & Hummingbirds to Your Backyard, by Sally Roth. 304 pages. Rodale Books (October 24, 2002) If you have never read one of Ms. Roth's books you are in for a real treat. Her writing style is wittily informative which makes us enjoy our lessons. She not only teaches us which plants to use in our gardens to attract both these winged wonders, but how to create the kinds of gardens they prefer. Shelter, water, host plants for butterfly caterpillars, and even fruit feeders and hibernating boxes are among the topics within these pages.
Stokes Butterfly Book: The Complete Guide to Butterfly Gardening, Identification, and Behavior, by Donald & Lillian Stokes, Ernest Williams. 96 pages, Little, Brown and Company; 1st edition (October 17, 1991) This popular guide to attracting, identifying, and enjoying all the common North American species of butterflies includes 149 full-color photos, 65 range maps, and two sample garden plans.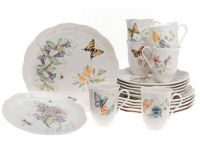 Lenox Butterfly Meadow
Lenox Butterfly Meadow Tableware Collection, Summer teas and spring brunches call for dinnerware as fresh and lovely as the weather. The Lenox Butterfly Meadow pattern features a garden motif of butterflies, bumblebees, ladybugs, and blossoms set against an ivory background. The delicately rendered images, created by Lenox artist Louise Le Luyer, vary between pieces for a charmingly playful table. Crafted from fine bone porcelain, the pattern has gently scalloped rims and is safe in the oven, microwave, and dishwasher. Like all Lenox dinnerware, the Butterfly Meadow line is covered by a lifetime replacement policy.