Additional Information

Arkansas: An Illustrated Atlas, by Tom Paradise. 56 pages. Publisher: Butler Center for Arkansas Studies (January 5, 2011)
Responding to the need for an updated geographical reference work for Arkansas, Dr. Tom Paradise of the University of Arkansas in Fayetteville put his cartography skills to work and created a comprehensive tour of the state using colorful maps, diagrams and photos. Arkansas: An Illustrated Atlas is an innovative and comprehensive look at the unique Natural State. The atlas uses graphics, fun "Did You Know?" fact boxes and up-to-date statistics to explain, describe and discover the state. Designed for middle school through adult audiences, this atlas will become the must-have book for every Arkansan's library.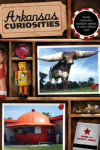 Arkansas Curiosities: Quirky Characters, Roadside Oddities & Other Offbeat Stuff, by Janie Jones, Wyatt Jones. 304 pages. Publisher: Globe Pequot; First edition (June 15, 2010)
Your round-trip ticket to the wildest, wackiest, most outrageous people, places, and things the Natural State has to offer!
Whether you're a born-and-raised Arkansan, a recent transplant, or just passing through, Arkansas Curioisities will have you laughing out loud as Janie and Wyatt Jones take you on a rollicking tour of the strangest sides of the Natural State.
Visit the NETSTATE Arkansas State Book Store for additional Arkansas related books, including Arkansas Reference Books, History, Biographies and Cookbooks.