[ LOBBY | PEOPLE | COOKING | HISTORY | OUTDOORS | REFERENCE | TRAVEL | MORE ]

A R K A N S A S B O O K S T O R E L O B B Y
Welcome to the Arkansas State Bookstore. We're glad you stopped by and we hope that you find exactly what you're looking for. Shopping categories include books about Arkansas people, books about Arkansas History, Arkansas Cookbooks, Hiking and enjoying the Arkansas outdoors, Arkansas reference books, and calendars, magazines and newspapers, DVD and videos, and posters under MORE. In The Arkansas State Bookstore you will find information about Arkansas for readers of all ages. Age ranges for books for young readers are highlighted in red. Have fun.
---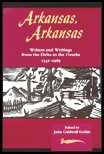 Arkansas, Arkansas: Writers and Writings from the Delta to the Ozarks, 1541-1969 by John Caldwell Guilds (Editor), Adapted by Maya Angelou and Miller Williams
Literary Journal:
"Covering 428 years of Arkansas history (from, roughly, Hernando de Soto's explorations to the integration of Little Rock's Central High School in the late 1950s), this chunky first volume of a two-volume set contains a generous selection of memoirs, history, poetry, folklore, short fiction, and frontier humor that together form a vivid record of a region's passage from violent wilderness to law-abiding state. Editor Guilds (humanities, Univ. of Arkansas) groups his selections in three chronological categories. Some writers represented here are familiar to a broad audience--John Gould Fletcher, William Bartram, John James Audubon, Washington Irving, George Catlin, Harry S. Ashmore, and Thomas Bangs Thorpe (whose famous "The Big Bear of Arkansas" is included)--but the true charm of the book lies in the unfamiliar tall tales and unanthologized lyrics that are herein given another chance. Essential for readers who enjoy regional literature."


---
[ HOME || INTRO || SYMBOLS || ALMANAC || ECONOMY || GEOGRAPHY || STATE MAPS || PEOPLE ]
[ FORUM || NEWS || COOL SCHOOLS || STATE QUIZ || BOOK STORE || MARKETPLACE || STATE LINKS || MUSEUMS ]
[ NETSTATE.STORE || NETSTATE.MALL || GUESTBOOK || CONTACT US || PRIVACY STATEMENT ]
---
Site designed exclusively for NETSTATE.COM by NSTATE



NETSTATE.COM is a Trademark of NSTATE, LLC.
Copyright © 1998- by NSTATE, LLC. All rights reserved.
No copyright is claimed on non-original or licensed material.
Support NETSTATE