A R I Z O N A B O O K S T O R E L O B B Y
Welcome to the Arizona State Bookstore. We're glad you stopped by and we hope that you find exactly what you're looking for. Shopping categories include books about Arizona people, books about Arizona History, Arizona Cookbooks, Hiking and enjoying the Arizona outdoors, Arizona reference books, and calendars, magazines and newspapers, DVD and videos, and posters under MORE. In The Arizona State Bookstore you will find information about Arizona for readers of all ages. Age ranges for books for young readers are highlighted in red. Have fun.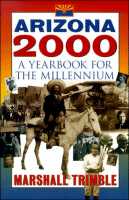 Arizona 2000 by Marshall Trimble
Trimble is a cowboy singer, humorist, and storyteller, as well as the state's historian. He recaps highlights and happenings in Arizona during the last century, from train robberies to astronaut training, in chapters organized by decade.