Additional Information
Arkansas Museum Association: Home page of the Arkansas Museum Association.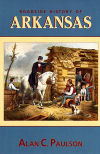 Roadside History
of Arkansas
Alan C. Paulson
Roadside History of Arkansas, by Alan C. Paulson. 406 pages. Mountain Press Publishing Company (May 1, 1998) Roadside History of Arkansas explores how the Land of Opportunity went from success to tragedy and, finally, to hope restored. The narrative is enhanced by historical photographs and several easy-to-read maps that help visitors and residents understand what happened where and when.
Readers will learn about Hernando de Soto's exploration of the Mississippi River, the grief of Native Americans forced to march west on the Trail of Tears, the humor and heroism of Davy Crockett, and Bill Clinton's rise to America's highest office.
Organized around five regions--the Delta, or Mississippi Alluvial Plain, in the eastern lowlands; the Coastal Plain, which extends south through Texas; the Arkansas River Valley, slicing through the state's two highlands; the Ouachitas, the west central highland; and the Ozarks, a northern mountain range older than the Rockies--this roadside history explores the forces that drove the ebb and flow of Arkansas's past.


Arkansas
Off the Beaten Path
Patti DeLano
Arkansas Off the Beaten Path: A Guide to Unique Places, by Patti DeLano. 240 pages. Publisher: GPP Travel; 9th edition (November 25, 2008) Tired of the same old tourist traps? Whether you're a visitor or a local looking for something different, let Arkansas Off the Beaten Path show you the Natural State you never knew existed. Find peace and the perfect peanut brittle at Subiaco Abbey. Mine for real diamonds in the dirt at Crater of Diamonds State Park. Ride the Little Rock & Roll Tour Bus to the Old State House and to the mill from Gone with the Wind. Enjoy a day at the Post Familie Winery, where wine tastings, tours, and the breathtaking scenery of the Ozark Mountains and the Arkansas River Valley can be yours.