---
Oregon State Symbols, Songs, and Emblems
For the latest symbols information, visit the NETSTATE CHRONICLE.
Designation
Symbol / Emblem
Adopted

Sources...

State of Oregon. Oregon Revised Statutes - 2009 Edition. Salem: State of Oregon, 2011. Web. 9 Apr 2011. <http://www.leg.state.or.us/>.
State of Oregon. Web version of the Oregon Blue Book. Salem: State of Oregon, 2011. Web. 9 Apr 2011. <http://bluebook.state.or.us/>.
Shankle, George Earlie. State Names, Flags, Seals, Songs, Birds, Flowers, and Other Symbols. Irvine, Calif.: Reprint Services Corp, Revised edition, 1971.
Shearer, Benjamin F. and Barbara S. State Names, Seals, Flags and Symbols: A Historical Guide Third Edition, Revised and Expanded. Westport, Conn: Greenwood Press, 3 Sub edition, 2001.

Animal
Beaver (Castor canadensis)
1969
Beverage
Milk
1997
Bird
Western meadowlark (Sturnella neglecta)
1927
Chainsaw carving capital
Reedsport
2011
Colors
Navy blue and gold
1959
Crustacean
Dungeness crab (Metacarcinus magister)
2009
Dance
Square dance
1977
Father of Oregon
Dr. John McLoughlin
1957
Fish
Chinook salmon (Oncorhynchus tshawytscha)
1961
Flag
Find out more...
1925
Flower
Oregon grape (Berberis aquifolium)
1899
Fossil
(Metasequoia)
2005
Fruit
Pear (Pyrus communis)
2005
Gemstone
Sun stone
1987
Great seal
Find out more...
1859
Hostess
Miss Oregon
1969
Insect
Oregon Swallowtail (Papilio oregonius)
1979
Mother of Oregon
Tabitha Moffatt Brown
1987
Microbe
Saccharomyces cerevisiae
2013
Mushroom
Pacific golden chanterelle (Cantharellus formosus)
1999
Nut
Hazelnut
1989
Outdoor pageant and wild west show
Happy Canyon Indian Pageant and Wild West Show
2011
Statehood pageant
The Champoeg Historical Pageant, St. Paul
(1988 Champoeg Historical Pageant on YouTube)
(Champoeg State Heritage Area)
1987
Rock
Thunderegg (Geode)
1965
Shell
Oregon triton (Fusitriton oregonensis)
1989
Soil
Jory soil
2011
Song
"Oregon, My Oregon," by J.A. Buchanan and Henry B. Murtagh
1927
Team
Portland Trail Blazers
1991
Tree
Douglas fir (Pseudotsuga menziesii)
1939
Making laws in Oregon
The Oregon State Legislature offers Oregon Legislative Kids Page to help us understand how laws are made in Oregon. Included are an Oregon State Government Overview, an Oregon State Capitol Tour, a Children's Glossary, and How an Idea Becomes a Law, plus other facts and trivia.
Broader, and more detailed, information is available in the Citizen's Guide to the Oregon Legislative Process.
Additional Information
Oregon Blue Book: State Symbols: Oregon Blue Book from the office of the Oregon Secretary of State.


Oregon
Facts and Symbols
Emily McAuliffe
Oregon Facts and Symbols, by Emily McAuliffe. 24 pages. Publisher: Capstone Press; Rev Upd edition (August 2003) Reading level: Grades 3-4. Interest level: Grades 3-9. Perfect for report writing! Easy-to-read text covers major Oregon symbols such as the state flag, seal, bird, tree, flower, animal, and more. A "Fast Facts" section highlights the state's capital city, largest city, physical size, population, natural resources, farm products, and primary manufactured goods. Also included are full-page maps that introduce the concept of the map key, which is great for teaching map-reading skills.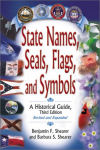 State Names, Seals
Flags and Symbols
Benjamin F. Shearer
Barbara S. Shearer
State Names, Seals, Flags and Symbols, by Benjamin F. Shearer, Barbara S. Shearer. 544 pages. Greenwood Press; 3 Sub edition (October 30, 2001) This is one of the best, and most comprehensive, books we could find about the official state names and nicknames, mottoes, seals, flags, capitols, flowers, trees, birds, songs, and miscellaneous designations of each state. This, coupled with the 1938 Shankle book, formed the basis of our symbol library. If you're serious about your states symbols, you'll want to have this book and the one below. This book also contains information about state holidays, license plates, sports teams, universities and other trivia.
State Names, Flags, Seals, Songs, Birds, Flowers, and Other Symbols, by George Earlie Shankle. 522 pages. Reprint Services Corp; Revised edition (June 1971) Reprint of the 1938 revised edition. The first comprehensive book about our state symbols! From the preface: "This book grew out of the desire of its author to know, about his native state, a great many facts which he found exceedingly difficult to obtain. After three years of research in the Library of Congress, he is able to give to the public this storehouse of information, which could have been gathered from not library less fertile in source material..."
Visit the NETSTATE Oregon State Book Store for additional Oregon related books, including Oregon Reference Books, History, Biographies and Cookbooks.