Oregon State Flower
| | | |
| --- | --- | --- |
| Oregon Grape | Berberis aquifolium | Adopted:1899 |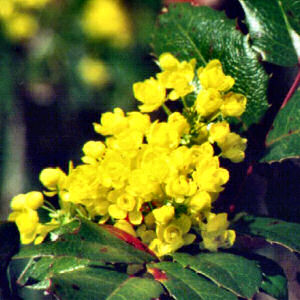 Oregon State Flower: Oregon Grape
Adoption of the Oregon State Flower
In 1890, The Oregon Horticultural Society formed a committee to nominate a state flower. Several flowers were part of the subsequent discussion but consensus was not found.
In 1891, the Oregon Horticultural Society failed again to establish consensus.
Many flowers were considered. Among them, were the bearded gaillardia, Washington lily, wake-robin, madrone and the Oregon grape.
Two years later, during the annual meeting at Hood River, a motion was made by George Henry Himes, Printer and later, Curator and Assistant Secretary of the Oregon Historical Society. Mr. Himes moved to adopt the Oregon grape as the Oregon State Flower. On July 18, 1892, the Oregon Historical Society voted to do just that.
To make it official, the Oregon Legislature was petitioned
The Oregon Federation of Women's Clubs rallied the support of women across the state and, on January 30, 1999, a petition was introduced in the State Senate,
"reciting the fact that the women's clubs of Portland, in regular session assembled, had declared in favor of the Oregon grape as a State flower, and asking the legislature to enact their recommendations into law."1
Shankle writes in State Names, Flags, Seals, Songs, Birds, Flowers, and Other Symbols:
"According to Senate Concurrent Resolution Number Four of the Oregon Legislative Assembly, the State of Oregon on January 30-31, 1899, adopted as her State flower, the Oregon grape (Berberis aquifolium)."
The Oregon Revised Statutes
The following information is excerpted from the Oregon Revised Statutes, Title 19, Chapter 186. Senate Concurrent Resolution No. 4 is cross-referenced in chapter 186.
TITLE 19. MISCELLANEOUS MATTERS RELATED TO GOVERNMENT AND PUBLIC AFFAIRS.
CHAPTER 186. State Emblems; State Boundary.
CROSS-REFERENCES.

Oregon grape declared to be official flower, SCR 4 (1899)
Additional Information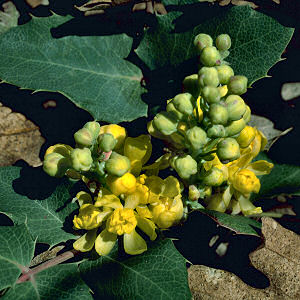 Oregon State Flower: Oregon Grape
Plant Profile for Berberis aquifolium (Oregon Grape): USDA, NRCS. 2004. The PLANTS Database, Version 3.5 (http://plants.usda.gov). National Plant Data Center, Baton Rouge, LA 70874-4490 USA.
Mahonia aquifolium: Phants for a Future Database.
Mahonia Iberberis Species of the Northwest: WALLACE W. HANSEN, Native Plants of the Northwest, Native Plant Nursery & Gardens.
State Flower List: List of all of the state flowers.
State Birds & Flowers 1000-pc Puzzle: Created at the request of The National Wildlife Federation this design is a beautiful and informative puzzle featuring every state bird perched on the appropriate state flower.
State Birds and Flowers Coloring Book
by Annika Bernhard - 51 accurately detailed, copyright-free renderings include national bird (eagle) and flower (rose) plus 50 state birds and flowers.
U. S. State Flowers in Cross Stitch
by Gerda Bengtsson - Botanically correct cross stitch designs of state flowers of the 50 States.
Quilting Flowers of the States
by Sue Harvey - A lovely 12-inch flower block for each of the 50 states. Techniques used are piecing, appliqué, paper-piecing and three-dimensional techniques.
Plants, Seeds & Flowers
: Bulbs, seeds, plants, fertilizer, plant containers and more.
Gardening Tools
: Pruners, rakes, shovels, hoes, trowels, cultivators and tillers, greenhouses, yard carts and more.
State Names, Seals, Flags, and Symbols: A Historical Guide, Third Edition - Benjamin F. Shearer and Barbara S. Shearer, Greenwood Press, 2002
State Names, Flags, Seals, Songs, Birds, Flowers and Other Symbols: A Study based on historical documents giving the origin and significance of the state names, nicknames, mottoes, seals, flowers, birds, songs, and descriptive comments on the capitol buildings and on some of the leading state histories, Revised Edition - George Earlie Shankle, Ph.D., The H.W. Wilson Company, 1938 (Reprint Services Corp. 1971)
---
Source: Oregon Revised Statutes, (http://www.leg.state.or.us/ors/), August 31, 2005
Source: Salem, Oregon Community Guide, (http://oregonlink.com/), August 31, 2005
Source: 1 The National Geographic Magazine, Volume 31, Number 6. "Our State Flowers." Page 483. 1917.
Source: State Names, Seals, Flags, and Symbols: A Historical Guide, Third Edition - Benjamin F. Shearer and Barbara S. Shearer, Greenwood Press, 2002
Source: State Names, Flags, Seals, Songs, Birds, Flowers and Other Symbols: Revised Edition (Reprint)- George Earlie Shankle, Ph.D., The H.W. Wilson Company, 1938