A Handful of Dirt, by Raymond Bial. 32 pages. Publisher: Walker Childrens (May 15, 2000) Reading level: Ages 7+.
Soil may not be alive, but amazingly, multitudes of microscopic creatures live there, battling it out in an eat-or-be-eaten world. These tiny creatures, invisible to our eyes, provide food for the insects that in turn feed the reptiles and mammals that live in and above the soil.
You'll never look at the ground you walk on in the same way after Raymond Bial, an award-winning photo essayist, takes you on this eye-opening, down-and-dirty tour of one of the earth's most precious resources.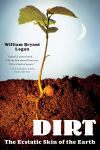 Dirt: The Ecstatic Skin of the Earth, by William Bryant Logan. 224 pages. Publisher: W. W. Norton & Company (January 17, 2007)
John Adams, Thomas Jefferson, Saint Phocas, Darwin, and Virgil parade through this thought-provoking work, taking their place next to the dung beetle, the compost heap, dowsing, historical farming, and the microscopic biota that till the soil. With fresh eyes and heartfelt reverence, William Bryant Logan variously observes, "There is glamour to the study of rock"; "The most mysterious place on Earth is right beneath our feet"; and "Dirt is the gift of each to all."