---
West Virginia State Symbols, Songs, and Emblems
For the latest symbols information, visit the NETSTATE CHRONICLE.
Designation
Symbol / Emblem
Adopted

Sources...

The State of West Virginia. West Virginia Legislature. West Virginia Code. Charleston: The State of West Virginia, 2011. Web.
Shankle, George Earlie. State Names, Flags, Seals, Songs, Birds, Flowers, and Other Symbols. Irvine, Calif.: Reprint Services Corp, Revised edition, 1971.
Shearer, Benjamin F. and Barbara S. State Names, Seals, Flags and Symbols: A Historical Guide Third Edition, Revised and Expanded. Westport, Conn: Greenwood Press, 3 Sub edition, 2001.

Animal
Black bear (Ursus americanus)
1973
Bird
Cardinal (Cardinalis cardinalis)
1949
Butterfly
Monarch butterfly (Danaus plexippus)
1995
Colors
Old gold and blue
1963
Day
West Virginia Day, June 20
1927
Firearm
Hall flintlock model 1819
2013
Fish
Brook trout (Salvelinus fontinalis)
1973
Flag
Find out more...
1929
Flower
Big laurel (Rhododendron maximum)
1903
Folk dance
Folk dance
1986
Fossil
Megalonyx jeffersonii
2008
Fruit
Apple (Malus Mill.)
Golden delicious apple (Malus Mill.)
1972
1995
Gem
Chalcedony
1990
Great seal
Find out more...
1863
Insect
Honeybee
2002
Intertribal Tribe/Organization
Appalachian American Indian Tribe/Organization
1996
1998
Reptile
Timber rattlesnake
2008
Rock
Bituminous coal
2009
Soil
Monongahela silt loam
1997
Song
"West Virginia, My Home Sweet Home," by Julian G. Hearne, Jr.
1947
1963
Song
"The West Virginia Hills," words and music by Ellen King and H.E. Engle
1961
1963

Centennial song


Song
"This is My West Virginia," by Iris Bell
"This is My West Virginia," by Iris Bell
1962
1963
Song
"Take Me Home Country Roads," by John Denver, Taffy Nivert, and Bill Canoff
2014
Steam locomotive
Cass Scenic Railroad State Park's Shay No. 5
2004
Tartan
West Virginia shawl
2008
Tree
Sugar maple (Acer saccharum)
1949
Year-round professional theatre
Greenbrier Valley Theatre
2006
Youth ballet
River City Youth Ballet Ensemble
2007
Making laws in West Virginia
The West Virginia Legislature offers How a Bill Becomes Law to help us understand how laws are made in West Virginia.
For more information about West Virginia with a bit about the Legislature, young people can visit the legislature's Kid's Page. Information about the Legislature is provided as you scroll through a series of pages. It does not look like the Kid's Page receives much attention.
For older students and adults, the legislature offers a Citizen's Guide to the Legislature.
Additional Information
State Symbols: West Virginia State Legislature.


West Virginia
Facts and Symbols
Kathy Feeney
West Virginia Facts and Symbols, by Kathy Feeney. 24 pages. Publisher: Capstone Press; Rev Upd edition (August 2003) Reading level: Grades 3-4. Interest level: Grades 3-9. Perfect for report writing! Easy-to-read text covers major West Virginia symbols such as the state flag, seal, bird, tree, flower, animal, and more. A "Fast Facts" section highlights the state's capital city, largest city, physical size, population, natural resources, farm products, and primary manufactured goods. Also included are full-page maps that introduce the concept of the map key, which is great for teaching map-reading skills.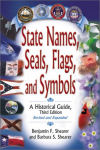 State Names, Seals
Flags and Symbols
Benjamin F. Shearer
Barbara S. Shearer
State Names, Seals, Flags and Symbols, by Benjamin F. Shearer, Barbara S. Shearer. 544 pages. Greenwood Press; 3 Sub edition (October 30, 2001) This is one of the best, and most comprehensive, books we could find about the official state names and nicknames, mottoes, seals, flags, capitols, flowers, trees, birds, songs, and miscellaneous designations of each state. This, coupled with the 1938 Shankle book, formed the basis of our symbol library. If you're serious about your states symbols, you'll want to have this book and the one below. This book also contains information about state holidays, license plates, sports teams, universities and other trivia.
State Names, Flags, Seals, Songs, Birds, Flowers, and Other Symbols, by George Earlie Shankle. 522 pages. Reprint Services Corp; Revised edition (June 1971) Reprint of the 1938 revised edition. The first comprehensive book about our state symbols! From the preface: "This book grew out of the desire of its author to know, about his native state, a great many facts which he found exceedingly difficult to obtain. After three years of research in the Library of Congress, he is able to give to the public this storehouse of information, which could have been gathered from not library less fertile in source material..."
Visit the NETSTATE West Virginia State Book Store for additional West Virginia related books, including West Virginia Reference Books, History, Biographies and Cookbooks.