---
Oregon State Fruit
Pear
Pyrus communis
Adopted:
May 5, 2005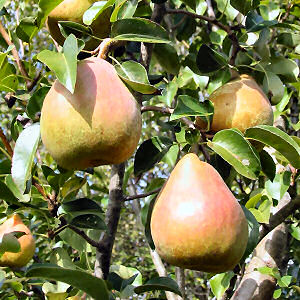 Oregon State Fruit: Pear (Pyrus communis L.)
Adoption of the Oregon State Fruit
House Joint Resolution No. 8 (HJR8) was sponsored by Representative Patti Smith and Senator Rick Metsger and others at the request of the Pear Bureau Northwest.
The resolution was first read in the House of Representatives on February 28, 2005 and specified that the European Pear be adopted as the state fruit. An amendment by the House Committee on Agricultural and Natural Resources changed the designation from "European Pear" to "Pear". The amendment also added wording that specified the pear varieties Comice, Anjou, Bosc and Bartlett as well as the wording that
"Oregon is world famous for its beautiful and delicious pear and fruit gift baskets produced in Medford and Hood River;"
As amended, HJR8 was approved by the Oregon House of Representatives on March 17, 2005 and delivered to the Senate for their consideration. By a vote of 25 to 2, the Pear was approved by the Oregon Senate on April 18. 2005.
The enrolled (finalized and approved) text of House Joint Resolution No. 8 follows:
73rd OREGON LEGISLATIVE ASSEMBLY--2005 Regular Session

Enrolled

House Joint Resolution 8

Sponsored by Representative P SMITH, Senator METSGER; Representatives BUCKLEY, ESQUIVEL, GILMAN, RICHARDSON, Senators ATKINSON, BATES (at the request of PearBureau Northwest)

Whereas Oregon is internationally renowned for producing a variety of delicious, sweet and juicy pears, including Comice, Anjou, Bosc and Bartlett; and

Whereas the Northwest is the only geographic region in the United States that has the ideal combination of climatic and geographic settings needed to produce high-quality, delicious summer and winter pear varieties; and

Whereas Oregon's rich pear-growing region stretches along the banks of the Columbia River, and thousands of acres of pears flourish in the valleys beneath the snowcapped peak of Mt. Hood; and

Whereas the Rogue River Valley in southern Oregon has long been home to high-yield pear orchards in view of Mt. McLoughlin, and is the southernmost growing region of the Northwest pear industry; and

Whereas organic, commercial and multigeneration family orchards all contribute high-quality fruit to Oregon's fresh pear industry, making the pear Oregon's top-selling tree fruit crop and its 10th largest agricultural commodity; and

Whereas Oregon is world famous for its beautiful and delicious pear and fruit gift baskets produced in Medford and Hood River; and

Whereas Oregon's total pear production consistently ranks third overall in the United States and Oregon's fresh pear production ranks second; and

Whereas pears are a good source of vitamin C, potassium and dietary fiber, have no cholesterol, are low in calories, with only 100 calories per serving, and complement the active Oregon lifestyle; and

Whereas the State of Oregon does not have an official state fruit; now, therefore,

Be It Resolved by the Legislative Assembly of the State of Oregon:

That the pear (Pyrus communis) is the official fruit of the State of Oregon.
With the signatures of the Chief Clerk of the House and the Speaker of the House on March 17, 2005 and the signature of the President of the Senate on April 18, 2005, House Joint Resolution No. 8 designated the Pear the official state fruit of the State of Oregon.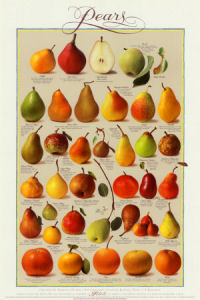 Pears
Photographs, prints and posters
Additional Information
General Pear History: A Northwest Treasure-USA Pear Industry Statistics. Pear Bureau Northwest.
Pear Pyrus communis L.: Virginia Tech, College of Natural Resources: Department of Forestry.
Pyrus communis L. (Common pear): USDA, NRCS. 2004. The PLANTS Database, Version 3.5 (http://plants.usda.gov). National Plant Data Center, Baton Rouge, LA 70874-4490 USA.
Pyrus communis L.: Integrated Taxonomic Information System (ITIS) Here you will find authoritative taxonomic information on plants, animals, fungi, and microbes of North America and the world.
Pyrus communis (Pear): CalPhoto photographs. The Biodiversity Sciences Technology group (BSCIT), a part of the Berkeley Natural History Museums at the University of California, Berkeley.
State Fruit: Complete list of official state fruit.
More symbols & emblems: Complete list of official Oregon state symbols.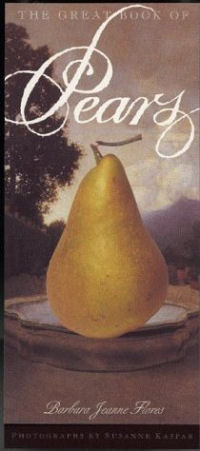 The Great Book of Pears
by Barbara Jeanne Flores
The Great Book of Pears, by Barbara Jeanne Flores. 176 pages. Ten Speed Press; illustrated edition edition (September 2000) A fine resource for cooks and gardeners, offering detailed description of the qualities of some 40 European pear and ten Asian pear cultivars, with color photographs of most of them. Also covers pear history, cultivation, storage, and uses in the kitchen. An asset: most of the excellent recipes specify which pear varieties to use. The foreword is by Lindsey Shere of Chez Panisse.
The Backyard Orchardist: A Complete Guide to Growing Fruit Trees in the Home Garden, by Stella Otto. 250 pages. Ottographics; Rev Sub edition (January 1, 1995) For every gardener desiring to add apples, pears, cherries, and other tree fruit to their landscape here are hints and solid information from a professional horticulturist and experienced fruit grower. The Backyard Orchardist includes help on selecting the best fruit trees and information about each stage of growth and development, along with tips on harvest and storage of the fruit. Those with limited space will learn about growing dwarf fruit trees in containers.
Growing Fruit (RHS Encyclopedia of Practical Gardening), by Harry Baker, The Royal Horticultural Society. 192 pages. Mitchell Beazley; 3rd edition (March 1, 1999) Produced in association with the Royal Horticultural Society, the titles in this series, which have sold over a million copies worldwide, have become standard works of practical gardening reference. Each book is illustrated with easy-to-follow, step-by-step illustrations that clearly guide the reader through all the essential techniques of successful gardening.
The Organic Gardener's Handbook of Natural Insect and Disease Control: A Complete Problem-Solving Guide to Keeping Your Garden and Yard Healthy Without Chemicals, edited by Barbara W. Ellis and Fern Marshall Bradley. 544 pages. Rodale Books; Revised edition (May 15, 1996) An excellent handbook with entries for common fruits, flowering plants, vegetables, and trees. Each listing has information on disease and pest problems and tips on how to solve them without chemicals. Especially useful sections feature photos of garden insects and diseases.
The Omnivore's Dilemma: A Natural History of Four Meals, by Michael Pollan. 464 pages. Penguin Press HC, The (April 11, 2006) The bestselling author of The Botany of Desire explores the ecology of eating to unveil why we consume what we consume in the twenty-first century
In Defense of Food: An Eater's Manifesto, by Michael Pollan. 256 pages. Penguin Press HC, The (2008) In looking toward traditional diets the world over, as well as the foods our families-and regions-historically enjoyed, we can recover a more balanced, reasonable, and pleasurable approach to food. Michael Pollan's bracing and eloquent manifesto shows us how we might start making thoughtful food choices that will enrich our lives and enlarge our sense of what it means to be healthy.
Garden tools from Amazon.com!
Custom Search