---
Double click on word for definition.
New Hampshire State Amphibian
Spotted Newt
Notophthalmus viridescens
Adopted:
April 18, 1985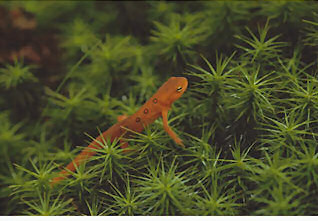 New Hampshire State Amphibian: Spotted Newt
Spotted Newt Print - Eft stage
New Hampshire has the honor of being the first state to designate an official state amphibian. It did so in 1985. To date, sixteen other states have followed New Hampshire's lead. Other states have adopted a variety of official "salamanders" and "frogs." They're amphibians too, but they were not adopted as official "amphibians."
The story of New Hampshire's official state amphibian began in the early 1980s with the children of a Goffstown High School science teacher, Philip Browne.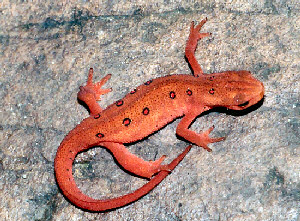 New Hampshire State Amphibian: Spotted Newt
Mr. Browne noticed that his children enjoyed catching the newts that were found on the gravel road near their house in the mornings after a spring rain. He did some research on the newts that his children caught and found out a couple of interesting things about the role that the newts played in the environment. He found that the newts eat a lot of insect larvae, particularly that of mosquitoes. This was good because New Hampshire has more than its fair share of mosquitoes. He also noticed that the number of newts found in the road seemed to be decreasing. He found out that the newts were very sensitive to the ph levels in the small ponds and pools that they lived in. Acid rain was negatively impacting the newts' environment and its survival.
Mr. Browne saw that the decreasing numbers of newts could be linked to the increasingly acidic rainfall in New Hampshire and thought that promotion of the newt in the political arena might help to publicize the effects of the acid rain. He decided to bring the plight of the newts to the attention of officials and citizens by working to persuade the legislature to adopt the newt as the official state amphibian. At the time, no other state had an official state amphibian. In the spring of 1984, Mr. Browne introduced the idea to some of his high school students. They were more than ready to join the cause.
Unfortunately, it was too late to introduce a bill for the '84 legislative session, but that left time to prepare.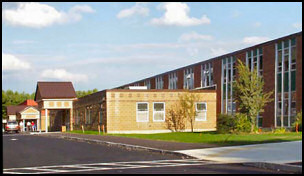 Goffstown High School
Goffstown High School students jumped into the project, learning about the newts and acid rain... and the political process. They called legislators, wrote letters, got their opinions published in the state's largest newspaper, The Manchester Union Leader and made the pages of the Boston Globe in neighboring Massachusetts. They also addressed committees in the New Hampshire House and in the New Hampshire Senate promoting the newt and its connections to acid rain. Students Melissa Gauthier and Jennifer Sula wrote, "The newt, unlike the peeper, is readily found and captured for observation by the residents of New Hampshire. It need not be hunted down in the dark of night with a flashlight. Many people celebrate the newt as the arrival of spring, also."
In 1985, a former student of Mr. Browne's and a State Representative, Paul August, introduced House Bill 98 to adopt the Spotted Newt as the official state amphibian of New Hampshire. Representative Eleanor Podles co-sponsored the bill.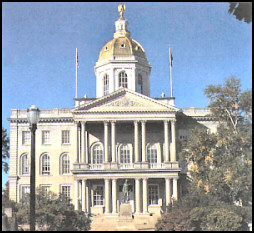 New Hampshire State House
When the bill was introduced to the New Hampshire Legislature, it ran into trouble. Representative Robert Hyman suggested that the newt's poisonous skin secretions were "an extremely dangerous substance to some individuals-not deadly perhaps, but dangerous." Another Representative compared the newts' secretions to the nerve gas used in past wars. Suggestions were made that, if New Hampshire adopted the Spotted Newt as their official amphibian, warnings about the toxic secretions would need to be provided to children and visitors.
The objections of the legislators were exaggerated. Although the newts, like most amphibians, do release some poisonous skin secretions as protective devices, they are nowhere near as potent as nerve gas. As a rebuttal to the toxicity issue, the pro-newt people told the story of a California man who had eaten five live California newts, newts that are 250 times more toxic than New Hampshire's Spotted Newts. He had fallen ill, but he had recovered. Certainly eating live newts was not a good idea, but they weren't the dangerous creatures that Representative Hyman was describing!
After much back and forth, it was pointed out that after an article in the Union Leader and two public hearings on the subject not one person had come forward to voice objection to the legislation. Finally, the New Hampshire House and the Senate approved House Bill 98.
With Goffstown science teacher Philip Browne and students at his side, Governor John Sununu signed House Bill 98 into law on April 18, 1985. The Spotted Newt became the "first" official state amphibian and the official state amphibian of New Hampshire.
Perhaps Goffstown High School should be called the "Home of the Newts" rather than the "Home of the Grizzlies"?
About the Spotted Newt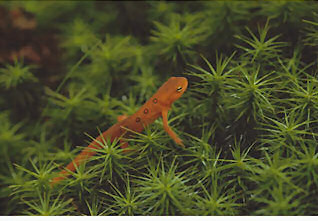 New Hampshire State Amphibian: Spotted Newt
Spotted Newt Print - Eft stage
The Spotted Newt adopted by the New Hampshire Legislature is often referred to as the Eastern Newt or the Red-Spotted Newt, but we will use the legislature's naming convention.
The Spotted Newt's life is somewhat complicated. Spotted Newts are born in small, unpolluted marshes, ponds or small lakes. It takes them about two to five months to change into small land-based newts about 1 3/8 to 3 3/8 inches long. At this land-based stage of its life, the newt is referred to as an "eft". Its color is quite bright, usually some shade of reddish-orange. It generally has two rows of black-bordered red spots on its back.
The eft grows into its adult stage after two to three years on land. The color of the adult Spotted Newt becomes less vibrant and varies from yellowish to greenish-brown with a black-speckled yellowish belly. When mature, Spotted Newts return to the water to breed and remain there the rest of their lives. They typically live from 12 to 15 years and grow to be five inches long.
Like most amphibians, the Spotted Newt secrets toxins as a protective measure. Efts are thought to be up to ten times more toxic than adults, but this is all relative. The secreted toxins are relatively harmless unless you ingest them.
The young, land-dwelling efts eat snails, springtails and soil mites. Adult newts eat mostly midge larva and other insects in their aquatic stages. Their diet is thought to be helpful in the control of insect populations, particularly mosquitoes.
New Hampshire Law
The following information was excerpted from the New Hampshire Revised Statutes, Title 1, Chapter 3.
TITLE 1. THE STATE AND ITS GOVERNMENT.
CHAPTER 3. STATE EMBLEMS, FLAG, ETC.
SECTION 3:16. STATE AMPHIBIAN.
3:16 State Amphibian. The spotted newt, Notophthalmus viridescens, is hereby designated as the official state amphibian of New Hampshire.
Source. 1985, 56:1, eff. June 23, 1985.
Additional Information
Salamanders and Newts, Red-spotted Newt (PDF): New hampshire Fish and Game Department.
Notophthalmus viridescens (Rafinesque, 1820) Eastern Newt: Jessica J. Miller's Livingunderworld.com.
Eastern Newt (Notophthalmus viridescens): United States Geological Survey.
Notophthalmus viridescens, Eastern Newt: Caudata Culture.
Notophthalmus viridescens Red Spotted Newt : The Encyclopedia of Life.
Notophthalmus viridescens (eastern newt or red-spotted newt): University of Michigan Museum of Zoology, Animal Diversity Web.
State amphibians: Complete list of official state amphibians from NETSTATE.COM.
More symbols & emblems: Complete list of official New Hampshire state symbols from NETSTATE.COM.
Newts and Salamanders
by Frank Indiviglio
Salamanders of the United States and Canada: by James W. Petranka. 587 pages. Smithsonian; 1 edition (July 17, 1998) This survey of North American salamanders is the first since the 1940s and presents the most up-to-date research on every species. Beginning with two keys to help the reader identify an animal in the hand, whether it is an adult or a larva ("tadpole"), the book then discusses each species individually.
Newts and Salamanders: Everything About Selection, Care, Nutrition, Diseases, Breeding, and Behavior by Frank Indiviglio. 96 pages. Barron's Educational Series (June 1, 1997) Terrarium enthusiasts will find up-to-date information and full-color photos describing the major native and exotic species of newts and salamanders. The author gives advice on feeding and keeping them in a healthful environment. Topics include creating the various types of habitats, nutrition, reproduction, the treatment of diseases, and sources of food and supplies.
What is an Amphibian? (The Science of Living Things) , by Bobbie Kalman and Jacqueline Langille, 32 pages, Crabtree Publishing Company (2000). Reading level: Ages 9-12. The large, full-color photographs and illustrations that pepper every page of these books will catch the eye of browsers but it is the informative, easy-to-read texts that will hold their interest.
Peterson First Guide to Reptiles and Amphibians , by Robert C. Stebbins, Joseph T. Collins and Roger Conant. Edited by Roger Tory Peterson. 128 pages, Houghton Mifflin Harcourt (April 15, 1999). From mudpuppies to rattlesnakes, this fascinating guide for young nature lovers describes the habits and habitats of these secretive and sometimes bizarre animals, and includes tips on how to catch and care for frogs, snakes, turtles, lizards, salamanders, and toads.
A Field Guide to Reptiles & Amphibians of Eastern & Central North America, by Roger Conant and Joseph T. Collins, 640 pages, Houghton Mifflin Harcourt; Fourth Edition edition (May 15, 1998). This newly designed field guides features detailed descriptions of 595 species and subspecies. The 656 full-color illustrations and 384 drawings show key details for accurate identification. More than 100 color photographs and 333 color photographs and 333 color distribution maps accompany the species descriptions.
Firefly Encyclopedia of Reptiles and Amphibians, edited by Tim Halliday and Kraig Adler, 240 pages, Firefly Books (September 7, 2002). With lush color photographs and lavishly detailed illustrations, this encyclopedia presents a striking abundance of information at a glance. Also noteworthy is the scholarly text, a comprehensive overview of these frequently studied phyla.