HOME
INTRO
SYMBOLS
ALMANAC
ECONOMY
GEOGRAPHY
STATE MAPS
PEOPLE
FORUM
NEWS
COOL SCHOOLS
STATE QUIZ
STATE LINKS
BOOK STORE
MARKETPLACE
GUESTBOOK
CONTACT US


---
Double click on word for definition.
Missouri State Amphibian
North American Bullfrog
Rana catesbeiana
Adopted:
June 5, 2005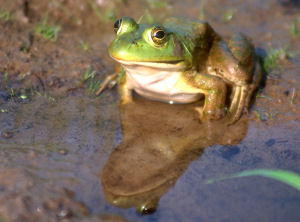 Missouri State Amphibian: North American Bullfrog
Photography: John J. Mosesso/NBII.Gov
Fourth graders at Chinn Elementary school in Kansas City are responsible for Missouri's official state amphibian.
Backed by their efforts, House Bill No. 33, sponsored by Representative Susan C. Phillips of Kansas City, proposed that the North American Bullfrog be designated as the official amphibian of the State of Missouri.
After House Bill No. 33 was approved by the Missouri House of Representatives and the Missouri Senate, Governor Matt Blunt signed the legislation into law on June 5, 2005.
The law went into effect on August 28, 2005.
As you'll see under Additional information below, the bullfrog is known in scientific circles by two names, Rana catesbeiana and Lithobates catesbeianus. The first is the original classification and the latter is a modern classification, preferred by some. Either way, the scientific names refer to the same amphibian, the North American bullfrog.
Missouri Law
The following information was excerpted from the Missouri Revised Statutes, Title 2, Chapter 10.
TITLE II SOVEREIGNTY, JURISDICTION AND EMBLEMS
CHAPTER 10 State Emblems
Section 10.170
State amphibian--North American bullfrog.
10.170. The North American North American Bullfrog, scientifically designated as Rana catesbeiana, is selected for and shall be known as the official amphibian of the state of Missouri.
(L. 2005 H.B. 33)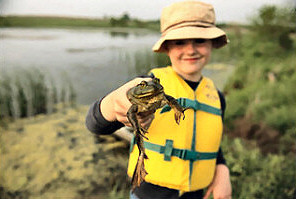 Big Bullfrog and Small Boy Print
The State Amphibian: The Office of the Missouri Secretary of State.
Rana catesbeiana Bullfrog, American Bullfrog: University of California, Berkley; AmphibiaWeb.
Rana catesbeiana (North American bullfrog): University of Michigan Museum of Zoology: Animal Diversity Web.
American Bullfrog Lithobates catesbeianus: The Encyclopedia of Life.
State amphibians: Complete list of official state amphibians from NETSTATE.COM.
More symbols & emblems: Complete list of official Missouri state symbols from NETSTATE.COM.
What is an Amphibian? (The Science of Living Things) , by Bobbie Kalman and Jacqueline Langille, 32 pages, Crabtree Publishing Company (2000). Reading level: Ages 9-12. The large, full-color photographs and illustrations that pepper every page of these books will catch the eye of browsers but it is the informative, easy-to-read texts that will hold their interest.
Peterson First Guide to Reptiles and Amphibians , by Robert C. Stebbins, Joseph T. Collins and Roger Conant. Edited by Roger Tory Peterson. 128 pages, Houghton Mifflin Harcourt (April 15, 1999). From mudpuppies to rattlesnakes, this fascinating guide for young nature lovers describes the habits and habitats of these secretive and sometimes bizarre animals, and includes tips on how to catch and care for frogs, snakes, turtles, lizards, salamanders, and toads.
A Field Guide to Reptiles & Amphibians of Eastern & Central North America, by Roger Conant and Joseph T. Collins, 640 pages, Houghton Mifflin Harcourt; Fourth Edition edition (May 15, 1998). This newly designed field guides features detailed descriptions of 595 species and subspecies. The 656 full-color illustrations and 384 drawings show key details for accurate identification. More than 100 color photographs and 333 color photographs and 333 color distribution maps accompany the species descriptions.
Firefly Encyclopedia of Reptiles and Amphibians, edited by Tim Halliday and Kraig Adler, 240 pages, Firefly Books (September 7, 2002). With lush color photographs and lavishly detailed illustrations, this encyclopedia presents a striking abundance of information at a glance. Also noteworthy is the scholarly text, a comprehensive overview of these frequently studied phyla.