---
You may double left-click on a word on this page to retrieve its definition.
Arizona State Amphibian
Arizona Tree Frog
Hyla eximia
Adopted:
August 13, 1986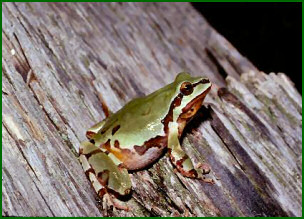 Arizona State Amphibian: Arizona Treefrog
Photograph: Jim Rorabough, US Fish & Wildlife Service
As part of the Arizona Game & Fish Commission's "Arizona Wildlife Awareness" program in 1985, thousands of school children from around the state voted for an official state mammal, reptile, fish and amphibian. The winners would be introduced to the Arizona state legislature for approval as official representatives of the state.
Students studied 800 species in an effort to determine the best choice in each of the four categories. Four finalists were chosen for each category. In the amphibian category, the choice was limited to the red spotted toad, the Colorado River toad, the spadefoot toad and the Arizona treefrog.
When the votes were counted, it was clear that the students preferred the Arizona treefrog by a wide margin.
The Arizona Treefrog (11,622 votes)
The Colorado River toad (8,520 votes)
The red spotted toad (6,346 votes)
The spadefoot toad (3,486 votes)
Legislation was introduced in the Arizona State Legislature by Representative Larry Hawke and, on August 13, 1986, the Arizona treefrog became the official state amphibian of Arizona.
About the Arizona treefrog
The Arizona (mountain) treefrog is one of only two kinds, or species, of tree frogs found in Arizona. (The other species is the canyon treefrog, Hyla arenicolor.) If you don't have good eyes, you'll have a tough time spotting an Arizona treefrog. They're only about 3/4" to 2" long.
The little fellow in the picture is green, but they can be gold to bronze as well. They have a distinct black stripe that runs from their nose, through their eye and ends before their rear legs. Though whitish on their undersides, the male frog has a tan or greenish throat.
Arizona treefrogs have small pads at the ends of their toes. These pads are very useful when climbing in trees. In the early rainy season, male frogs can be heard calling from the high tree-tops. Their call has been described as a "nasal clacking sound with one to fifteen or more notes often given in succession."
When you go looking for Arizona treefrogs, look in oak, pine and fir forests higher than 5,000 feet above sea level. You'll find them in the mountains of central Arizona along the Mogollon Rim or in the Huachuca Mountains in Cochise County. That's where they live, eating insects.
Arizona Law
The following information was excerpted from the Arizona Revised Statutes, Title 41, Article 5. As a result of the statewide contest, a mammal, a reptile, a fish and an amphibian were adopted at the same time and codified under one section, titled "State animals".
TITLE 41. STATE GOVERNMENT.
ARTICLE 5. STATE EMBLEMS.
41-859. State animals. The ringtail or bassariscus astutus, the Arizona ridgenose rattlesnake or crotalus willardi, the Arizona trout or salmo apache and the Arizona tree frog or hyla eximia shall be known respectively as the state mammal, reptile, fish and amphibian.
Additional Information
Arizona Treefrog: Arizona treefrog to print and color.
Arizona state amphibian: From the web site of the Arizona Secretary of State.
Arizona treefrog

: Wildlife field notes from Susan Goforth at the Arizona Game and Fish Department.
Arizona treefrog: Pictures and information about the Arizona treefrog from Amphibians of Arizona.
Hyla eximia (Mountain treefrog, Mandrian treefrog): Species information about Hyla eximia from Prathna Mehta's AmphibiaWeb.com.
Genus Hyla (Treefrogs): University of Michigan Museum of Zoology: Animal Diversity Web.
State amphibians: Complete list of official state amphibians from NETSTATE.COM.
More symbols & emblems: Complete list of official Arizona state symbols from NETSTATE.COM.
What is an Amphibian? (The Science of Living Things) , by Bobbie Kalman and Jacqueline Langille, 32 pages, Crabtree Publishing Company (2000). Reading level: Ages 9-12. The large, full-color photographs and illustrations that pepper every page of these books will catch the eye of browsers but it is the informative, easy-to-read texts that will hold their interest.
Peterson First Guide to Reptiles and Amphibians , by Robert C. Stebbins, Joseph T. Collins and Roger Conant. Edited by Roger Tory Peterson. 128 pages, Houghton Mifflin Harcourt (April 15, 1999). From mudpuppies to rattlesnakes, this fascinating guide for young nature lovers describes the habits and habitats of these secretive and sometimes bizarre animals, and includes tips on how to catch and care for frogs, snakes, turtles, lizards, salamanders, and toads.
A Field Guide to Reptiles & Amphibians of Eastern & Central North America, by Roger Conant and Joseph T. Collins, 640 pages, Houghton Mifflin Harcourt; Fourth Edition edition (May 15, 1998). This newly designed field guides features detailed descriptions of 595 species and subspecies. The 656 full-color illustrations and 384 drawings show key details for accurate identification. More than 100 color photographs and 333 color photographs and 333 color distribution maps accompany the species descriptions.
Firefly Encyclopedia of Reptiles and Amphibians, edited by Tim Halliday and Kraig Adler, 240 pages, Firefly Books (September 7, 2002). With lush color photographs and lavishly detailed illustrations, this encyclopedia presents a striking abundance of information at a glance. Also noteworthy is the scholarly text, a comprehensive overview of these frequently studied phyla.
Care and Breeding of Popular Treefrogs: A Practical Manual for the Serious Hobbyist, by Philippe de Vosjoli, Robert Mailloux, Drew Ready. 205 pages, Advanced Vivarium Systems (January 1, 1997) This book is written by experienced and recognized frog herpetoculturists and focuses on the care of popular tree frogs now sold in significant numbers. It covers many important topics that are required knowledge for successful keeping. Acclimating imported species, housing, feeding and captive breeding are included. A practical manual for the serious hobbyist.
Frogs, Toads, and Treefrogs: Everything About Selection, Care, Nutrition, Breeding, and Behavior, by R. D. Bartlett and Patricia P. Bartlett. 104 pages. Barron's Educational Series (February 1, 1996) This manual includes detailed instructions for maintaining a proper terrarium, taking preventative measures against parasites and disease, ensuring a healthful diet for your amphibians, profiles of popular species, and more.
Reptiles & Amphibians for Dummies, by Patricia Bartlett, 360 pages, For Dummies; 1st edition (June 1, 2003) This essential guide tells you what you must know before you own a reptile or amphibian, with authoritative advice on everything from proper caging and feeding to health care, socializing, transporting, and more. You'll find out about the different species, normal and abnormal behavior, the basics of breeding, and complying with laws.