ASPCA Complete Guide to Cats: Everything You Need to Know About Choosing and Caring for Your Pet, by James Richards, DVM. 368 pages. Publisher: Chronicle Books (September 1, 1999)
Indispensable for both first-time and experienced cat owners, the ASPCA Complete Guide to Cats is the one place to turn for up-to-date information on feline health and behavior, including detailed advice on feeding, grooming, veterinary care, litterbox training, and the special needs of kittens, older cats, and cats from a shelter. With more than 450 illustrations and photos, and an easy-to-use guide to the personalities, characteristics, and idiosyncrasies of the fifty most popular breeds, this handy volume offers real, reliable answers to all of your questions about cats.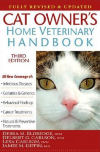 Cat Owner's Home Veterinary Handbook, by Debra M. Eldredge, DVM, Delbert G. Carlson, DVM, Liisa D. Carlson, DVM, James M. Giffin, MD. 656 pages. Publisher: Howell Book House; 3 edition (December 10, 2007)
The classic bestseller--expanded and updated: For years, many veterinary treatments for cats were based on research conducted with dogs because it was wrongly assumed that cats were very similar. Recently, there have been giant strides in feline veterinary research. This classic reference is fully updated and revised to reflect these advances and gives you the most up-to-date guidance on cat health and cat care.
Whether you have a kitten or a senior cat, this resource helps you quickly identify potential problems, take proper steps in emergency situations, better understand diagnoses and treatment options, and communicate more effectively with your veterinarian.