Additional Information

Encyclopedia of North Carolina, edited By William S. Powell, Jay Mazzocchi, Associate Editor. 1328 pages. Publisher: The University of North Carolina Press (October 25, 2006)
The first single-volume reference to the events, institutions, and cultural forces that have defined the state, the Encyclopedia of North Carolina is a landmark publication that will serve those who love and live in North Carolina for generations to come. Editor William S. Powell, whom the Raleigh News & Observer described as a "living repository of information on all things North Carolinian," spent fifteen years developing this volume. With contributions by more than 550 volunteer writers--including scholars, librarians, journalists, and many others--it is a true "people's encyclopedia" of North Carolina.
The volume includes more than 2,000 entries, presented alphabetically, consisting of longer essays on major subjects, briefer entries, and short summaries and definitions. Most entries include suggestions for further reading.
An informative and engaging compendium, the Encyclopedia of North Carolina is abundantly illustrated with 400 photographs and maps.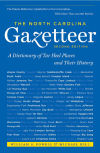 The North Carolina Gazetteer: A Dictionary of Tar Heel Places and Their History, by William S. Powell and Michael Hill. 608 pages. Publisher: The University of North Carolina Press; 2 edition (April 21, 2010)
The North Carolina Gazetteer first appeared to wide acclaim in 1968 and has remained an essential reference for anyone with a serious interest in the Tar Heel State, from historians to journalists, from creative writers to urban planners, from backpackers to armchair travelers.
This revised and expanded edition adds approximately 1,200 new entries, bringing to nearly 21,000 the number of North Carolina cities, towns, crossroads, waterways, mountains, and other places identified here. The stories attached to place names are at the core of the book and the reason why it has stood the test of time.
Telling us much about our own history in these snapshot histories of particular locales, The North Carolina Gazetteer provides an engaging, authoritative, and fully updated reference to place names from all corners of the Tar Heel State.
Visit the NETSTATE North Carolina State Book Store for additional North Carolina related books, including North Carolina Reference Books, History, Biographies and Cookbooks.