N O R T H C A R O L I N A B O O K S T O R E L O B B Y
Welcome to the North Carolina State Bookstore. We're glad you stopped by and we hope that you find exactly what you're looking for. Shopping categories include books about North Carolina people, books about North Carolina History, North Carolina Cookbooks, Hiking and enjoying the North Carolina outdoors, North Carolina reference books, and calendars, magazines and newspapers, DVD and videos, and posters under MORE. In The North Carolina State Bookstore you will find information about North Carolina for readers of all ages. Age ranges for books for young readers are highlighted in red. Have fun.
The North Carolina Atlas: Portrait for a New Century Edited by Douglas M. Orr, Jr. and Alfred W. Stuart
As North Carolina enters a new century, perhaps no southern state faces a more intriguing combination of challenges and opportunities. Changes in the state's economy, shifts in its population, and a widening breach between urban and rural areas are just some of the forces that are reshaping North Carolina at this pivotal time in its history.

The North Carolina Atlas will be an invaluable aid in any effort to better comprehend the past, present, and future of our changing state. Using text and more than three hundred maps, charts, and photographs, the book offers an in-depth yet accessible look at the state's physical environment, history, population, and economy as well as such other aspects of life as government, politics, education, health, culture, and outdoor recreation. Tracing the shifts and patterns that have made North Carolina what it is today, the book also forecasts where these and other trends are taking us in this new century.

"An excellent and very useful book. Anybody who wants to understand North Carolina ought to own the 2000 Atlas. . . . Pick any important North Carolina topic. Bank of America or First Union or William Friday or Hog Farming or Davidson College, for instance. The 2000 Atlas has something important about all of these topics. . . . A great achievement and an essential reference book. Doug Orr and Al Stuart and their colleagues deserve the reward of heroes for sticking to the monumental task of pushing this work to publication." -- Charlotte Observer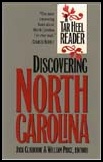 Discovering North Carolina: A Tar Heel Reader Edited by Jack Claiborne and William Price
This anthology offers an engaging journey through four centuries of North Carolina life. It draws on a wealth of sources, histories, biographies, diaries, novels, short stories, newspapers, and magazines, to show how North Carolina's rich history and remarkable literary achievements cut across economic and racial lines in often surprising ways. There are selections by or about some of the state's best-known sons and daughters, from Daniel Boone and Andrew Jackson to Ava Gardner, Doris Betts, and Tom Wicker; and topics covered include politics, sports, business, family life, education, race, religion, and war.