Additional Information
Maps.com - The World's Largest Maps Store!
:
- Over 6,000 products to choose from!
- Use code NETSTATE at the checkout for 10% off orders of $50 or more!
Challenging teaching puzzles designed for 4 to 7 year-olds, and created from sturdy wood with brightly colored graphics. Level four puzzles provide concentration, critical thinking and sequencing opportunities, while educational themes boost vocabulary and reading skills.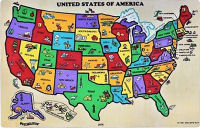 USA Map (Capitals, symbols)
Puzzibilities L4 USA Map (Capitals, symbols), Each colorful wooden puzzle piece of this puzzle is decorated with symbols representative of its state. The Fun Facts Guide lists each state's capital, nickname, bird, motto, and flower.
USA Map (Cities, resources, industries)
Puzzibilities L4 USA Map (Cities, resources, industries), Each puzzle piece of this puzzle is a different state, with that state's major cities, resources and industries labeled on the front, Kids can quiz themselves on state capitals by guessing the capital and then removing the puzzle piece for the answer.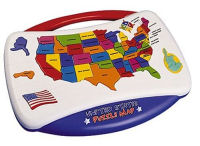 USA Talking Puzzle
USA Talking Puzzle, Geography comes to life in this jumbo-sized floor puzzle, featuring 51 shape-cut pieces of the states. Heavy-grade cardboard pieces are coated on both sides for added durability. Kids will have fun learning the states on this colorful, informative map puzzle. Manufacturer Recommended Age: 6 years and up.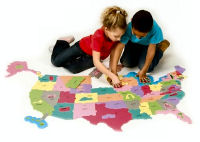 Giant USA Map Puzzle
Giant USA Map Puzzle, Learn geography the entertaining and interactive way with this 2-sided, giant foam puzzle. Includes all 50 states plus 16 punch-out landmarks and 5 great lakes. Teaches recognition by size and shape, and notes the state capital on the back of each piece. Includes fun-facts activity guide.
New Hampshire Atlas and Gazetteer, by Delorme. 80 pages. DeLorme Publishing; 15th edition (September 1, 2005) The first choice of outdoors enthusiasts. Beautiful, detailed, large-format maps of every state. Perfect for home and office reference, and a must for all your vehicles. Gazetteer information may include: campgrounds, attractions, historic sites & museums, recreation areas, trails, freshwater fishing site & boat launches, canoe trips or scenic drives. Categories vary by state .