Additional Information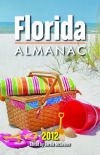 Florida Almanac: 2012, Edited by Bernie McGovern. 592 pages. Publisher: Pelican Publishing Company (Release Date: 6/30/2012)
This new and improved edition contains updated statistics on all the topics found in the past annuals, plus a new hurricane survival guide. Facts are easy to locate, with all of the subjects covered listed in a table of contents and in a detailed index.
This almanac works as a combination atlas, directory, tourist guide, reference manual, and history book—all in one. In addition to listings of national memorials, monuments, and landmarks, this volume contains road maps of each county, charts of rivers and waterways, and facts about Florida's geography and climate.
For those who are visiting the state, there are sections on major attractions, annual festivals, state parks, and lodging as well as regulations for boating, fishing, and hunting. The chapters on education, crime, residency, taxes, and utilities will be invaluable to people who are considering moving to Florida. Anyone interested in the history and settlement of the Sunshine State will appreciate the facts about Native American cultures and the chronology of major events in Florida's past.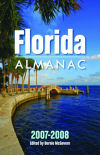 Florida Almanac: 2007-2008, Edited by Bernie McGovern. 496 pages. Publisher: Pelican Publishing Company; 16 edition (February 28, 2007)
This complete reference book includes everything that anyone would want to know about the Sunshine State. First published in 1975, Florida Almanac gains popularity with each annual edition, as Florida natives, visitors, and new residents discover the extensive and accurate knowledge it provides. From basic history and tourist information to obscure facts, such as the size of the largest squash grown, this book has it all. After reading the list of derivatives for the name of each Florida county, the Lake City Reporter called a previous edition of this book "indispensable" and described it as containing "just about everything you ever wanted to know about Florida--and a good deal of information you probably never really thought about."
Visit the NETSTATE Florida State Book Store for additional Florida related books, including Florida Reference Books, History, Biographies and Cookbooks.