Additional Information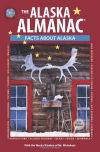 The Alaska Almanac: Facts about Alaska, edited by Nancy Gates, Whitekeys (Contributor). 240 pages. Publisher: Alaska Northwest Books; Thirty-third Edition, Revised edition (November 30, 2011)
Taking a vacation to Alaska, or maybe you live here--either way, this is the book that is full of facts about Alaska and much more. Are you wondering who won the last Yukon Quest or how many miles of coastline Alaska actually has? Are you writing a school paper about the state or checking the accuracy of your naturalit's facts on board your cruise ship? The 33rd edition of The Alaska Almanac answers your questions, and provides information at your fingertips.
Recognized for decades as the authority on the geography, economy, sports, cultures, and people of the 49th state, this edition is full of facts and figures of the Last Frontier. It is the answer book for Alaskans and visitors alike.

Mr. Whitekeys' Alaska Bizarre: Direct from the Whale Fat Follies Revue, by Mr. Whitekeys. 140 pages. Publisher: Alaska Northwest Books (November 1, 1995)
From his unique vantage point behind the piano at Anchorage's delightfully sleazy Fly By Night Club, the comedian known only as Mr. Whitekeys leads a cultural tour of the Great Land in Mr. Whitekeys' Alaska Bizarre. For over a decade, thousands of Alaskans and visitors to Alaska have have enjoyed an evening of musicomedy with Whitekeys and his irreverent singing, dancing cast.
Now, in words and incriminating pictures, the impresario and originator of "The Whale Fat Follies," brings fans a compendium of real Alaskan life, crammed tighter than a sourdough's SPAM® cache with nuggets of one-wheel-in-the-ditch lore. It's bawdy, it's raunchy, and nothing is beneath inclusion.
Visit the NETSTATE Alaska State Book Store for additional Alaska related books, including Alaska Reference Books, History, Biographies and Cookbooks.