---
Franklin Pierce (1804-1869)
In Article II, Section 1 of the Constitution of the United States of America, the following requirements are stipulated for those wishing to hold the office of the President of the United States.
No person except a natural born Citizen, or a Citizen of the United States, at the time of the Adoption of this Constitution, shall be eligible to the Office of President; neither shall any Person be eligible to that Office who shall not have attained to the Age of thirty-five Years, and been fourteen Years a Resident within the United States.
14th President of the United States (1853-1857)
Franklin Pierce became President at a time of apparent tranquility. The United States, by virtue of the Compromise of 1850, seemed to have weathered its sectional storm. By pursuing the recommendations of southern advisers, Pierce--a New Englander--hoped to prevent still another outbreak of that storm. But his policies, far from preserving calm, hastened the disruption of the Union.
Born in Hillsborough, New Hampshire, in 1804, Pierce attended Bowdoin College. After graduation he studied law, then entered politics. At 24 he was elected to the New Hampshire legislature; two years later he became its Speaker. During the 1830's he went to Washington, first as a Representative, then as a Senator.
Franklin Pierce:

Source:

University of Virginia: Miller Center of Public Affairs, Franklin Pierce, 30 June 2010 <www.millercenter.virginia.edu>.
14th President of the United States
Born:
November 23, 1804, Hillsborough, New Hampshire.
Nickname:
"Young Hickory of the Granite Hills"
Education:
Bowdoin College (graduated 1824)
Religion:
Episcopalian
Marriage:
November 19, 1834, to Jane Means Appleton (1806-1863)
Children:
Franklin (1836); Frank Robert (1839-1843); Benjamin (1841-1853)
Career:
Lawyer, Public Official
Political Party:
Democrat
President:
1 terms (4 years) from 1853-1857.
Age at inauguration:
48
Died:
October 8, 1869, Concord, New Hampshire.
Interred:
Old North Cemetery, Concord, New Hampshire.
Pierce, after serving in the Mexican War, was proposed by New Hampshire friends for the Presidential nomination in 1852. At the Democratic Convention, the delegates agreed easily enough upon a platform pledging undeviating support of the Compromise of 1850 and hostility to any efforts to agitate the slavery question. But they balloted 48 times and eliminated all the well-known candidates before nominating Pierce, a true "dark horse."
Probably because the Democrats stood more firmly for the Compromise than the Whigs, and because Whig candidate Gen. Winfield Scott was suspect in the South, Pierce won with a narrow margin of popular votes.
Two months before he took office, he and his wife saw their eleven-year-old son killed when their train was wrecked. Grief-stricken, Pierce entered the Presidency nervously exhausted.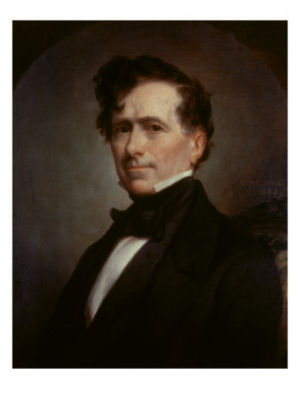 Franklin Pierce (1853) by George P. A. Healy (1813-1894)
Franklin Pierce Prints
In his Inaugural he proclaimed an era of peace and prosperity at home, and vigor in relations with other nations. The United States might have to acquire additional possessions for the sake of its own security, he pointed out, and would not be deterred by "any timid forebodings of evil."
Pierce had only to make gestures toward expansion to excite the wrath of northerners, who accused him of acting as a cat's-paw of Southerners eager to extend slavery into other areas. Therefore he aroused apprehension when he pressured Great Britain to relinquish its special interests along part of the Central American coast, and even more when he tried to persuade Spain to sell Cuba.
But the most violent renewal of the storm stemmed from the Kansas-Nebraska Act, which repealed the Missouri Compromise and reopened the question of slavery in the West. This measure, the handiwork of Senator Stephen A. Douglas, grew in part out of his desire to promote a railroad from Chicago to California through Nebraska. Already Secretary of War Jefferson Davis, advocate of a southern transcontinental route, had persuaded Pierce to send James Gadsden to Mexico to buy land for a southern railroad. He purchased the area now comprising southern Arizona and part of southern New Mexico for $10,000,000.
Douglas's proposal, to organize western territories through which a railroad might run, caused extreme trouble. Douglas provided in his bills that the residents of the new territories could decide the slavery question for themselves. The result was a rush into Kansas, as southerners and northerners vied for control of the territory. Shooting broke out, and "bleeding Kansas" became a prelude to the Civil War.
By the end of his administration, Pierce could claim "a peaceful condition of things in Kansas." But, to his disappointment, the Democrats refused to renominate him, turning to the less controversial Buchanan. Pierce returned to New Hampshire, leaving his successor to face the rising fury of the sectional whirlwind. He died in 1869.
Source: The White House: Presidents, Franklin Pierce 30 June 2010 <www.whitehouse.gov/about/presidents>.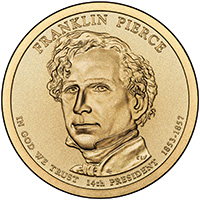 U.S. Mint Image

Presidential Dollars
Collector's Archive
Franklin Pierce, the 14th U.S. President, was born on November 23, 1804, in Hillsboro, N.H. He was elected to the New Hampshire legislature, and later served in the U.S. House of Representatives and Senate. In 1847 he served briefly as a brigadier general in the Mexican-American War. Largely unknown to the public, Pierce was nominated for President in 1852 by the Democratic Party as a compromise candidate. Partly because of his strong support for the Compromise of 1850, which attempted to mitigate the slavery issue and preserve the Union, Pierce was elected President and served from 1853-1857.
While he was President, the U.S. negotiated the Gadsden Purchase with Mexico, which gave the U.S. land in present-day southern Arizona and New Mexico for a southern transcontinental railroad. Congress also passed the Kansas-Nebraska Act, which repealed the Missouri Compromise, thus reopening the possibility of slavery in the West under the principle of "popular sovereignty." This was the belief that the people who settled a territory could determine whether to permit or prohibit slavery.
Denied re-nomination by his party for President in 1856, he retired from politics at the end of his term. He died on October 8, 1869, in Concord, N.H.
Coinage Legislation under Franklin Pierce
Act of February 21, 1857: removed the legal tender value of foreign coins in the U.S. and authorized the weight and composition of one-cent coins.
United States Mint Directors appointed by Franklin Pierce
April 1853 - May 1853: Thomas M. Petit of Pennsylvania.
June 1853 - May 1861: James Ross Snowden of Pennsylvania.
Source: The United States Mint, Franklin Pierce Presidential $1 Coin. 30 June 2010 <www.USMint.gov>
Presidential state dollars: Information about design of the Presidential $1 Coins.
Presidential $1 Coins: Release information regarding the Official U.S. Mint Presidential $1 Coins.
Additional Information

The Presidents
Collection DVD
United States Presidents: List of all United States Presidents from NETSTATE.COM.
American Presidents: Life Portraits A Site to Complement C-SPAN's 20th Anniversary Television Series, American Presidents: Life Portraits.
Franklin Pierce (1804 - 1869) American President: An Online Reference Resource from the Miller Center of Public Affairs, University of Virginia. In-depth information reviewed by prominent scholars on each President and administration.
Presidential Inaugurations: Franklin Pierce Presidential Inaugurations is presented by the Library of Congress, and other governmental departments, in collaboration with the Avalon Project at the Yale Law School. This presentation includes diaries and letters of presidents and of those who witnessed inaugurations, handwritten drafts of inaugural addresses, broadsides, inaugural tickets and programs, prints, photographs, and sheet music.
Franklin Pierce Franklin Pierce from Wikipedia, the free encyclopedia.
Franklin Pierce: 1853 Oil on canvas portrait by George P. A. Healy. National Portrait Gallery, Smithsonian Institution.
Franklin Pierce Bicentennial This site commemorates the bicentennial of the birth of Franklin Pierce (1804-1869), the 14th President of the United States of America. It is the result of historical and cultural institutions throughout New Hampshire working together to coordinate exhibits, lectures, and other activities to mark the birth of the Granite State's only U.S. President.

Deluxe Presidential
Dollar Coin
Traveling Archive
Deluxe Presidential Dollar Coin - Traveling Archive , Whitman Publishing (August 7, 2007) Lift off the capsule top, insert the coin, and snap it shut. Now your Presidential dollar is securely stored and attractively displayed - you can even see the coins's edge, which includes the date, mintmark, and inscriptions. Space for both Philadelphia and Denver Mint Coins. Includes Presidential facts printed on the inside flaps. Holds 80 coins - makes a great display and storage unit. (13.375" x 11.5" x 1.0").

Presidential Dollars
Collector's Archive
Presidential Dollars Collector's Archive, Whitman Publishing (August 7, 2007) In December 2005, Congress approved the creation of a new dollar coinage, known as Presidential dollars, and President George W. Bush signed the legislation into law shortly afterward. During each year from 2007 to 2016, four different dollar designs, each bearing the image of a different president, are being released. Living presidents, both current and former, are excluded from the program--thus the roster of presidential honorees currently stands at 37. For these presidents, 38 coins are planned; this is because Grover Cleveland, who to date is the only president to serve multiple nonconsecutive terms, will be represented with two coins. The Presidential dollars are part of the Golden Dollar Program and retain the same golden color as the Sacagawea dollars. The motto IN GOD WE TRUST appears in edge lettering--a first for a U.S. coin, as the motto has never before appeared on the rim. The year of issue is likewise on the rim. Archive Size 11.25" x 10". 40 Openings.

Presidential Folder
Volume I
Presidential Folder 4 Panel - Volume I and Vol II, Whitman Publishing; 1st edition (April 10, 2007) Presidential Folder 4 Panel - Volume I & II Hold P&D Mint Marks. Folder Size 7" x 9,5". Each Volume has 44 Openings - 4 Panels.


Franklin Pierce
Mike Venezia
Franklin Pierce (Getting to Know the US Presidents), by Mike Venezia. 32 pages. Publisher: Children's Press(CT) (March 2006) Reading level: Grades 3-4. Mike Venezia mixes facts with humor to introduce the presidents of the United States to students. This unique introduction highlights the life and times of President Franklin Pierce. Venezia uses funny and serious anecdotes to help students understand and realize that presidents are very real people. On each page is either a painting, an engraving, a map, a portrait, or a comical caricature that enhances the text. Captions are included with each that explains the historical paintings and portraits. For reports or pleasure, students will enjoy.


Franklin Pierce
America's 14th President
John DiConsiglio
Franklin Pierce: America's 14th President, by John DiConsiglio. 112 pages. Publisher: Scholastic Library Publishing (March 2004) Reading level: Grades 6-8. Authoritative biography of Franklin Pierce. Archival photographs, period illustrations, and full-color photographs, along with maps and timelines, lend visual impact.


Franklin Pierce
Roy Nichols
Franklin Pierce: Young Hickory of the Granite Hills, by Roy Franklin Nichols. 625 pages. Publisher: American Political Biography Press (August 1993-Originally 1931) Franklin Pierce - - the fourteenth President of the United Sates - - has existed in the public mind as a stereotype rather than as a many-sided human being. The predominate picture that we have of him is that of a weak and shallow man, a "mediocrity" who left little imprint upon the history of the United States. This stereotype, however, is grossly misleading, for Franklin Pierce was not a simple man. Indeed, his personality was complex, made up of varying strengths and conflicting inadequacies, while his life, full of inner turmoil, had an aspect of overwhelming tragedy.
This authoritative biography makes available a full-scale study of an unusually interesting human being. With the same thoroughness and intensity that have distinguished all if his historical writing, Roy F. Nichols follows Pierce's life from his earliest years in New Hampshire, though his college career at Bowdoin, his marriage into the distinguished ranks of an established New England family, his rise in politics, his services as a brigadier general of volunteers in the Mexican War, and his election to the Presidency as a "dark Horse" candidate of the Democratic Party.
Mr. Nichols minutely examines all the domestic and international crises that beset Pierce's administration - - the growing conflict between North and South that was to erupt within a decade into civil war, the abortive attempt to annex Cuba, the troubled relations with England, the filibustering activities of such men as William Walker which aroused much resentment in Central America toward the United States. Not only does the author refashion the exciting events of these critical days in American history, but he also unfolds, with sympathy and compassion, the tragic developments that dogged Pierce in his personal life -- his difficult marriage, his wife's illness, the death of three sons, the final bleak years of obscurity before he passed away, almost forgotten by the nation he had served.


Franklin Pierce
Michael F. Holt
Franklin Pierce: The 14th President, 1853-1857 - The American Presidents Series, Michael F. Holt. 176 pages. Publisher: Times Books; 1 edition (March 30, 2010) The genial but troubled New Englander whose single-minded partisan loyalties inflamed the nation's simmering battle over slavery.
Charming and handsome, Franklin Pierce of New Hampshire was drafted to break the deadlock of the 1852 Democratic convention. Though he seized the White House in a landslide against the imploding Whig Party, he proved a dismal failure in office.
Michael F. Holt, a leading historian of nineteenth-century partisan politics, argues that in the wake of the Whig collapse, Pierce was consumed by an obsessive drive to unify his splintering party rather than the roiling country. He soon began to overreach. Word leaked that Pierce wanted Spain to sell the slave-owning island of Cuba to the United States, rousing sectional divisions. Then he supported repeal of the Missouri Compromise, which limited the expansion of slavery in the west. Violence broke out, and "Bleeding Kansas" spurred the formation of the Republican Party. By the end of his term, Pierce's beloved party had ruptured, and he lost the nomination to James Buchanan.
In this incisive account, Holt shows how a flawed leader, so dedicated to his party and ill-suited for the presidency, hastened the approach of the Civil War.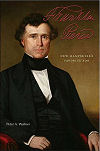 Franklin Pierce
N.H.'s Favorite Son
Peter A. Wallner
Franklin Pierce: New Hampshire's Favorite Son , by Peter A. Wallner. 322 pages. Publisher: Plaidswede Publishing Co.; (October 2004) The nation's least known president is also one of the most charming, charismatic, and interesting men to ever hold the nation's highest office. Described by his best friend Nathaniel Hawthorne as "deep, deep, deep," with "most of the chief elements of a great ruler," Pierce is also the greatest trial lawyer in New Hampshire history. A master politician at the state level, Pierce ruled over the most consistently successful state Democratic Party in the Northeast, before he and his supporters devised and executed the plan to capture the national party's presidential nomination in 1852.
The first of two volumes on the life of Franklin Pierce, Wallner's thoroughly researched, engagingly written account of Pierce's rise to national prominence will surprise readers with accounts of the many triumphs and tragedies of Pierce's life leading up to his presidency.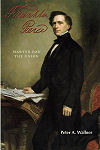 Franklin Pierce
Martyr for the Union
Peter A. Wallner
Franklin Pierce: Martyr for the Union, by Peter A. Wallner. 514 pages. Publisher: Plaidswede Publishing Co.; 1 edition (July 4, 2007) This 500-page second volume of the presidential biography examines his life during and after the White House -- and it throws everything we know about the Pierce administration out the window. Franklin Pierce is uniformly ranked among the nation's worst presidents, but Wallner shows Pierce as an honest, dedicated president doing his best to avoid a civil war, and honoring the law of the nation, even at the cost of his political career.
Pierce's low rating is often based solely on his advocacy of the explosive Kansas-Nebraska Act which ripped a national debate on slavery that had been calmed by the Compromise of 1850. By repealing the Missouri Compromise, the Act touched off violence between pro-slavery and anti-slavery settlers that led to "Bleeding" Kansas. The resulting turmoil over slavery brought about the end of the Whig Party, the formation of the Republican Party and, ultimately, the Civil War.
Wallner concludes that the life of Franklin Pierce is relevant today as he confronted many issues that still resonate including proposed restrictions on open immigration, the imposition of religious agendas into the political process, threats to individual liberties and the Bill of Rights, and the unchecked growth of presidential power particularly in time of war.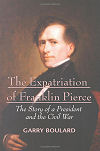 The Expatriation
of Franklin Pierce
Garry Boulard
The Expatriation of Franklin Pierce: The Story of a President and the Civil War, by Garry Boulard. 204 pages. Publisher: iUniverse, Inc. (June 26, 2006) Considered a failure upon leaving the White House in 1857 and thought to be on his way to a well-deserved obscurity, Franklin Pierce during the Civil War emerged as a major spokesman for that era's Peace Democrats, opposed to President Lincoln's suspension of the writ of habeas corpus and in defense of civil liberties.
A Northerner with many close Southern friends, including Jefferson Davis the president of the Confederacy and his wife, Varina Davis, Pierce was also thought to be a traitor because of such ties and was at one point nearly arrested for suspected seditious behavior.