---
Millard Fillmore (1800-1874)
In Article II, Section 1 of the Constitution of the United States of America, the following requirements are stipulated for those wishing to hold the office of the President of the United States.
No person except a natural born Citizen, or a Citizen of the United States, at the time of the Adoption of this Constitution, shall be eligible to the Office of President; neither shall any Person be eligible to that Office who shall not have attained to the Age of thirty-five Years, and been fourteen Years a Resident within the United States.
13th President of the United States (1850-1853)
In his rise from a log cabin to wealth and the White House, Millard Fillmore demonstrated that through methodical industry and some competence an uninspiring man could make the American dream come true.
Born in the Finger Lakes country of New York in 1800, Fillmore as a youth endured the privations of frontier life. He worked on his father's farm, and at 15 was apprenticed to a cloth dresser. He attended one-room schools, and fell in love with the redheaded teacher, Abigail Powers, who later became his wife.
Millard Fillmore:

Source:

University of Virginia: Miller Center of Public Affairs, Millard Fillmore, 08 November 2010 <www.millercenter.virginia.edu>.
13th President of the United States
Born:
January 7, 1800, Summerhill, New York.
Nickname:
"The American Louis Philippe"
Education:
Six months of grade school; read law in 1822
Religion:
Unitarian
Marriage:
February 5, 1826, to Abigail Powers (1798-1853); February 10, 1858, to Caroline Carmichael McIntosh (1813-1881)
Children:
Millard Powers (1828-1889), Mary Abigail (1832-1854)
Career:
Lawyer
Political Party:
Whig
President:
1 partial term (3 years) from 1850-1853.
Age at inauguration:
AGE
Died:
March 8, 1874, Buffalo, New York.
Interred:
Forest Lawn Cemetery, Buffalo, New York.
In 1823 he was admitted to the bar; seven years later he moved his law practice to Buffalo. As an associate of the Whig politician Thurlow Weed, Fillmore held state office and for eight years was a member of the House of Representatives. In 1848, while Comptroller of New York, he was elected Vice President.
Fillmore presided over the Senate during the months of nerve-wracking debates over the Compromise of 1850. He made no public comment on the merits of the compromise proposals, but a few days before President Taylor's death, he intimated to him that if there should be a tie vote on Henry Clay's bill, he would vote in favor of it.
Thus the sudden accession of Fillmore to the Presidency in July 1850 brought an abrupt political shift in the administration. Taylor's Cabinet resigned and President Fillmore at once appointed Daniel Webster to be Secretary of State, thus proclaiming his alliance with the moderate Whigs who favored the Compromise.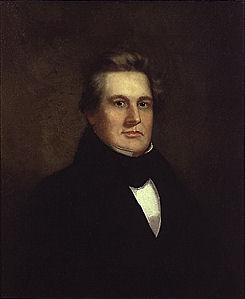 Millard Fillmore: Oil on canvas, circa 1840
National Portrait Gallery, Smithsonian Institution
Prints and posters
A bill to admit California still aroused all the violent arguments for and against the extension of slavery, without any progress toward settling the major issues.
Clay, exhausted, left Washington to recuperate, throwing leadership upon Senator Stephen A. Douglas of Illinois. At this critical juncture, President Fillmore announced in favor of the Compromise. On August 6, 1850, he sent a message to Congress recommending that Texas be paid to abandon her claims to part of New Mexico.
This helped influence a critical number of northern Whigs in Congress away from their insistence upon the Wilmot Proviso--the stipulation that all land gained by the Mexican War must be closed to slavery.
Douglas's effective strategy in Congress combined with Fillmore's pressure from the White House to give impetus to the Compromise movement. Breaking up Clay's single legislative package, Douglas presented five separate bills to the Senate:
Admit California as a free state.
Settle the Texas boundary and compensate her.
Grant territorial status to New Mexico.
Place Federal officers at the disposal of slaveholders seeking fugitives.
Abolish the slave trade in the District of Columbia.
Each measure obtained a majority, and by September 20, President Fillmore had signed them into law. Webster wrote, "I can now sleep of nights."
Some of the more militant northern Whigs remained irreconcilable, refusing to forgive Fillmore for having signed the Fugitive Slave Act. They helped deprive him of the Presidential nomination in 1852.
Within a few years it was apparent that although the Compromise had been intended to settle the slavery controversy, it served rather as an uneasy sectional truce.
As the Whig Party disintegrated in the 1850's, Fillmore refused to join the Republican Party; but, instead, in 1856 accepted the nomination for President of the Know Nothing, or American, Party. Throughout the Civil War he opposed President Lincoln and during Reconstruction supported President Johnson. He died in 1874.
Source: The White House: Presidents, Millard Fillmore 08 November 2010 <www.whitehouse.gov/about/presidents>.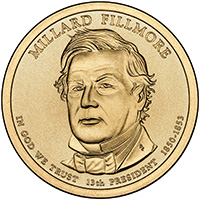 U.S. Mint Image

Presidential Dollars
Collector's Archive
Millard Fillmore, the 13th U.S. President, was born in a log cabin on January 7, 1800, in Locke (now Summerhill), N.Y. The second of nine children, he worked on his father's farm as a boy and became an indentured apprentice to a cloth maker as a teenager. After studying with a county judge, he began to practice law in 1823. In 1828 Fillmore entered politics, serving as a New York state assemblyman and later in the U.S. House of Representatives, where he chaired the powerful Committee on Ways and Means. While comptroller of New York, he was elected to serve as President Zachary Taylor's vice president in 1848 as a Whig. Upon Taylor's death in July 1850, Fillmore became President.
While Fillmore was in office, Congress passed the Compromise of 1850, a package of stop-gap measures which effectively postponed the Civil War for a decade. He also ordered Commodore Matthew C. Perry to lead a naval expedition in 1852 to convince Japan's shogunate government to open relations with the U.S. This paved the way for the 1854 Treaty of Kanagawa, the first between the two countries, thus ending Japanese isolationism.
After two unsuccessful bids for election to the presidency in his own right, he retired to Buffalo, N.Y. In 1862 former President Fillmore was named the first chancellor of the University of Buffalo, now the State University of New York at Buffalo. He died in Buffalo on March 8, 1874.
Coinage Legislation under Millard Fillmore
United States Mint Directors appointed by Millard Fillmore
George N. Eckert of Pennsylvania, July 1851 - April 1853 .
Source: The United States Mint, Millard Fillmore Presidential $1 Coin. 09 July 2010 <www.USMint.gov>
Presidential state dollars: Information about design of the Presidential $1 Coins.
Presidential $1 Coins: Release information regarding the Official U.S. Mint Presidential $1 Coins.
Additional Information

The Presidents
Collection DVD
United States Presidents: List of all United States Presidents from NETSTATE.COM.
Millard Fillmore: Official site from the White House.
Millard Fillmore Companion site for the Public Broadcasting's American Experience Series.
The Thirteenth President: Millard Fillmore: from American Heritage magazine.
American Presidents: Life Portraits A Site to Complement C-SPAN's 20th Anniversary Television Series, American Presidents: Life Portraits.
Millard Fillmore: Presidential Inaugurations is presented by the Library of Congress, and other governmental departments, in collaboration with the Avalon Project at the Yale Law School. This presentation includes diaries and letters of presidents and of those who witnessed inaugurations, handwritten drafts of inaugural addresses, broadsides, inaugural tickets and programs, prints, photographs, and sheet music.
Millard Fillmore (1800 - 1874) American President: An Online Reference Resource from the Miller Center of Public Affairs, University of Virginia. In-depth information reviewed by prominent scholars on each President and administration.
FILLMORE, Millard, (1800 - 1874): Biographical directory of the United States Congress.
Millard Fillmore Millard Fillmore from Wikipedia, the free encyclopedia.
Millard Fillmore: A Resource Guide The digital collections of the Library of Congress contain a wide variety of material associated with Millard Fillmore. This resource guide compiles links to digital materials related to Fillmore such as manuscripts, letters, broadsides, government documents, and images that are available throughout the Library of Congress Web site. In addition, it provides links to external Web sites focusing on Millard Fillmore and a bibliography containing selected works for both a general audience and younger readers.
The Papers of Millard Fillmore The American Presidency Project (americanpresidency.org), was established in 1999 as a collaboration between John Woolley and Gerhard Peters at the University of California, Santa Barbara.
Millard Fillmore: Oil on canvas portrait (c. 1840) by an unidentified artist. National Portrait Gallery, Smithsonian Institution.

Deluxe Presidential
Dollar Coin
Traveling Archive
Deluxe Presidential Dollar Coin - Traveling Archive , Whitman Publishing (August 7, 2007) Lift off the capsule top, insert the coin, and snap it shut. Now your Presidential dollar is securely stored and attractively displayed - you can even see the coins's edge, which includes the date, mintmark, and inscriptions. Space for both Philadelphia and Denver Mint Coins. Includes Presidential facts printed on the inside flaps. Holds 80 coins - makes a great display and storage unit. (13.375" x 11.5" x 1.0").

Presidential Dollars
Collector's Archive
Presidential Dollars Collector's Archive, Whitman Publishing (August 7, 2007) In December 2005, Congress approved the creation of a new dollar coinage, known as Presidential dollars, and President George W. Bush signed the legislation into law shortly afterward. During each year from 2007 to 2016, four different dollar designs, each bearing the image of a different president, are being released. Living presidents, both current and former, are excluded from the program--thus the roster of presidential honorees currently stands at 37. For these presidents, 38 coins are planned; this is because Grover Cleveland, who to date is the only president to serve multiple nonconsecutive terms, will be represented with two coins. The Presidential dollars are part of the Golden Dollar Program and retain the same golden color as the Sacagawea dollars. The motto IN GOD WE TRUST appears in edge lettering--a first for a U.S. coin, as the motto has never before appeared on the rim. The year of issue is likewise on the rim. Archive Size 11.25" x 10". 40 Openings.

Presidential Folder
Volume I
Presidential Folder 4 Panel - Volume I and Vol II, Whitman Publishing; 1st edition (April 10, 2007) Presidential Folder 4 Panel - Volume I & II Hold P&D Mint Marks. Folder Size 7" x 9,5". Each Volume has 44 Openings - 4 Panels.

Millard Fillmore
Mike Venezia
Millard Fillmore (Getting to Know the US Presidents), by Mike Venezia. 32 pages. Publisher: Children's Press(CT) (September 2005) Reading level: Grades 3-4. Mike Venezia mixes facts with humor to introduce the presidents of the United States to students. This unique introduction highlights the life and times of President Millard Fillmore. Venezia uses funny and serious anecdotes to help students understand and realize that presidents are very real people. On each page is either a painting, an engraving, a map, a portrait, or a comical caricature that enhances the text. Captions are included with each that explains the historical paintings and portraits. For reports or pleasure, students will enjoy.

Millard Fillmore
America's 13th President
Dan Santow
Millard Fillmore: America's 13th President, by Dan Santow. 112 pages. Publisher: Scholastic Library Publishing (March 2004) Reading level: Grades 6-8. When Zachary Taylor died early in his term, Millard Fillmore became president of the United States. This biography explores the personal life and political career of this American leader who is widely known for his support of the Compromise of 1850. A brief "Fast Facts" includes: time line, glossary, historic sites, Web sites, and index. Books for further reading. Tables of all the presidents noting dates of office, birth, and death, and birth-place.

The Presidencies of
Zachary Taylor and
Millard Fillmore
Elbert B. Smith
The Presidencies of Zachary Taylor and Millard Fillmore, by Elbert B. Smith. 302 pages. Publisher: University Press of Kansas; Fourth Printing edition (July 1988) In this book Elbert B. Smith disagrees sharply with traditional interpretations of Taylor and Fillmore, the twelfth and thirteenth presidents (from 1848 to 1853). He argues persuasively that the slaveholding Taylor--and not John C. Calhoun--was the realistic defender of southern slaveholding interests, and that Taylor did nothing to impede the Compromise of 1850. While Taylor opposed the combination of the issues into a single compromise bill that could not be passed without ammendments to suit the extremists, he would have approved the different parts of the Compromise that were ultimately passed as separate measures.

Millard Fillmore
Robert J. Scarry
Millard Fillmore, by Robert J. Scarry. 432 pages. Publisher: McFarland & Company, Inc. (May 13, 2009) From the time he left office in 1853, President Millard Fillmore has become increasingly shrouded in mystery and stereotyped by anecdotes with slender connections to facts. The real Fillmore was not the weak and boring figurehead many Americans believe he was.
This account of Fillmore's life is drawn largely from his family's personal papers, many of which have previously been suppressed or were unavailable or believed lost. It presents Fillmore as his own letters do, and as his friends, family members, and contemporaries saw him, as a distinguished and honorable man who was also a strong and effective president. This comprehensive work includes photographs, a genealogy of the Fillmore family, a chronology, a bibliography, and an index.