---
James Buchanan (1791-1868)
In Article II, Section 1 of the Constitution of the United States of America, the following requirements are stipulated for those wishing to hold the office of the President of the United States.
No person except a natural born Citizen, or a Citizen of the United States, at the time of the Adoption of this Constitution, shall be eligible to the Office of President; neither shall any Person be eligible to that Office who shall not have attained to the Age of thirty-five Years, and been fourteen Years a Resident within the United States.
15th President of the United States (1857-1861)
Tall, stately, stiffly formal in the high stock he wore around his jowls, James Buchanan was the only President who never married.
Presiding over a rapidly dividing Nation, Buchanan grasped inadequately the political realities of the time. Relying on constitutional doctrines to close the widening rift over slavery, he failed to understand that the North would not accept constitutional arguments which favored the South. Nor could he realize how sectionalism had realigned political parties: the Democrats split; the Whigs were destroyed, giving rise to the Republicans.
Born into a well-to-do Pennsylvania family in 1791, Buchanan, a graduate of Dickinson College, was gifted as a debater and learned in the law.
James Buchanan:

Source:

University of Virginia: Miller Center of Public Affairs, James Buchanan, 27 November 2009 <www.millercenter.virginia.edu>.
15th President of the United States
Born:
April 23, 1791, Cove Gap (near Mercersburg), Pennsylvania.
Nickname:
"Old Buck"
Education:
Dickinson College (graduated 1809)
Religion:
Presbyterian
Marriage:
None
Children:
None
Career:
Lawyer
Political Party:
Democrat
President:
1 term (4 years) from 1857-1861.
Age at inauguration:
65
Died:
June 1, 1868, near Lancaster, Pennsylvania.
Interred:
Woodward Hill Cemetery, Lancaster, Pennsylvania.
He was elected five times to the House of Representatives; then, after an interlude as Minister to Russia, served for a decade in the Senate. He became Polk's Secretary of State and Pierce's Minister to Great Britain. Service abroad helped to bring him the Democratic nomination in 1856 because it had exempted him from involvement in bitter domestic controversies.
As President-elect, Buchanan thought the crisis would disappear if he maintained a sectional balance in his appointments and could persuade the people to accept constitutional law as the Supreme Court interpreted it. The Court was considering the legality of restricting slavery in the territories, and two justices hinted to Buchanan what the decision would be.
Thus, in his Inaugural the President referred to the territorial question as "happily, a matter of but little practical importance" since the Supreme Court was about to settle it "speedily and finally."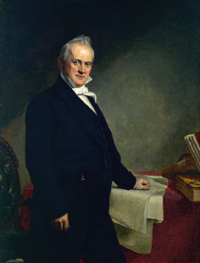 President James Buchanan
Oil on canvas (1859) James P.A. Healy
Prints and posters
Two days later Chief Justice Roger B. Taney delivered the Dred Scott decision, asserting that Congress had no constitutional power to deprive persons of their property rights in slaves in the territories. Southerners were delighted, but the decision created a furor in the North.
Buchanan decided to end the troubles in Kansas by urging the admission of the territory as a slave state. Although he directed his Presidential authority to this goal, he further angered the Republicans and alienated members of his own party. Kansas remained a territory.
When Republicans won a plurality in the House in 1858, every significant bill they passed fell before southern votes in the Senate or a Presidential veto. The Federal Government reached a stalemate.
Sectional strife rose to such a pitch in 1860 that the Democratic Party split into northern and southern wings, each nominating its own candidate for the Presidency. Consequently, when the Republicans nominated Abraham Lincoln, it was a foregone conclusion that he would be elected even though his name appeared on no southern ballot. Rather than accept a Republican administration, the southern "fire-eaters" advocated secession.
President Buchanan, dismayed and hesitant, denied the legal right of states to secede but held that the Federal Government legally could not prevent them. He hoped for compromise, but secessionist leaders did not want compromise.
Then Buchanan took a more militant tack. As several Cabinet members resigned, he appointed northerners, and sent the Star of the West to carry reinforcements to Fort Sumter. On January 9, 1861, the vessel was far away.
Buchanan reverted to a policy of inactivity that continued until he left office. In March 1861 he retired to his Pennsylvania home Wheatland--where he died seven years later--leaving his successor to resolve the frightful issue facing the Nation.
Source: The White House: Presidents, James Buchanan 20 August 2010 <www.whitehouse.gov/about/presidents>.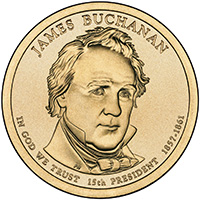 U.S. Mint Image

Presidential Dollars
Collector's Archive
James Buchanan, the 15th U.S. President, was born on April 23, 1791, near Mercersburg, Pa. The oldest of 11 children, he began a successful law career in 1812. During the War of 1812, he helped defend Baltimore against British attack. A gifted orator, he became a state legislator, and later served as a member of the U.S. House of Representatives and Senate and as U.S. minister to Russia. In 1845, he became President James K. Polk's secretary of state. His later service abroad as U.S. minister to Great Britain helped insulate him from the growing domestic controversy over slavery, which was reaching a crescendo by 1856, helping him secure the Democratic Party's nomination for President. He served one term in office, 1857-1861. He did not seek re-election in 1860.
Two days after Buchanan was inaugurated, the U.S. Supreme Court issued the controversial Dred Scott decision, which effectively legalized slavery in all U.S. territories, which served as another factor to further propel the Nation toward civil war. He was successful in opening and securing ports on the West Coast, which enhanced trade with Asian countries. In December 1860, in the wake of Abraham Lincoln's election as President, 11 southern states declared succession from the union and formed the Confederate States of America. Former President Buchanan died on June 1, 1868, in Lancaster, Pennsylvania.
Coinage Legislation under James Buchanan
No coinage legislation was enacted during President Buchanan's term.
United States Mint Directors appointed by James Buchanan
President James Buchanan did not appoint a Director of the United States Mint.
Source: The United States Mint, James Buchanan Presidential $1 Coin. 20 August 2010 <www.USMint.gov>
Presidential state dollars: Information about design of the Presidential $1 Coins.
Presidential $1 Coins: Release information regarding the Official U.S. Mint Presidential $1 Coins.
Additional Information

The Presidents
Collection DVD
United States Presidents: List of all United States Presidents from NETSTATE.COM.
James Buchanan: Official site from the White House.
James Buchanan Companion site for the Public Broadcasting's American Experience Series
The Fifteenth President: James Buchanan: from American Heritage magazine.
American Presidents: Life Portraits A Site to Complement C-SPAN's 20th Anniversary Television Series, American Presidents: Life Portraits.
Presidential Inaugurations: James Buchanan Presidential Inaugurations is presented by the Library of Congress, and other governmental departments, in collaboration with the Avalon Project at the Yale Law School. This presentation includes diaries and letters of presidents and of those who witnessed inaugurations, handwritten drafts of inaugural addresses, broadsides, inaugural tickets and programs, prints, photographs, and sheet music.
James Buchanan (1791 - 1868) American President: An Online Reference Resource from the Miller Center of Public Affairs, University of Virginia. In-depth information reviewed by prominent scholars on each President and administration.
James Buchanan: A Resource Guide The digital collections of the Library of Congress contain a wide variety of material associated with James Buchanan. This resource guide compiles links to digital materials related to Buchanan such as manuscripts, broadsides, government documents, and images that are available throughout the Library of Congress Web site. In addition, it provides links to external Web sites focusing on Buchanan and a bibliography containing selected works for both a general audience and younger readers.
James Buchanan James Buchanan portrait by George Peter Alexander Healy; oil on canvas (1859). The Smithsonian Institution's National Portrait Gallery.
James Buchanan's Wheatland The substantial brick house at Wheatland consists of a Federal-style two and one-half story central section flanked by three-story wings. The main block of the building contains a central hall with two matching rooms on either side; there are 17 rooms in all. A Doric-columned porch dominates the front of the main section of the house. Few changes have occurred over the years except for some interior improvements made by Buchanan. These included installation of a furnace and central heating, replacement of the open hearth in the kitchen by a cast-iron stove, and the addition of such modern conveniences as a tin bathtub.
Buchanan's Birthplace State Park: Buchanan's Birthplace State Park is an 18.5-acre park. Nestled in a gap of the Tuscarora Mountain in Franklin County. The park and surrounding the forested mountains offer an abundance of beauty throughout the year.
BUCHANAN, James, (1791 - 1868): Biographical directory of the United States Congress.
James Buchanan: James Buchanan, Jr. entry from Wikipedia, the free encyclopedia.

Deluxe Presidential
Dollar Coin
Traveling Archive
Deluxe Presidential Dollar Coin - Traveling Archive , Whitman Publishing (August 7, 2007) Lift off the capsule top, insert the coin, and snap it shut. Now your Presidential dollar is securely stored and attractively displayed - you can even see the coins's edge, which includes the date, mintmark, and inscriptions. Space for both Philadelphia and Denver Mint Coins. Includes Presidential facts printed on the inside flaps. Holds 80 coins - makes a great display and storage unit. (13.375" x 11.5" x 1.0").

Presidential Dollars
Collector's Archive
Presidential Dollars Collector's Archive, Whitman Publishing (August 7, 2007) In December 2005, Congress approved the creation of a new dollar coinage, known as Presidential dollars, and President George W. Bush signed the legislation into law shortly afterward. During each year from 2007 to 2016, four different dollar designs, each bearing the image of a different president, are being released. Living presidents, both current and former, are excluded from the program--thus the roster of presidential honorees currently stands at 37. For these presidents, 38 coins are planned; this is because Grover Cleveland, who to date is the only president to serve multiple nonconsecutive terms, will be represented with two coins. The Presidential dollars are part of the Golden Dollar Program and retain the same golden color as the Sacagawea dollars. The motto IN GOD WE TRUST appears in edge lettering--a first for a U.S. coin, as the motto has never before appeared on the rim. The year of issue is likewise on the rim. Archive Size 11.25" x 10". 40 Openings.

Presidential Folder
Volume I
Presidential Folder 4 Panel - Volume I and Vol II, Whitman Publishing; 1st edition (April 10, 2007) Presidential Folder 4 Panel - Volume I & II Hold P&D Mint Marks. Folder Size 7" x 9,5". Each Volume has 44 Openings - 4 Panels.


James Buchanan
Mike Venezia
James Buchanan (Getting to Know the US Presidents), by Mike Venezia. 32 pages. Publisher: Children's Press(CT) (March 2006) Reading level: Grades 3-4. Mike Venezia mixes facts with humor to introduce the presidents of the United States to students. This unique introduction highlights the life and times of President James Buchanan. Venezia uses funny and serious anecdotes to help students understand and realize that presidents are very real people. On each page is either a painting, an engraving, a map, a portrait, or a comical caricature that enhances the text. Captions are included with each that explains the historical paintings and portraits. For reports or pleasure, students will enjoy.


James Buchanan
America's 15th President
Allison Lassieur
James Buchanan: America's 15th President, by Allison Lassieur. 112 pages. Publisher: Scholastic Library Publishing (March 2004) Reading level: Grades 6-8. A biography of the fifteenth president of the United States, with information on his childhood, family, political career, presidency, and legacy. A brief "Fast Facts" includes: time line, glossary, historic sites, Web sites, and index. Books for further reading. Tables of all the presidents noting dates of office, birth, and death, and birth-place.


James Buchanan
Jean H. Baker
James Buchanan, by Jean H. Baker. 192 pages. Publisher: Times Books; 1 edition (June 7, 2004) Almost no president was as well trained and well prepared for the office as James Buchanan. He had served in the Pennsylvania state legislature, the U.S. House, and the U.S. Senate; he was Secretary of State and was even offered a seat on the Supreme Court. And yet, by every measure except his own, James Buchanan was a miserable failure as president, leaving office in disgrace. Virtually all of his intentions were thwarted by his own inability to compromise: he had been unable to resolve issues of slavery, caused his party to split-thereby ensuring the election of the first Republican president, Abraham Lincoln-and made the Civil War all but inevitable. Historian Jean H. Baker explains that we have rightly placed Buchanan at the end of the presidential rankings, but his poor presidency should not be an excuse to forget him. To study Buchanan is to consider the implications of weak leadership in a time of national crisis. Elegantly written, Baker's volume offers a balanced look at a crucial moment in our nation's history and explores a man who, when given the opportunity, failed to rise to the challenge.


President
James Buchanan
Philip S. Klein
President James Buchanan: A Biography, by Philip S. Klein. 506 pages. Publisher: American Political Biography Press (May 1995) The life of James Buchanan is in essence the story of a man who declined to be a dictator. Republics are traditionally ungrateful, and in Buchanan's case the American republic has been notoriously thankless to the man who was, from log cabin to White House, the relentless foe of fanatics and demagogues; a man who held that reason and restraint were the essential tools of self-government, and who bent all his energies to achieve by means of law and diplomacy what others later sought to accomplish by civil war.