---
Abraham Lincoln (1809-1865)
In Article II, Section 1 of the Constitution of the United States of America, the following requirements are stipulated for those wishing to hold the office of the President of the United States.
No person except a natural born Citizen, or a Citizen of the United States, at the time of the Adoption of this Constitution, shall be eligible to the Office of President; neither shall any Person be eligible to that Office who shall not have attained to the Age of thirty-five Years, and been fourteen Years a Resident within the United States.
16th President of the United States (1861–1865)
Lincoln warned the South in his Inaugural Address: "In your hands, my dissatisfied fellow countrymen, and not in mine, is the momentous issue of civil war. The government will not assail you.... You have no oath registered in Heaven to destroy the government, while I shall have the most solemn one to preserve, protect and defend it."
Lincoln thought secession illegal, and was willing to use force to defend Federal law and the Union. When Confederate batteries fired on Fort Sumter and forced its surrender, he called on the states for 75,000 volunteers. Four more slave states joined the Confederacy but four remained within the Union. The Civil War had begun.
Abraham Lincoln:

Source:

University of Virginia: Miller Center of Public Affairs, Abraham Lincoln, 7 Feb 2012 <www.millercenter.virginia.edu>.
16th President of the United States
Born:
February 12, 1809 in Hardin (now Larue) County, Kentucky.
Nickname:
"Honest Abe," "Illinois Rail Splitter"
Education:
Scant formal education
Religion:
No formal affiliation
Marriage:
November 4, 1842, to Mary Todd (1818-1882)
Children:
Robert Todd (1843–1926), Edward Baker (1846–1850), William Wallace (1850–1862), Thomas "Tad" (1853–1871)
Career:
Lawyer
Political Party:
Whig; Republican
President:
1+ term (4+ years) from 1861-1865.
Age at inauguration:
52
Died:
April 14, 1865 in Washington, D.C..
Interred:
Oak Ridge Cemetery, Springfield, Illinois.
The son of a Kentucky frontiersman, Lincoln had to struggle for a living and for learning. Five months before receiving his party's nomination for President, he sketched his life:
"I was born Feb. 12, 1809, in Hardin County, Kentucky. My parents were both born in Virginia, of undistinguished families--second families, perhaps I should say. My mother, who died in my tenth year, was of a family of the name of Hanks.... My father ... removed from Kentucky to ... Indiana, in my eighth year.... It was a wild region, with many bears and other wild animals still in the woods. There I grew up.... Of course when I came of age I did not know much. Still somehow, I could read, write, and cipher ... but that was all."
Lincoln made extraordinary efforts to attain knowledge while working on a farm, splitting rails for fences, and keeping store at New Salem, Illinois. He was a captain in the Black Hawk War, spent eight years in the Illinois legislature, and rode the circuit of courts for many years. His law partner said of him, "His ambition was a little engine that knew no rest."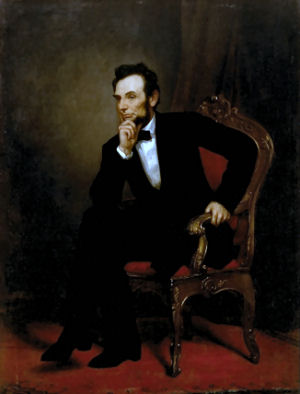 Portrait of Abraham Lincoln by George P.A. Healy, 1869.
He married Mary Todd, and they had four boys, only one of whom lived to maturity. In 1858 Lincoln ran against Stephen A. Douglas for Senator. He lost the election, but in debating with Douglas he gained a national reputation that won him the Republican nomination for President in 1860.
As President, he built the Republican Party into a strong national organization. Further, he rallied most of the northern Democrats to the Union cause. On January 1, 1863, he issued the Emancipation Proclamation that declared forever free those slaves within the Confederacy.
Lincoln never let the world forget that the Civil War involved an even larger issue. This he stated most movingly in dedicating the military cemetery at Gettysburg: "that we here highly resolve that these dead shall not have died in vain--that this nation, under God, shall have a new birth of freedom--and that government of the people, by the people, for the people, shall not perish from the earth."
Lincoln won re-election in 1864, as Union military triumphs heralded an end to the war. In his planning for peace, the President was flexible and generous, encouraging Southerners to lay down their arms and join speedily in reunion.
The spirit that guided him was clearly that of his Second Inaugural Address, now inscribed on one wall of the Lincoln Memorial in Washington, D. C.: "With malice toward none; with charity for all; with firmness in the right, as God gives us to see the right, let us strive on to finish the work we are in; to bind up the nation's wounds.... "
On Good Friday, April 14, 1865, Lincoln was assassinated at Ford's Theatre in Washington by John Wilkes Booth, an actor, who somehow thought he was helping the South. The opposite was the result, for with Lincoln's death, the possibility of peace with magnanimity died.
Source: The White House: Presidents, Abraham Lincoln 7 Feb 2012 <http://www.whitehouse.gov/about/presidents/>.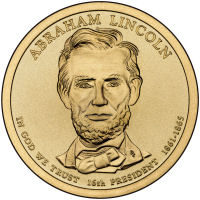 U.S. Mint Image

Presidential Dollars
Collector's Archive
Abraham Lincoln, the 16th U.S. President, was born February 12, 1809, near Hodgenville, Ky., into a poor frontier family. A self-taught lawyer, he also served in the Illinois legislature and the U.S. House of Representatives. In 1858, while campaigning for a seat in the U.S. Senate, Lincoln engaged incumbent Stephen A. Douglas in a series of debates over slavery. Though he lost the election, Lincoln's eloquence won him national attention, and in 1860, he received the Republican Presidential nomination. Lincoln became President of the United States in 1861 as the Nation descended into the Civil War.
While he was President, Lincoln issued the Emancipation Proclamation, which freed the slaves living in the Confederacy. Although the Confederate States ignored the proclamation, it allowed Union soldiers to free slaves they found in the South and recruit them into their army. By the time the Civil War ended, one out of eight members of the Union Army was black. On November 19, 1863, he delivered his famous Gettysburg Address. His example of assuming sole authority during a time of war was followed by later Presidents, including Woodrow Wilson in World War I and Franklin Roosevelt in World War II. While the Civil War and efforts to abolish slavery dominated his presidency, Lincoln also signed into law the Homestead Act, which made it possible for poor people to buy land provided they agreed to settle and work there for at least five years. This law began the settlement of the American West.
On April 14, 1865—only a few weeks into his second administration and just as the Civil War was ending—Lincoln was shot by Southern sympathizer John Wilkes Booth, and died the next morning in Washington, D.C.
Coinage Legislation under Abraham Lincoln
United States Mint Directors appointed by Abraham Lincoln
James Pollock of Pennsylvania, 10th Director of the Mint, May 1861 – September 1866.
Source: The United States Mint, Abraham Lincoln Presidential $1 Coin. 7 Feb 2012 <www.USMint.gov>
Presidential state dollars: Information about design of the Presidential $1 Coins.
Presidential $1 Coins: Release information regarding the Official U.S. Mint Presidential $1 Coins.
Additional Information

The Presidents
Collection DVD
United States Presidents: List of all United States Presidents from NETSTATE.COM.
Abraham Lincoln America's Story from America's Library, the Library of Congress.
Abraham Lincoln A Site to Complement C-SPAN's 20th Anniversary Television Series, American Presidents: Life Portraits.
Abraham Lincoln: National Park Service's Log Cabin program.
LINCOLN, Abraham, (1809 - 1865): Biographical Guide of the United States Congress.
Abraham Lincoln (1809–1865) American President: An Online Reference Resource from the Miller Center of Public Affairs, University of Virginia. In-depth information reviewed by prominent scholars on each President and administration.
Abraham Lincoln From PBS
Abraham Lincoln Birthplace, National Historical Park The First Lincoln Memorial: For over a century people from around the world have come to rural Central Kentucky to honor the humble beginnings of our 16th president, Abraham Lincoln. His early life on Kentucky's frontier shaped his character and prepared him to lead the nation through Civil War. The country's first memorial to Lincoln, built with donations from young and old, enshrines the symbolic birthplace cabin.
One Life: The Mask of Abraham Lincoln The National Portrait Gallery commemorates the bicentennial of Lincoln's birth with this exhibition which draws primarily on the Portrait Gallery's extensive collection of Lincoln portraits.
Presidential Inaugurations: Abraham Lincoln's first inauguration Presidential Inaugurations is presented by the Library of Congress, and other governmental departments, in collaboration with the Avalon Project at the Yale Law School. This presentation includes diaries and letters of presidents and of those who witnessed inaugurations, handwritten drafts of inaugural addresses, broadsides, inaugural tickets and programs, prints, and photographs.
Presidential Inaugurations: Abraham Lincoln's second inauguration Presidential Inaugurations is presented by the Library of Congress, and other governmental departments, in collaboration with the Avalon Project at the Yale Law School.
The Official Website of the Abraham Lincoln Presidential Library and Museum The Abraham Lincoln Presidential Library Foundation.
The Lincoln Institute: The Abraham Lincoln Institute supports research on President Abraham Lincoln, Abraham Lincoln's role in the Civil War and Abraham Lincoln and Emancipation.


Part of
The Alfred Whital Stern
Collection of Lincolniana
The Alfred Whital Stern Collection of Lincolniana at the Library of Congress This online release presents more than 1,300 items with more than 4,000 images and a date range of 1824-1931. It includes the complete collection of Stern's contemporary newspapers, Lincoln's law papers, sheet music, broadsides, prints, cartoons, maps, drawings, letters, campaign tickets, and other ephemeral items.
Abraham Lincoln Papers at the Library of Congress: The collection is organized into three "General Correspondence" series which include incoming and outgoing correspondence and enclosures, drafts of speeches, and notes and printed material.
The Papers of Abraham Lincoln: The Papers of Abraham Lincoln is a long-term project dedicated to identifying, imaging, transcribing, annotating, and publishing all documents written by or to Abraham Lincoln during his entire lifetime (1809-1865).
Abraham Lincoln: A Resource Guide The digital collections of the Library of Congress contain a wide variety of material associated with Abraham Lincoln. This resource guide compiles links to digital materials related to Lincoln such as manuscripts, broadsides, government documents, and images that are available throughout the Library of Congress Web site. In addition, it provides links to external Web sites focusing on Lincoln and a bibliography containing selected works for both a general audience and younger readers.

Abraham Lincoln
Mike Venezia
Abraham Lincoln (Getting to Know the US Presidents), by Mike Venezia. 32 pages. Publisher: Childrens Press; 1 edition (March 2006) Reading level: Ages 8+. Mike Venezia mixes facts with humor to introduce Abraham Lincoln, President of the United States, to students. This unique introduction highlights the life and times of President Abraham Lincoln. Venezia uses funny and serious anecdotes to help students understand and realize that presidents are very real people. On each page is either a painting, an engraving, a map, a portrait, or a comical caricature that enhances the text. Captions are included with each that explains the historical paintings and portraits. For reports or pleasure, students will enjoy.

Abraham Lincoln
America's 16th President
Steven Otfinoski
Abraham Lincoln: America's 16th President, by Steven Otfinoski. 110 pages. Publisher: Children's Press(CT) (March 2004) Reading level: Grades 6-8. This biography chronicles Abraham Lincoln's life and career preceding the Civil War, his struggle to preserve the Union, and his achievements during this critical time in U.S. history.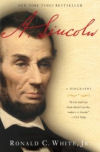 A. Lincoln
Ronald C. White Jr.
A. Lincoln: A Biography, by Ronald C. White Jr. 816 pages. Publisher: Random House; 1st edition (January 13, 2009)
Everyone wants to define the man who signed his name "A. Lincoln." In his lifetime and ever since, friend and foe have taken it upon themselves to characterize Lincoln according to their own label or libel. In this magnificent book, Ronald C. White, Jr., offers a fresh and compelling definition of Lincoln as a man of integrity-what today's commentators would call "authenticity"-whose moral compass holds the key to understanding his life.


Lincoln
David Herbert Donald
Lincoln, by David Herbert Donald. 720 pages. Publisher: Simon & Schuster; 1st Touchstone Ed edition (November 5, 1996)
David Herbert Donald's "Lincoln" is a stunningly original portrait of Lincoln's life and presidency. Donald brilliantly depicts Lincoln's gradual ascent from humble beginnings in rural Kentucky to the ever- expanding political circles in Illinois, and finally to the presidency of a country divided by civil war. Donald goes beyond biography, illuminating the gradual development of Lincoln's character, chronicling his tremendous capacity for evolution and growth, thus illustrating what made it possible for a man so inexperienced and so unprepared for the presidency to become a great moral leader.


Team of Rivals
Doris Kearns Goodwin
Team of Rivals: The Political Genius of Abraham Lincoln, by Doris Kearns Goodwin. 944 pages. Publisher: Simon & Schuster; First Edition edition (October 25, 2005)
Acclaimed historian Doris Kearns Goodwin illuminates Lincoln's political genius in this highly original work, as the one-term congressman and prairie lawyer rises from obscurity to prevail over three gifted rivals of national reputation to become president.


The Life of
Abraham Lincoln
Henry Ketcham
The Life of Abraham Lincoln, by Henry Ketcham. 99 pages. Publisher: Empire Books (April 15, 2012)
In his introduction to The Life of Abraham Lincoln, Henry Ketcham notes that there has been so much written about Lincoln that the legend has begun to obscure, if not to efface, the man. In this biography the single purpose has been to present the living man with such distinctness of outline that the reader may have a sort of feeling of being acquainted with him. Ketcham s clearly-written, unadorned account of Lincoln s life achieves its stated purpose, never removing its focus from the man who became the 16th President of the United States and led the nation through some of its most turbulent and difficult times.

Deluxe Presidential
Dollar Coin
Traveling Archive
Deluxe Presidential Dollar Coin - Traveling Archive , Whitman Publishing (August 7, 2007) Lift off the capsule top, insert the coin, and snap it shut. Now your Presidential dollar is securely stored and attractively displayed - you can even see the coins's edge, which includes the date, mintmark, and inscriptions. Space for both Philadelphia and Denver Mint Coins. Includes Presidential facts printed on the inside flaps. Holds 80 coins - makes a great display and storage unit. (13.375" x 11.5" x 1.0").

Presidential Dollars
Collector's Archive
Presidential Dollars Collector's Archive, Whitman Publishing (August 7, 2007) In December 2005, Congress approved the creation of a new dollar coinage, known as Presidential dollars, and President George W. Bush signed the legislation into law shortly afterward. During each year from 2007 to 2016, four different dollar designs, each bearing the image of a different president, are being released. Living presidents, both current and former, are excluded from the program--thus the roster of presidential honorees currently stands at 37. For these presidents, 38 coins are planned; this is because Grover Cleveland, who to date is the only president to serve multiple nonconsecutive terms, will be represented with two coins. The Presidential dollars are part of the Golden Dollar Program and retain the same golden color as the Sacagawea dollars. The motto IN GOD WE TRUST appears in edge lettering--a first for a U.S. coin, as the motto has never before appeared on the rim. The year of issue is likewise on the rim. Archive Size 11.25" x 10". 40 Openings.

Presidential Folder
Volume I
Presidential Folder 4 Panel - Volume I and Vol II, Whitman Publishing; 1st edition (April 10, 2007) Presidential Folder 4 Panel - Volume I & II Hold P&D Mint Marks. Folder Size 7" x 9,5". Each Volume has 44 Openings - 4 Panels.