Florida Official State Wildflower
| | | |
| --- | --- | --- |
| Tickseed | Coreopsis spp. L. | Adopted:1991 |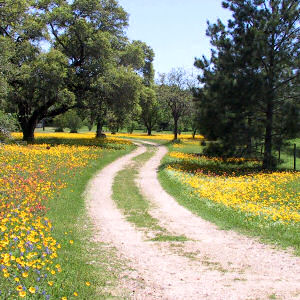 Roadside Coreopsis
Adoption of the Florida Official State Wildflower
A story regarding the origination of Florida's highway beautification program goes back to 1963 with the purchase of sod.
It's said that a contractor purchased sod from a farmer to use in a highway project near Tallahassee. It seems that the sod was harvested from a pasture that had been over seeded with crimson clover in previous years. The clover was planted as winter forage for cattle.
In the spring of 1963, the sod produced a heavy crop of beautiful red clover blossoms along the roadside. Noticed by passing motorists the Florida Department of Transportation (DOT) was inundated with complementary phone calls.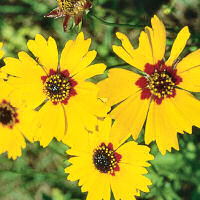 Florida State Wildflower: Coreopsis
Courtesy: Fla. Department of State
The phone calls sent a message and the Florida DOT embarked on efforts to beautify Florida's highways with natural wildflowers. Some research was done to determine the most appropriate procedures and candidates to use along the states highways but it was kind of hit or miss until the DOT teamed up with the Florida Federation of Garden Clubs, Inc. With the support of the Florida Federation of Garden Clubs, the Department of Transportation funded a research project with Florida Atlantic University. This research project produced recommendations for the most promising wildflowers to use in the DOT's wildflower program.
Varieties of Coreopsis, of which about a dozen are native to Florida, were among the flowers recommended for the wildflower program. Colors range from yellow to pink.
Inspired in part by Florida's highway beautification program where Coreopsis was widely used for roadside plantings, the Florida Federation of Garden Clubs set about promoting adoption of an official state wildflower.
In 1991, the Coreopsis, some varieties referred to as tickseed, was adopted as Florida's official state wildflower. Nothing conveys the image of the Sunshine State better than a golden spray of Coreopsis spread across the landscape.
The Florida Statutes
The following information is excerpted from the Florida Statutes, Title 4, Chapter 15, Section 15.0345 .
TITLE IV - EXECUTIVE BRANCH.
CHAPTER 15. SECRETARY OF STATE.
SECTION 15.0345.

15.0345 Official state wildflower. --The Coreopsis is hereby designated and declared the official Florida state wildflower, as species of this genus are found throughout the state and are used extensively in roadside plantings and highway beautification.
History.--s. 1, ch. 91-10.
Additional Information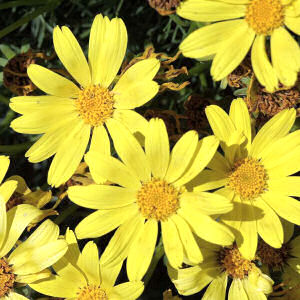 Florida State Wildflower: Coreopsis
Coreopsis: A Guide To Identifying and Enjoying Florida's State Wildflower: University of Florida, Institute of Food and Agricultural Sciences.
Plant Profile for Coreopsis L. (Tickseed): USDA, NRCS. 2004. The PLANTS Database, Version 3.5 (http://plants.usda.gov). National Plant Data Center, Baton Rouge, LA 70874-4490 USA.
Florida Wildflower Advisory Council: Web site of the Florida Avisory Council. The Florida Wildflower Advisory Council is engaged in a statewide effort to educate citizens and visitors about the natural beauty and heritage of Florida's native wildflowers. The Council is responsible for oversight and direction of all expenditures from the proceeds of the Florida Wildflower License Plate.
Florida Federation of Garden Clubs: FFGC activities, scholarships, youth programs, floral design courses, arrangements, educational opportunities, tours, shows and special events of the various affiliated garden clubs in the state of Florida.
Lady Bird Johnson Wildflower Center: Web site for the Lady Bird Johnson Wildflower Center in Austin, Texas.
State Flower List: List of all of the state flowers.
State Birds & Flowers 1000-pc Puzzle: Created at the request of The National Wildlife Federation this design is a beautiful and informative puzzle featuring every state bird perched on the appropriate state flower.
State Birds and Flowers Coloring Book
by Annika Bernhard - 51 accurately detailed, copyright-free renderings include national bird (eagle) and flower (rose) plus 50 state birds and flowers.
U. S. State Flowers in Cross Stitch
by Gerda Bengtsson - Botanically correct cross stitch designs of state flowers of the 50 States.
Quilting Flowers of the States
by Sue Harvey - A lovely 12-inch flower block for each of the 50 states. Techniques used are piecing, appliqué, paper-piecing and three-dimensional techniques.
Plants, Seeds & Flowers
: Bulbs, seeds, plants, fertilizer, plant containers and more.
Gardening Tools
: Pruners, rakes, shovels, hoes, trowels, cultivators and tillers, greenhouses, yard carts and more.
State Names, Seals, Flags, and Symbols: A Historical Guide, Third Edition - Benjamin F. Shearer and Barbara S. Shearer, Greenwood Press, 2002
---
Source: Florida Statutes, (http://www.flsenate.gov/Statutes/index.cfm?StatuteYear=2004&Tab=statutes&Submenu=1), June 10, 2005
Source: Florida Department of Transportation, (http://www.dot.state.fl.us), September 26, 2005
Source: State Names, Seals, Flags, and Symbols: A Historical Guide, Third Edition - Benjamin F. Shearer and Barbara S. Shearer, Greenwood Press, 2002