---
Double click any word in document for definition.
Michigan State Flag
Michigan State Flag
Adopted:
April 29, 1911
Print Flag Image
Left-click on the image below to print the flag image. A window will be displayed that will allow you to print the image or cancel the print operation. JavaScript must be enabled within your browser.
To learn about how the Michigan state flag came to be adopted, click here.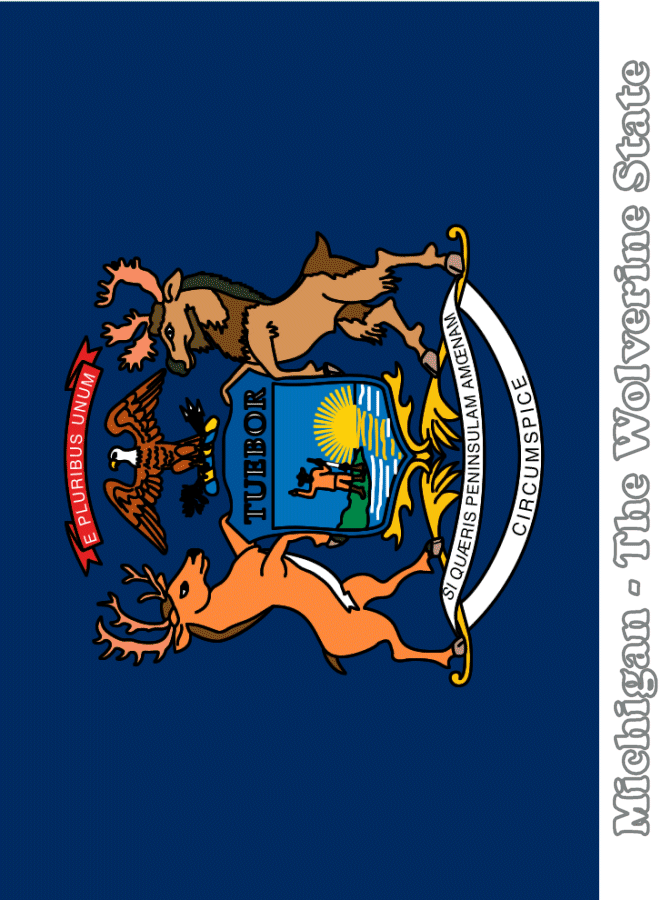 Michigan Law
The following information was excerpted from the Michigan Compiled Laws, Chapter 2.
CHAPTER 2. STATE.
COAT-OF-ARMS AND FLAG.
2.23 State flag.
Sec. 3.
The state flag shall be blue charged with the arms of the state.
History: 1911, Act 209, Eff. Aug. 1, 1911 ;-- CL 1915, 1100 ;-- CL 1929, 136 ;-- CL 1948, 2.23
2.27 United States flag, state flag; display, expense payment.
Sec. 7.
The flag of the United States and the state flag bearing the arms of the state, shall be displayed upon the capitol building during the daily sessions of the legislature and of the supreme court, and on public occasions. The board of state auditors shall see that the flags are so displayed and that the necessary flag staffs shall be placed and flags supplied. The expense thereof shall be allowed by them and paid by the state treasurer upon proper warrant.
History: 1911, Act 209, Eff. Aug. 1, 1911 ;-- CL 1915, 1104 ;-- CL 1929, 140 ;-- CL 1948, 2.27
© 2007 Legislative Council, State of Michigan