Additional Information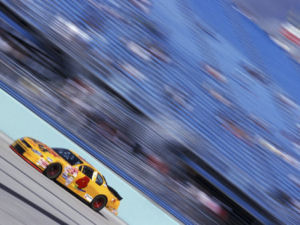 State Sport: Stock Car Racing
Photographs, prints, posters
Support North Carolina State Sport: "Stock Car Racing": Facebook page effort to make stock car racing official state sport.
NASCAR's North Carolina Roots: State Library of North Carolina: NCpedia.
NASCAR: The Official Site of NASCAR (National Association for Stock Car Auto Racing).

NASCAR Hall of Fame: Official website of the NASCAR Hall of Fame, Charlotte, North Carolina.
State sports: Complete list of official state sports from NETSTATE.COM.
More symbols & emblems: Complete list of official North Carolina state symbols from NETSTATE.COM.

NASCAR For Dummies
Mark Martin
NASCAR For Dummies, by Mark Martin. 344 pages. Publisher: For Dummies; 3 edition (February 9, 2009) Ever wonder what's under the hood of today's stock cars? Want to know the latest about the changes in NASCAR? Top driver Mark Martin puts you behind the wheel on an insider's tour of NASCAR, offering great insights into the new drivers, sponsorship changes, safety requirements, and racing schedule — helping you get more out of every race you watch!
In addition to a new 8 page, full-color insert, this third edition of NASCAR For Dummies offers readers information on recent changes in technology such as the "Car of Tomorrow" and updates to the information that has made previous editions of NASCAR For Dummies a must-have guide for fans of this exciting sport.


NASCAR
The Complete History
Greg Fielden
NASCAR: The Complete History, by Greg Fieldman with Bryan Hallman and the Auto Editors of Consumer Guide. 564 pages. Publisher: Publications International; Auto Editors of CONSUMER GUIDE edition (April 1, 2011) NASCAR, The Complete History is an updated edition of Consumer Guide's NASCAR Chronicle, a comprehensive pictorial history of American stock car racing from its moonshine-running roots to today s multibillion-dollar industry. The colorful, action-packed story is told the only way it can be told: with the full cooperation of the sport s sanctioning body, the National Association for Stock Car Auto Racing (NASCAR). The 564-page book features historic photos from NASCAR s unmatched collection, as well as rich stories about the characters, the cars, and the racetracks.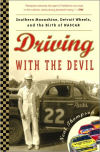 Driving
with the Devil
Neal Thompson
Driving with the Devil: Southern Moonshine, Detroit Wheels, and the Birth of NASCAR, by Neal Thompson. 432 pages. Publisher: Broadway (August 28, 2007) Driving with the Devil uncovers for the first time the true story behind NASCAR's distant, moonshine-fueled origins and paints a rich portrait of the colorful men who created it. Long before the sport of stock-car racing even existed, young men in the rural, Depression-wracked South had figured out that cars and speed were tickets to a better life. With few options beyond the farm or factory, the best chance of escape was running moonshine. Bootlegging offered speed, adventure, and wads of cash—if the drivers survived. Driving with the Devil is the story of bootleggers whose empires grew during Prohibition and continued to thrive well after Repeal, and of drivers who thundered down dusty back roads with moonshine deliveries, deftly outrunning federal agents. The car of choice was the Ford V-8, the hottest car of the 1930s, and ace mechanics tinkered with them until they could fly across mountain roads at 100 miles an hour.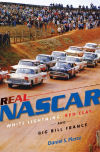 Real NASCAR
Daniel S. Pierce
Real NASCAR: White Lightning, Red Clay, and Big Bill France, by Daniel S. Pierce. 360 pages. Publisher: The University of North Carolina Press (February 3, 2010) In this history of the stock car racing circuit known as NASCAR, Daniel Pierce offers a revealing new look at the sport from its postwar beginnings on Daytona Beach and Piedmont dirt tracks through the early 1970s when the sport spread beyond its southern roots and gained national recognition. Following NASCAR founder Big Bill France from his start as a mechanic, Real NASCAR details the sport's genesis as it has never been shown before. Pierce not only confirms the popular notion of NASCAR's origins in bootlegging, but also establishes beyond a doubt the close ties between organized racing and the illegal liquor industry, a story that readers will find both fascinating and controversial.
Drawing on the memories of a variety of participants--including highly colorful characters like Lloyd Seay, Roy Hall, Gober Sosebee, Smokey Yunick, Bunky Knudsen, Humpy Wheeler, Bobby Isaac, Junior Johnson, and Big Bill France himself--Real NASCAR shows how the reputation for wildness of these racers-by-day and bootleggers-by-night drew throngs of spectators to the tracks in the 1930s, '40s, and '50s. They came to watch their heroes maneuver ordinary automobiles at incredible speed, beating and banging on each other, wrecking spectacularly, and fighting out their differences in the infield.
Although France faced many challenges--including a fickle Detroit that often seemed unsure of its support for the sport, safety issues that killed star drivers and threatened its very existence, and drivers who twice tried to unionize to gain a bigger piece of the NASCAR pie--by the early 1970s France and his allies had laid a firm foundation for what has become today a billion-dollar industry and arguably the largest spectator sport in America.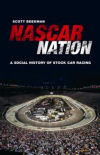 NASCAR Nation
Scott Beekman
NASCAR Nation: A History of Stock Car Racing in the United States, by Scott Beekman. 175 pages. Publisher: Praeger; 1 edition (April 9, 2010) This is the first work to go beyond the popular myths of stock car racing to fully examine the sport's true history. NASCAR is the number one spectator sport in the United States and the second most popular televised sport. Perhaps most surprising, roughly 40 percent of the NASCAR fan base is now female. How did this all-American sport develop and where is it bound?
NASCAR Nation: A History of Stock Car Racing in the United States details the ongoing saga of this quintessentially American pastime. Looking at the drivers, events, and teams, it positions NASCAR racing within larger social, economic, and cultural trends in an attempt to address the sport's phenomenal growth and popularity.
This chronological examination of the evolution of stock car racing is the first history to go beyond the widely held myth that it was "invented" by Prohibition-era moonshiners. The book traces stock car racing history from its beginnings, to the formation of The National Association for Stock Car Auto Racing (NASCAR) in 1948, through today. Of course, readers will meet the sport's many colorful personalities, including the Earnhardts, Richard Petty, Jeff Gordon (who has raked in more than $70 million in career winnings), "Fireball" Roberts, Darrell Waltrip, Daytona pioneer Bill France, and women drivers like Janet Guthrie, Louise Smith, and Jennifer Jo Cobb. While the focus is on NASCAR, the book also examines other prominent stock car racing organizations to round out its comprehensive portrait.