---
Double click any word in document for definition.
Georgia State 'Possum
Pogo
Adopted:
April 20, 1992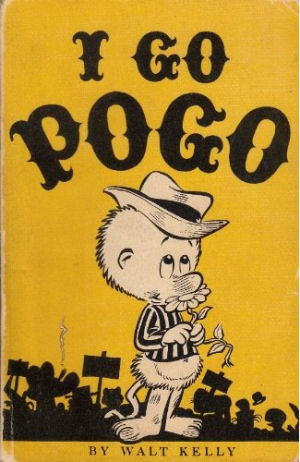 Georgia State 'Possum: Pogo
I Go Pogo by Walt Kelly
Simon & Schuster; 13th printing edition (1952)
Pogo the rather self-effacing 'possum was the star of a long-running (1948-1975) comic strip by the late cartoonist Walt Kelly.
Pogo lived in the Okefenokee Swamp with a supporting cast of characters, including an alligator (Albert), an owl (Howland), a musk turtle (Churchill "Churchy" LaFemme), a porcupine (Porky Pine), a skunk (Miz Ma'm'selle Hepzibah) and a hound dog (Beauregard Bugleboy). A long list of visitors to the swamp kept things interesting.
A friendly cartoon swamp creature comments wryly on politics and philosophy. Walt Kelly, a cartoonist and movie animator, visited the Okefenokee Swamp in 1942 and was inspired to draw some "swamp critters." Pogo 'Possum appeared in comic books in the early 1940's and became the star of a nationally syndicated newspaper comic strip in 1949. Declaring "We have met the enemy and he is us," Pogo poked fun at the vanity and shortcomings of people everywhere. The General Assembly voted Pogo the State 'Possum in 1992.

("State 'Possum")
The resolution to name an official state 'possum was authored by state Representative Harry Dixon and amended to House Bill No. 1548. Section 9 of House Bill No. 1548, read
Section 9. Chapter 3 of Title 50 of the Official Code of Georgia Annotated, relating to official state symbols, is amended by inserting a new Code section to be designated as Code Section 50-3-66 to read as follows:

"50-3-66. Pogo 'Possum, created by Walt Kelly, is adopted as the official Georgia State 'Possum."
Rep. Dixon represented the 151st District that included a large portion of the Okefenokee Swamp and Waycross, often mentioned in the comic strip and home to the annual "Pogofest." According to the Waycross Journal-Herald, the idea to promote Pogo to the status of official Georgia State 'Possum was initiated by organizers of Pogofest "for whatever promotional purposes there might be."
As an aside, Pogofest metamorphosized into today's "Swampfest" and is held in Waycross on the first weekend in April each year.
Pointedly favoring the 'possum's contribution to society and culture, the resolution explained:
"As a species, they have devoted life and paw to the exploration of such pressing contemporary issues as: Is the 55 MPH speed limit too fast? Are developmental highways really safe to cross? Is a landfill really a good place to eat? Is curbside garbage pickup safer than having to venture into a back yard with the family dog?"

("Waycross Journal-Herald" 1)
As might be expected, the jokes and jibes were flying during discussion of the merits of the resolution, including plenty of references to road kill. The Waycross Journal-Herald cited, "The best: Why did the chicken cross the road? To prove to the opossum it could be done."
Pogo 'Possum was adopted as the official Georgia State 'Possum when Governor Zell Miller signed House Bill No. 1548 on April 20, 1992.
Georgia Law
The following information was excerpted from the Georgia Code, Title 50, Chapter 3, Article 3, Section 50-3-68.
TITLE 50. STATE GOVERNMENT
CHAPTER 3. STATE FLAG, SEAL, AND OTHER SYMBOLS
ARTICLE 3. OTHER STATE SYMBOLS
50-3-68
§ 50-3-68. Official 'Possum
Pogo 'Possum, created by Walt Kelly, is adopted as the official Georgia State 'Possum.
HISTORY: Code 1981, § 50-3-68, enacted by Ga. L. 1992, p. 2391, § 9
---
Sources...
"ACTS AND RESOLUTIONS OF THE GENERAL ASSEMBLY OF THE STATE OF GEORGIA 1992 ." GALILEO: Georgia Legislative Documents. State of Georgia, n.d. Web. 18 Sept. 2014.
"House Makes Pogo Georgia's Possum." Waycross Journal-Herald [Waycross] 08 Feb 1992, 1. Print.
Shearer, Benjamin F. and Barbara S. State Names, Seals, Flags and Symbols: A Historical Guide Third Edition, Revised and Expanded. Westport, Conn: Greenwood Press, 3 Sub edition, 2001.
"State 'Possum." Georgia Archives. Georgia Secretary of State. Web. 9 Apr 2013.
"The Official Code of Georgia Annotated." Lexis Nexis Custom Solution. LexisNexis, n.d. Web. 8 Apr 2013.
---
Additional Information
Whirled of Kelly: An unofficial semi-knowledgable auto-biographical and appreciative examination of the greatly loved immortal art comic genius of (wait for it)... Walt Kelly!
Pogo and Walt Kelly: Okefenokee Swamp Park, Waycross, Georgia.
More symbols & emblems: Complete list of official Georgia state symbols from NETSTATE.COM.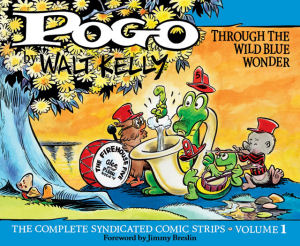 Pogo: Through the Wild Blue Wonder
Walt Kelly
Pogo: Through the Wild Blue Wonder, by Walt Kelly. 308 pages. Publisher: Fantagraphics (December 5, 2011)
The Complete Syndicated Comic Strips Vol. 1 Walt Kelly started when newspaper strips shied away from politics — Pogo was ahead of its time and ahead of later strips (such as Doonesbury and The Boondocks) that tackled political issues. Our first (of 12) volume reprints approximately the first two years of Pogo — dailies and (for the first time) full-color Sundays.
This first volume also introduces such enduring supporting characters as Porkypine, Churchy LaFemme, Beauregard Bugleboy, Seminole Sam, Howland Owl, and many others. And for Christmas, 1949, Kelly started his tradition of regaling his readers with his infamously and gloriously mangled Christmas carols.
Special features in this sumptuous premiere volume, which is produced with the full cooperation of Kelly's heirs, include a biographical introduction by Kelly biographer Steve Thompson, an extensive section by comics historian R.C. Harvey explaining some of the more obscure current references of the time, a foreword by legendary columnist Jimmy Breslin, and more.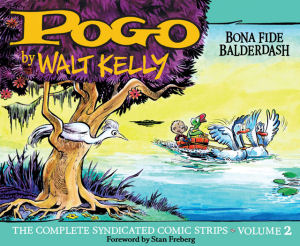 Pogo: Bona Fide Balderdash
Walt Kelly
Pogo: Bona Fide Balderdash, by Walt Kelly. 356 pages. Publisher: Fantagraphics; 1 edition (December 21, 2012)
The Complete Syndicated Comic Strips Vol. 2 Even though Pogo had been in syndication for less than two years as this volume begins, Walt Kelly's long professional experience (including seven years creating Pogo stories for comic books) had him at the peak of his powers, and this book features page after page of gorgeously drawn, hilarious vaudevillian dialogue and action among the swamp denizens, as well as Kelly's increasingly sharp-tongued political satire — especially on display during the 1952 election season.
The two years of daily strips in this volume (all the strips from 1951 and 1952) have been collected before but in now long out of print books; and even there they were not as meticulously restored and reproduced as in this new series. Bona Fide Balderdash also reprints, literally for the first time ever in full color, the two full years of Sunday pages, also carefully restored and color-corrected, shot from the finest copies available.
This second volume is once again edited and designed by the cartoonist's daughter, Carolyn Kelly, who is also handling much of the restoration work. It includes a new introduction by the legendary author, recording artist, and satirist Stan Freberg, who was not only a friend of Kelly's but the voice of Albert the Alligator in the "I Go Pogo: Pogo for President" movie. There are also more extensive annotations by comic strip historian and expert R.C. Harvey, as well as additional historical information from writer Mark Evanier.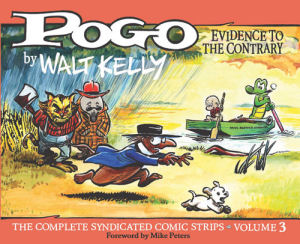 Pogo: Evidence to the Contrary
Walt Kelly
Pogo: Evidence to the Contrary, by Walt Kelly. 344 pages. Publisher: Fantagraphics; 1 edition (December 6, 2014)
The Complete Syndicated Comic Strips Vol. 3 It's in this volume (featuring another two years' worth of Pogo strips) that we meet one of Walt Kelly's boldest political caricatures. Folks across America had little trouble equating the insidious wildcat Simple J. Malarkey with the ascendant anti-Communist senator, Joseph McCarthy. The subject was sensitive enough that by the following year a Providence, Rhode Island newspaper threatened to drop the strip if Malarkey's face were to appear in it again. Kelly's response? He had Malarkey appear again but put a bag over the character's head for his next appearance. Ergo, his face did not appear. (Typical of Kelly's layers of verbal wit, the character Malarkey was hiding from was a "Rhode Island Red" hen, referencing both the source of his need to conceal Malarkey and the underlying political controversy.) The entirety of these sequences can be found in this book.
But the Malarkey storyline is only a tiny portion of those rich, eventful two years, which include such classic sequences as con-man Seminole Sam's attempts to corner the market on water (which Porkypine's Uncle Baldwin tries to one-up by cornering the market on dirt); a return engagement of Pup Dog and Houn'dog's blank-eyed Little Orphan Annie parody "Li'l Arf and Nonny"; Churchy La Femme going in drag to deliver a love poem he wrote, Cyrano style, on Deacon Mushrat's behalf to Sis Boombah (the aforementioned hen); P.T. Bridgeport's return to the swamp in search of new talent; and of course two rousing choruses of "Deck Us All With Boston Charlie."
In addition to presenting all of 1953 and 1954's daily strips complete and in order for the first time anywhere (many of them once again scanned from original syndicate proofs, for their crispest and most detailed appearance ever), Pogo Volume 3: Evidence to the Contrary also contains all 104 Sunday strips from these two years, presented in lush full color for the first time since their original appearance in Sunday sections 60 years ago — plus the usual in-depth "Swamp Talk" historical annotations by R.C. Harvey, spectacular samples of Kelly's work scanned from original art, and a whole lot more!