G E O R G I A B O O K S T O R E L O B B Y
Welcome to the Georgia State Bookstore. We're glad you stopped by and we hope that you find exactly what you're looking for. Shopping categories include books about Georgia people, books about Georgia History, Georgia Cookbooks, Hiking and enjoying the Georgia outdoors, Georgia reference books, and calendars, magazines and newspapers, DVD and videos, and posters under MORE. In The Georgia State Bookstore you will find information about Georgia for readers of all ages. Age ranges for books for young readers are highlighted in red. Have fun.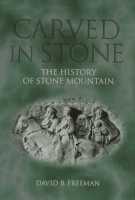 Carved in Stone: The History of Stone Mountain by David B. Freeman
In 1915 the United Daughters of the Confederacy leased the land and commissioned Gutzon Borglum, later the sculptor of Mount Rushmore, to carve the Lost Cause memorial on the mountain where the second Ku Klux Klan was resurrected by William J. Simmons. Proceeding intermittently over six decades, the project was given added impetus in the wake of the South's massive resistance to racial integration. Capitalizing on this impulse, the state of Georgia funded the completion of the project in 1958 for use as a tourist attraction. Opening as a theme park in 1970, Stone Mountain now draws some five million visitors a year, exceeded only by the Disney theme parks in Orlando, Florida. David Freeman's Carved in Stone narrates the development of Stone Mountain from natural wonder to historic site to recreational park. This elegantly written story recounts the fits and starts of the Stone Mountain project, tracing the mountain's changing meaning over time. Readers of Georgia history and enthusiasts of Confederate iconography will find Freeman's work a fascinating story. Referred to by some as The Eighth Wonder of the World, Stone Mountain, located 16 miles from Atlanta, Georgia, is the largest exposed mass of granite in the world.