---
Double click on word for definition.
Georgia State Mineral
Staurolite
Adopted:
March 18, 1976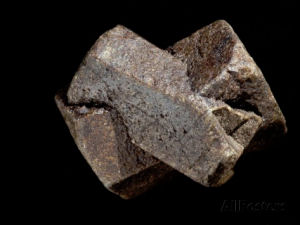 Georgia State Mineral: Staurolite
Photographs
Staurolite became the official Georgia state mineral on March 18, 1976 when work was completed on and House Resolution No. 517-1385 was formally adopted.
Because twin crystals are often found in cross shapes (from Greek, "cross stone"), staurolite crystals are often referred to as Fairy Crosses or Cross Rocks.
As noted in the resolution, staurolite is most commonly found in north central Georgia, in mountain layered/banded metamorphic rock, that can present in road cuts, quarries, and along trails and in fields and streams. Cherokee, Gilmer, Pickens and Fannin counties offer excellent collecting opportunities.
Staurolite crystals are often found embedded in large rocks in cliffs and along the base of mountains.
In addition to an official state mineral, House Resolution No. 517-1385 also designated an official state fossil and an official state gem.
The resolution, shown below offers explanation for the adoption of each of these symbols to represent the State of Georgia.
OFFICIAL STATE MINERAL, FOSSIL AND QUARTZ DESIGNATED.

No. 104 (House Resolution No. 517-1385).

A Resolution.

Designating staurolite as the official State mineral, the shark tooth as the official State fossil and quartz as the official State gem; and for other purposes.

Whereas, Georgia has a wealth of minerals and gemstones; and

Whereas, staurolite is a mineral found in old crystalline rocks and is particularly well known and abundant in north Georgia; and

Whereas, staurolite crystals are known mostly as "Fairy Crosses" or "Fairy Stones", and generations after generations have collected them for good luck charms; and

Whereas, the shark tooth is a relatively common fossil in Georgia and in fossil form can be traced back 375,000,000 years; and

Whereas, the teeth are especially prized by fossil collectors and range in color from the more common blacks and grays to white, brown, blue and reddish brown; and

Whereas, quartz is the second most abundant mineral on Earth, and Georgia is blessed with a great deal of it in a wide variety of colors; and

Whereas, quartz is the amethyst that has been most used in jewelry, and clear quartz when faceted resembles diamond; and

Whereas, the importance of Georgia's minerals to the industrial growth and heritage of this State should be appropriately recognized.

Now, therefore, be it resolved by the General Assembly of Georgia that the following designations are hereby made:

(1) Staurolite is designated as the State of Georgia's official mineral.

(2) The shark tooth is designated as the State of Georgia's official fossil.

(3) Quartz is designated as the State of Georgia's official gem.

Approval Date: Approved March 18, 1976.
Additional Information
Staurolite: Geology.com - News and Information About Geology and Earth Science.
Staurolite: Mindat.org, an online information resource dedicated to providing free mineralogical information to all.
The Mineral staurolite: Minerals.net, started in 1996 by Hershel Friedman, is an interactive and educational guide to rocks, minerals, and gemstones.
State minerals: Complete list of official state minerals from NETSTATE.COM
More symbols & emblems: Complete list of official Georgia state symbols from NETSTATE.COM.


State Geosymbols
Alan McPherson
State Geosymbols: Geological Symbols Of The 50 United States, Alan McPherson. 196 pages. Publisher: AuthorHouse Publishing (October 5, 2011)
From the tourmaline of Maine to the black coral of Hawaii, our state's official geological symbols or geosymbols are as uniquely diverse as the terrain and character of the 50 states themselves. In this reference book over 150 state geosymbols are presented with informative text that highlights their adoptive legislation, geologic and social history. Color photo montages add visual interest to the pages.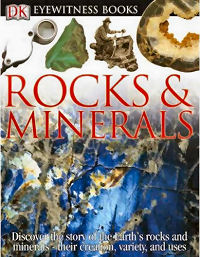 Eyewitness Books: Rocks & Minerals
Eyewitness Books: Rocks & Minerals, by Chris Pellant, R.F. Symes 72 pages. DK CHILDREN (August 2, 2004) Reading level: Ages 9-12. Here is a spectacular and informative guide to the amazing world beneath our feet. Stunning color photographs of rocks, fossils, minerals, precious metals, crystals, jewels and gemstones give the reader a unique "eyewitness" insight into the evolution and composition of the Earth. See rocks that have come from outer space, stalactites as old as dinosaurs, the strange and beautiful shapes of natural crystals and priceless nuggets of gold, silver and platinum. Learn what the Earth is made of - and how its rocks were formed, how early humans made the first flint tools and how diamonds and precious stones are cut, polished, and made into jewelry. Discover how prehistoric animals are preserved today as fossils, how volcanoes work, how rocks are formed from molten lava, how minerals and metals are mined and how pebbles on the seashore are worn down into sand, and much, much more!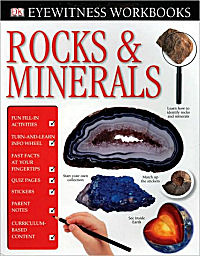 Eywitness Workbook: Rocks & Minerals
Eyewitness Workbooks: Rocks & Minerals, 48 pages. DK CHILDREN; Workbook edition (June 16, 2008) Reading level: Ages 9-12. Perfect for getting ahead at school or just stimulating children's interest, this groundbreaking series of workbooks leaves the competition in the dust, with exciting subjects, 48 full-color pages, a turn-and-learn info wheel, and special carrying folders. Never before have there been workbooks with so many opportunities for fun and interactive learning!
The Complete Illustrated Guide to Minerals, Rocks & Fossils of the World, by John Farndon and Steve Parker. 512 pages. Publisher: Lorenz Books, an imprint of Anness Publishing (June 16, 2010) A comprehensive reference to over 700 minerals, rocks, plants and animal fossils from around the globe and how to identify them, with over 2000 photographs and artworks.
This stunning and expert book provides a complete reference for anyone interested in the earth sciences. Each section of the book starts with an informative introduction explaining how the phenomena have formed and their major defining characteristics, the habitats in which they are typically found and where the best examples are located around the world.
How-to techniques for the amateur geologist and palaeontologist show how to extract samples safely, and how to identify, date and classify them. There are step-by-step instructions on simple home testing methods to gauge rock and mineral colour, hardness, cleavage, lustre, tenacity and transparency. There is practical guidance on the best ways to clean, preserve and then display the specimens to build a superb collection of your own.


Collecting Rocks,
Gems & Minerals
Patti Polk
Collecting Rocks, Gems & Minerals, by Patti Polk. 272 pages. Publisher: Krause Publications (May 13, 2010) Collecting Rocks, Gems and Minerals takes you from having a casual interest in rocks to being a true collector, and it serves as the only book of its kind to have values for these beautiful offerings from nature.
The easy-to-use, and durable design of this book makes it the perfect guide to use out in the field, and it:
Covers both lapidary and mineral display materials
Includes organics such as amber, bone, coral, pearl and shell
Lists chemical group, system, hardness, opacity, fracture, specific gravity and more
Provides values and tips for locating, buying and collecting
Contains 650+ full-color photos
Peterson First Guides: Rocks and Minerals, by Frederick H. Pough. 128 pages. Houghton Mifflin Harcourt (August 15, 1998) Written and designed for the beginner, this book describes and illustrates the most common and interesting rocks and minerals, from simple sandstone to exotic gems. Illustrated with dozens of beautiful color photographs, it tells how these rocks and minerals formed and how to identify them--and includes tips on collecting.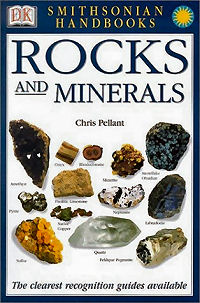 Rocks and Minerals
by Chris Pellant
Rocks & Minerals, by Dougal Dixon. 160 pages. Fireside (August 15, 1992) Beginning with a history of the earth's formation and development, this book explores the substances that compose the planet, movements within the earth, the surface effects of weather and water, and underground landscapes. It shows you how to search for, identify, and extract samples of various rocks and minerals, and for each rock and mineral type there is a brief mineralogy and explanation of its locations. There are also sections on mapping, preparing, and curating specimens, and geological sites on the six continents. Packed with more than 200 full-color illustrations, this comprehensive guide is the essential practical companion for natural science enthusiasts everywhere.
Smithsonian Handbooks: Rocks and Minerals, by Chris Pellant. 256 pages. DK ADULT; 1st edition (September 1, 2002) The Smithsonian Handbook of Rocks and Minerals combines 600 vivid full--color photos with descriptions of more than 500 specimens. This authoritative and systematic photographic approach, with words never separated from pictures, marks a new generation of identification guides. Each entry combines a precise description with annotated photographs to highlight the chief characteristics of the rock or mineral and distinguishing features.
Field Guide to North American Rocks and Minerals, National Audubon Society. 856 pages. Knopf; 1st Edition (5th Printing) edition (May 12, 1979) Perfect for mountain climbers and hikers, this valuable reference covers more rocks and minerals in North America than any other available guide. 794 full-color photographs depict all the important rocks, gems, and minerals -- in many variations of color and crystal form -- and the natural environments in which they occur; written descriptions provide information on field marks, similar rocks and minerals, environment, areas of occurrence, and derivation of names. Includes a guide to mineral collecting and a list of rock-forming minerals