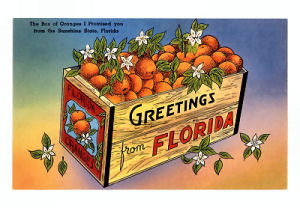 Florida State Fruit: Orange
Florida Oranges I Promised
Additional Information
Floridata: Citrus sinensis: Floridata is a photographic encyclopedia of landscape plants, an online plant & nature reference, and a gardening marketplace.
Orange (Citrus sinensis): Purdue University - Horticulture & Landscape Architecture.
Citrus sinensis (Sweet orange): USDA, NRCS. 2004. The PLANTS Database, Version 3.5 (http://plants.usda.gov). National Plant Data Center, Baton Rouge, LA 70874-4490 USA.
Citrus sinensis (L.) Osbeck: Integrated Taxonomic Information System (ITIS) Here you will find authoritative taxonomic information on plants, animals, fungi, and microbes of North America and the world.
Citrus sinensis: CalPhoto photographs. The Biodiversity Sciences Technology group (BSCIT), a part of the Berkeley Natural History Museums at the University of California, Berkeley.
FloridaCitrus.Org: The Florida Department of Citrus and Florida Citrus Commission.
State Fruit: Complete list of official state fruit.
More symbols & emblems: Complete list of official Florida state symbols.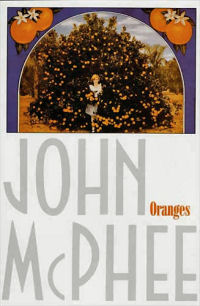 Oranges
by John McPhee
Oranges, by John McPhee. 152 pages. Farrar, Straus and Giroux (January 1, 1975) Like Flemish miniaturists who reveal the essence of humankind within the confines of a tiny frame, McPhee once again demonstrates that the smallest topic is replete with history, significance, and consequence. "Fascinating. A sterling example of what a fresh point of view, a clear style, a sense of humor, and diligent investigation can do to reveal the inherent interest in something as taken-for-granted as your morning orange juice." -- Wall Street Journal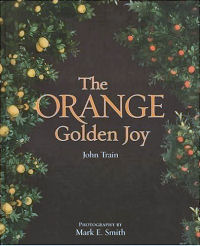 The Orange: Golden Joy
by John Train
The Orange: Golden Joy, by John Train. 129 pages. Maria Teresa Train (MTT SCALA) (October 25, 2006) This beautiful and fascinating illustrated book tells the story of the orange from earliest times. Brought back from India by Alexander the Great, citrus proved to be a lifesaver on long sea voyages, since it was the antidote for scurvy, which could incapacitate an entire crew. Columbus took it to the new world, and later Portuguese and Spanish kings required all captains to carry along oranges and plant them. Thus arose the vast proliferation of oranges in Florida.
Florida's Best Fruiting Plants, by Charles R. Boning. 232 pages. Pineapple Press (FL) (September 30, 2006) Turn your Florida yard into a beautiful cornucopia of delicious fruit. You can grow many of the world's best-tasting fruits in Florida's subtropical environment. Complete profiles of 80 native and non-native fruiting plants, ranging from the familiar, such as the strawberry and orange, to the obscure, such as the grumichama and jaboticaba.
Citrus, by Lance Walheim. 112 pages. Ironwood Press (December 1, 1941) For anyone who grows citrus or wants to begin, this book offers a complete and up-to-date guide to selecting and growing more than one hundred varieties of oranges, mandarins, lemons, limes, grapefruit, and kumquats, as well as exotic citrus.
All About Citrus and Subtropical Fruits, Ortho; 2 edition (February 5, 2008) Grow your own citrus and subtropical fruit with help from All About Citrus and Subtropical Fruit. From detailed descriptions of over 70 varieties of citrus and 275 varieties of subtropical fruits, you are bound to find the best type for your garden. And don't forget the easy-to-follow care instructions that will ensure a bountiful harvest.
The Omnivore's Dilemma: A Natural History of Four Meals, by Michael Pollan. 464 pages. Penguin Press HC, The (April 11, 2006) The bestselling author of The Botany of Desire explores the ecology of eating to unveil why we consume what we consume in the twenty-first century
In Defense of Food: An Eater's Manifesto, by Michael Pollan. 256 pages. Penguin Press HC, The (2008) In looking toward traditional diets the world over, as well as the foods our families-and regions-historically enjoyed, we can recover a more balanced, reasonable, and pleasurable approach to food. Michael Pollan's bracing and eloquent manifesto shows us how we might start making thoughtful food choices that will enrich our lives and enlarge our sense of what it means to be healthy.
Garden tools from Amazon.com!
Custom Search