---
Double click any word in document for definition.
Oregon State Flag
Oregon State Flag
Adopted:
February 26, 1925
Print Flag Image
Left-click on the image below to print the flag image. A window will be displayed that will allow you to print the image or cancel the print operation. JavaScript must be enabled within your browser.
To learn about how the Oregon state flag came to be adopted, click here.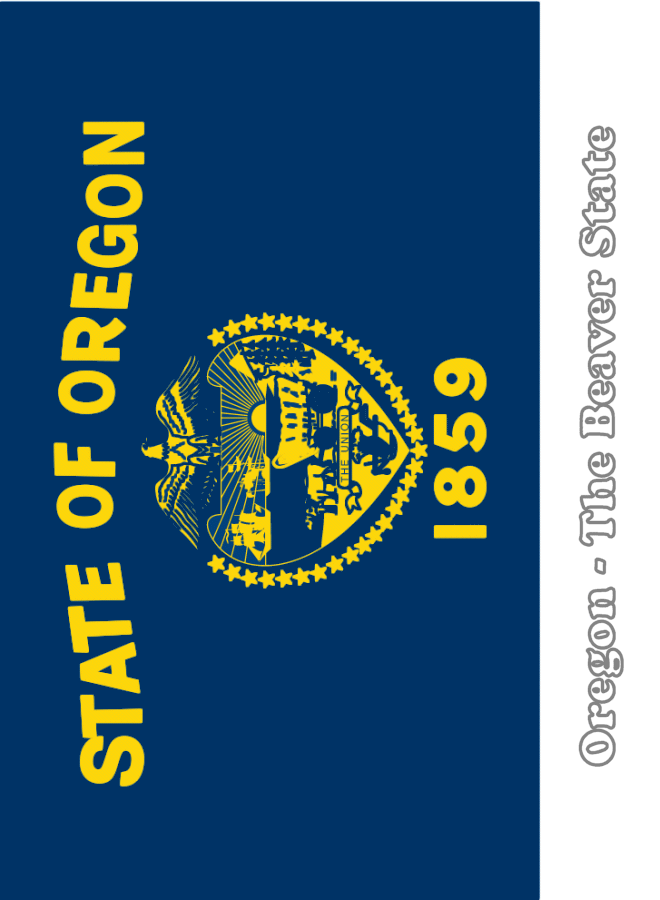 Oregon Law
The following information was excerpted from the Oregon Revised Statutes 2005 Edition, Title 19, Chapter 186.
TITLE 19 MISCELLANEOUS MATTERS RELATED TO GOVERNMENT AND PUBLIC AFFAIRS
Chapter 186. State Emblems; State Boundary
186.010 State flag; official colors (1) A state flag is adopted to be used on all occasions when the state is officially and publicly represented, with the privilege of use by all citizens upon such occasions as may be fitting and appropriate. It shall bear on one side on a navy blue field the state escutcheon in gold, supported by 33 gold stars and bearing above the escutcheon the words "State of Oregon" in gold and below the escutcheon the figures "1859" in gold, and on the other side on a navy blue field a representation of the beaver in gold.
(2) The official colors of the State of Oregon are navy blue and gold. [Amended by 1959 c.120 §1]
186.110 State flag to be displayed on public buildings. (1) The person or body having custody of each public building shall procure an Oregon State flag of suitable size and shall cause the Oregon State flag to be displayed with the United States flag upon or near such public building during the hours when the United States flag is customarily displayed, except in unsuitable weather, and at such other times as seems proper.
(2) As used in this section, "public building" means:
(a) State institutions
(b) All other state buildings upon which the Oregon Department of Administrative Services determines it is suitable to display the Oregon State flag.
(c) County courthouses. [1953 c.474 §§1,2]
186.120 Payment of expenses incurred in displaying flag. The necessary funds to defray the expenses incurred for such flags and for poles and appliances necessary in connection therewith and for the care thereof shall be paid out of the funds available for the care and maintenance of the public building. [1953 c.474 §3]