---
Double click any word in document for definition.
Florida State Flag
Florida State Flag
Adopted:
November 6, 1900
Print Flag Image
Left-click on the image below to print the flag image. A window will be displayed that will allow you to print the image or cancel the print operation. JavaScript must be enabled within your browser.
To learn about how the Florida state flag came to be adopted, click here.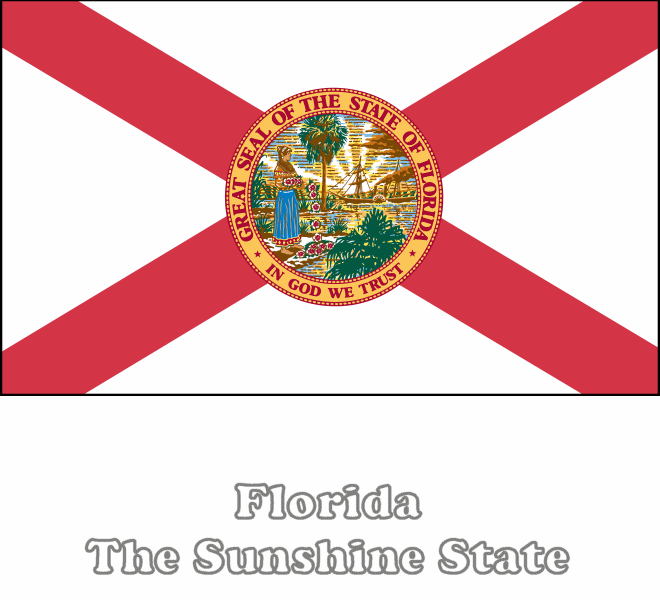 Florida Law
The following information was excerpted from The 2006 Florida Statutes, Title 4, Chapter 15.
TITLE IV. EXECUTIVE BRANCH.
CHAPTER 15. SECRETARY OF STATE.
15.012 State flag.--The state flag shall conform with standard commercial sizes and be of the following proportions and description: The seal of the state, in diameter one-half the hoist, shall occupy the center of a white ground. Red bars, in width one-fifth the hoist, shall extend from each corner toward the center, to the outer rim of the seal.
History.--s. 2, ch. 70-300.
15.02 Custodian of state flag; state papers; state laws and legislative documents.--The Department of State shall have custody of the state flag; of all books, papers, files, and documents belonging to the office of Secretary of State; and of the laws of the state and books, papers, journals, and documents of the Legislature.
History.--s. 3, ch. 1, 1845; RS 74; GS 75; RGS 89; CGL 111; s. 2, ch. 28086, 1953; ss. 10, 35, ch. 69-106.