Additional Information
Channel Bass - North Carolina State Fish: North Carolina state symbols from the North Carolina Department of the Secretary of State.
Red Drum: Wildlife profile from the North Carolina Wildlife Resources Commission.
Sciaenops ocellatus: Profile from the Smithsonian Marine Station at Fort Pierce, Florida.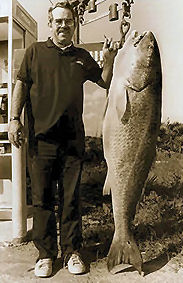 Credit: N.C. Division of Marine Fisheries
Red Drum: North Carolina Department of Environment and Natural Resources: Division of Marine Fisheries.
Sciaenops ocellatus (Linnaeus, 1766): Froese, R. and D. Pauly. Editors. 2009.FishBase. World Wide Web electronic publication. www.fishbase.org, version (01/2009).
Sciaenops ocellatus (Linnaeus, 1766): Integrated Taxonomic Information System (ITIS) Here you will find authoritative taxonomic information on plants, animals, fungi, and microbes of North America and the world.
State Fish: Complete list of official state fish.
More symbols & emblems: Complete list of official North Carolina state symbols.
Fishing: Fishing opportunities in North Carolina abound. Whether you are fishing for native brook trout in a cold mountain stream, lunker largemouth bass in a piedmont reservoir, brawny striped bass in a river or you just want to take your kids fishing in a local pond, our state's waters offer diverse angling opportunities for everyone - North Carolina Wildlife Resources Commission.
North Carolina Angler: Your online guide to fishing in North Carolina.
Ken Schultz's Fishing Encyclopedia, by Ken Schultz. 1760 pages. Wiley; 1 edition (November 1, 1999) Ken Schultz's Fishing Encyclopedia is the new standard for knowledge on fishing and everything related to it. With complete, insightful information for both freshwater and saltwater anglers at all levels of experience, it is the only authoritative, and up-to-date fishing encyclopedia available. More than 2,000 detailed entries and over 1,400 color illustrations and photos cover every aspect of fishing today, including fish species, equipment, places, techniques, and a wide array of other information.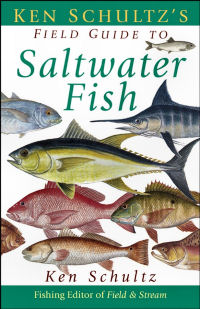 Guide to Saltwater Fish
by Ken Schultz
Ken Schultz's Field Guide to Saltwater Fish, by Ken Schultz. 288 pages. Wiley (December 29, 2003) Before you head out to the open seas, listen up: Your tackle box is not complete without Ken Schultz's Field Guide to Saltwater Fish! Written by one of the foremost experts in sportfishing, this colorful reference provides anglers and fish enthusiasts of all levels an easy-to-use, indispensable guide to help you identify and learn about the most common species found off the North American coastlines-from albacore to yellowtail.
Saltwater Fishing Made Easy, by Martin Pollizotto. 384 pages. International Marine/Ragged Mountain Press; 1 edition (March 10, 2006) This authoritative guide will help you bring in bigger and better fish every time you cast your line. Saltwater Fishing Made Easy is your all-in-one resource for fishing methods and techniques, tackle and bait, and, most important, the fish themselves.
Saltwater Fishing. Tackle, Rigging, How & When to Fish, by Jack Zinzow. 64 pages. Windward Pub Co; 1st edition (November 1, 1992) A valuable resource on fishing line, rods, reels, knots, terminal tackle, and lures used in saltwater fishing. Other subjects include information on where to fish, the techniques and conditions that affect fishing, the best ways to fish both on land and from a boat, and tips on catching different species on fish.
Fly Fishing in Saltwater, by Lefty Kreh. 336 pages. The Lyons Press; 1st edition (September 1, 2003) For the subspecies of saltwater angler who insists on doing his fishing with flies, Kreh is the guru and this is the holy book. Now in its third revised edition, Fly Fishing in Salt Water first surfaced in the late '60s when the idea of fishing the seas with a fly for bluefish, stripers, bonito, and bigger game like tarpon and tuna was not only novel, it was sneered at. Fly-fishing in saltwater is still a relatively new frontier, but time has proven Kreh a visionary and the virtual father of the sport, and this how-to remains an essential part of a saltwater fly-angler's tackle.
Essential Saltwater Flies, by Ed Jaworowski. 128 pages. Stackpole Books (January 10, 2008) If you're unsure about what patterns to use for fly-fishing saltwater, this book gives the answers. Featuring fish-approved flies, razor-sharp photos, and clear tying instructions, it's the essential tool for serious saltwater fly fishers. --Lefty Kreh
Complete line of fishing equipment
including rods, reels, rod and reel combinations, fly fishing gear, bait and spin casting rods and reels, ice fishing equipment, lures and flies, and other accessories. All major brands.
Custom Search