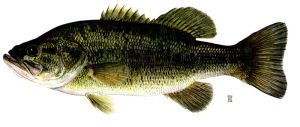 Georgia State Fish: Largemouth Bass
Courtesy: N.Y. Department of Conservation
Georgia Law
The following information was excerpted from the Georgia Code, Title 50, Chapter 3.
TITLE 50 - STATE GOVERNMENT.
CHAPTER 3.
SECTION 50-3-52.
O.C.G.A. § 50-3-52 (2007)
§ 50-3-52. State fish
The largemouth bass is designated as the official Georgia state fish.
HISTORY: Ga. L. 1970, p. 846.
Additional Information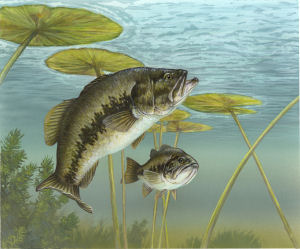 Georgia State Fish: Largemouth Bass
Courtesy: Timothy Knepp - U.S. Fish & Wildlife Service
State Fish: State Symbols. Georgia Secretary of State.
Kids Fishing: Georgia Department of Natural Resources: Wildlife Resources Division.
Micropterus salmoides (bigmouth bass): University of Michigan Museum of Zoology: Animal Diversity Web.
Micropterus salmoides - (Lacepède, 1802) : NatureServe - A network connecting science with conservation.
Micropterus salmoides (Lacepède, 1802): Integrated Taxonomic Information System, National Museum of Natural History, Washington, D.C.
State Fish: Complete list of official state Fish.
More symbols & emblems: Complete list of official Georgia state symbols.
Bass Fishing in Georgia: A Comprehensive Guide to Public Lakes, Reservoirs, and Rivers, by Jimmy Jacobs. 212 pages. Peachtree Publishers; 1 edition (April 1998) An in-depth, easy-to-use guide detailing the best spot in Georgia to catch bass, which provides profiles of the state's public waters and the bass species that inhabit them.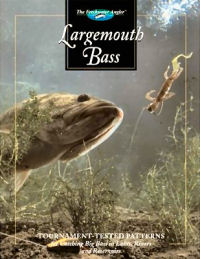 Freshwater Angler - Largemouth Bass
by Don Oster
Largemouth Bass: Tournament-Tested Patterns for Catching Big Bass in Lakes, Rivers, and Resevoirs, by Don Oster. 160 pages. Creative Publishing international (January 1, 2001) Features tips from today's most successful bass pros -- Amazing photography of largemouth bass in their natural habitat.
What Fish Don't Want You to Know: An Insider's Guide to Freshwater Fishing, by Frank P. Baron. 176 pages. International Marine/Ragged Mountain Press; 1 edition (August 27, 2003) Anyone can toss a line into the water and get lucky once in a while, but if you want to catch more and bigger fish and have more fun doing it, you need to learn What Fish Don't Want You to Know. Whether you're new to fishing or an accomplished angler, this comprehensive and entertaining guide will improve your chances every time you cast a line into fresh water.
Kevin Vandam's Bass Strategies: A Handbook for All Anglers, by Kevin VanDam, Louie Stout. 210 pages. Kvd Publications (January 1996) The nation's most revered bass angler reveals everything you need to know to catch more bass from reservoirs, natural lakes, and rivers. In addition to dozens of tips for finding and catching bass, VanDam analyzes the dilemmas anglers face and how to overcome them.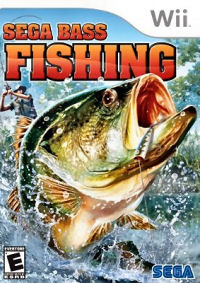 Sega Bass Fishing
Roland Martin's 101 Bass-Catching Secrets, by Roland Martin. 448 pages. Skyhorse Publishing; 2nd Ed edition (April 22, 2008) Both practical and discursive, Martin not only discusses why bass strike, how to use live bait, plugs, and spinners, tricks for night fishing, and how to fish logs, weeds, rocks, and trees; he also recounts how he once fished five rods at once during a school feeding frenzy, and how fellow legend Bill Dance charmed him out of a spinnerbait and beat him with it in a tournament. Full of information and great stories, Roland Martin's 101 Bass-Catching Secrets is the best guide available to help fishermen land more bass, and a revealing look at the exciting world of professional fishing.
Bassmaster, [ Magazine Subscription ] Bassmaster is the official magazine of BASS, a worldwide membership of more than = million bass anglers. Its purpose is to educate, inform and entertain while promoting and enhancing the sport of bass fishing. Bassmasterb is filled with tips and techniques to help you catch more and bigger bass.
Sega Bass Fishing, [ Video Game ] With over 20 different types of lures to choose from, budding anglers can cast off using the Wii Remote to try and land one of four different types of freshwater bass. SEGA Bass Fishing also offers players the freedom to select time-of-day and season during play, which impacts the activity of the fish, their appetite, and their depth. Featuring 15 beautifully designed lake environments, SEGA Bass Fishing also has four fun-filled game modes including Arcade, Tournament, Practice and Nature Trip.
Complete line of fishing equipment
including rods, reels, rod and reel combinations, fly fishing gear, bait and spin casting rods and reels, ice fishing equipment, lures and flies, and other accessories. All major brands.
Custom Search