Additional Information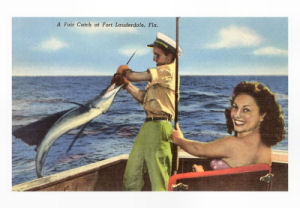 Florida State Saltwater Fish: Atlantic Sailfish
Atlantic Sailfish Prints & Photographs
The State Saltwater Fish: Florida Department of State: State Symbols.
Sailfish: Florida Fish and Wildlife Conservation Commission: Marine Fisheries Management.
Sailfish: Florida Museum of Natural History.
Take a Kid Fishing In Florida: Florida Fish and Wildlife Conservation Commission: Freshwater Fisheries Management. Although, under the auspices of the Freshwater Fisheries Management team, information is provides for saltwater fishing as well.
Istiophorus platypterus (Atlantic sailfish): University of Michigan Museum of Zoology: Animal Diversity Web.
Istiophorus albicans Atlantic Sailfish: MarineBio.org species profile.
Istiophorus platypterus (Shaw in Shaw and Nodder, 1792): Integrated Taxonomic Information System (ITIS) Here you will find authoritative taxonomic information on plants, animals, fungi, and microbes of North America and the world.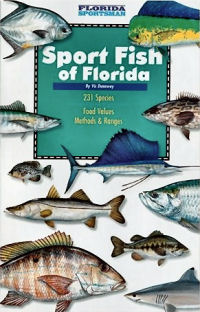 Sport Fish of Florida
by Vic Dunaway
State Fish: Complete list of official state Fish.
More symbols & emblems: Complete list of official Floridia state symbols.
Ken Schultz's Field Guide to Saltwater Fish, by Ken Schultz. 288 pages. Wiley (December 29, 2003) Before you head out to the open seas, listen up: Your tackle box is not complete without Ken Schultz's Field Guide to Saltwater Fish! Written by one of the foremost experts in sportfishing, this colorful reference provides anglers and fish enthusiasts of all levels an easy-to-use, indispensable guide to help you identify and learn about the most common species found off the North American coastlines-from albacore to yellowtail.
Sport Fish of Florida, by Vic Dunaway. Wickstrom Publishers (November 1998) The good, the bad, the ugly--for the very first time, they're all here together in a book of their own, a book that illustrates and describes virtually every kind of fish an angler in Florida--or the Bahamas or Caribbean Islands--could expect to find on the end of a line. In this book you'll find the scoop on every hook-and-line species from the mightiest Marlin to the lowliest Lizardfish, along with advice on how to catch each one and how good it is to eat.
Saltwater Game Fishes of the World: An Illustrated History, by Bob Dunn, Peter Goadby. 304 pages. Australian Fishing Network (October 2000) This is a book for all those who love the great oceanic and inshore fishes of the sea. It is a book, not only for anglers, but for marine scientists, nature lovers and seafarers.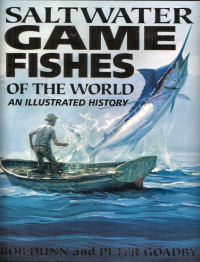 Saltwater Game Fishes of the World
by Bob Dunn & Peter Goadby
Fly Fishing in Saltwater, by Lefty Kreh. 336 pages. The Lyons Press; 1st edition (September 1, 2003) Kreh is the guru and this is the holy book. Fly Fishing in Salt Water first surfaced in the late '60s when the idea of fishing the seas with a fly for bluefish, stripers, bonito, and bigger game like tarpon and tuna was not only novel, it was sneered at. Fly-fishing in saltwater is still a relatively new frontier, but time has proven Kreh a visionary and the virtual father of the sport, and this how-to remains an essential part of a saltwater fly-angler's tackle.
Ken Schultz's Fishing Encyclopedia, by Ken Schultz. 1760 pages. Wiley; 1 edition (November 1, 1999) Ken Schultz's Fishing Encyclopedia is the new standard for knowledge on fishing and everything related to it. With complete, insightful information for both freshwater and saltwater anglers at all levels of experience, it is the only authoritative, and up-to-date fishing encyclopedia available. More than 2,000 detailed entries and over 1,400 color illustrations and photos cover every aspect of fishing today, including fish species, equipment, places, techniques, and a wide array of other information.
Complete line of fishing equipment
including rods, reels, rod and reel combinations, fly fishing gear, bait and spin casting rods and reels, ice fishing equipment, lures and flies, and other accessories. All major brands.
Custom Search