Additional Information
State Butterfly: Georgia Secretary of State: State Symbols.
Papilio glaucus: University of Michigan Museum of Zoology: Biodiversity Web.
Eastern Tiger Swallowtail - Papilio glaucus: NatureWorks from New Hampshire Public Television.
Papilio glaucus: Butterflies and Moths of North America - Occurrence maps, species accounts, checklists, and photographs.
Papilio g. glaucus Linnaeus, 1758: Butterflies of America - Complete Interactive Listing of American Butterflies.
Papilio glaucus: CalPhoto photographs. The Biodiversity Sciences Technology group (BSCIT), a part of the Berkeley Natural History Museums at the University of California, Berkeley.
State butterflies: Complete list of official state butterflies.
More symbols & emblems: Complete list of official Georgia state symbols.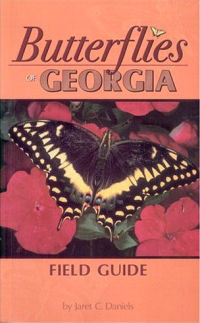 Butterflies of Georgia Field Guide
by Jaret C. Daniels
Butterflies of Georgia Field Guide, by Jaret C. Daniels. 412 pages, Adventure Publications (August 2, 2004) Perfect for backyard or field use, this guide features large, full-color photographs of each butterfly plus an illustration that points out key identification marks. Each entry is arranged by color, features a life-sized silhouette, and includes detailed information, helpful inset images and more.
Where Butterflies Grow , by Joanne Ryder, 32 pages. Puffin (June 1, 1996) Reading level: Ages 4-8. In a field of lacy leaves, a small caterpillar hatches, grows, and sheds its skin, becoming a smooth, green creeper. It eats and changes some more, then in a sequence of remarkable close-ups, spins a silken sling in which to pupate--until it finally bursts forth as a brilliant black swallowtail butterfly. Includes suggestions on how children can grow butterflies in their own gardens.
I Wish I Were a Butterfly, by James Howe. 40 pages. Voyager Books (February 28, 1994) Reading level: Ages 4-8. After the frog at the pond's edge tells him that he's ugly, the cricket of Swampswallow Pond loses his zest for life and for singing. The glowworm and the ladybug try to persuade the cricket that he's just as good as the rest of them, while the dragonfly declares, "Wishing is a waste of time." Finally, the Old One, a spider who lives on the other side of the pond, spins a wise tale about the real beauty of friendship and convinces the cricket to sing again. A simple fable that deserves to stay in print a long, long, time.
Peterson First Guide to Butterflies and Moths, by Paul A. Opler, edited by Roger Tory Peterson. 128 pages, Houghton Mifflin Harcourt; 2nd edition (February 20, 1998) Peterson First Guides are the first books the beginning naturalist needs. Condensed versions of the famous Peterson Field Guides, the First Guides focus on the animals, plants, and other natural things you are most likely to see. They make it fun to get into the field and easy to progress to the full-fledged Peterson Guides. DESCRIPTION
The Butterfly Book: A Kid's Guide to Attracting, Raising, and Keeping Butterflies, by Kersten Hamilton. 40 pages. Avalon Travel Publishing; 1st edition (March 26, 1997. Reading level: Ages 9-12. An introduction to the life cycle, food, habitat, and behavior of butterflies shares advice on butterfly observation and conservation, explaining how to design a garden to attract butterflies and offering a color identification guide to twenty common North American butterflies.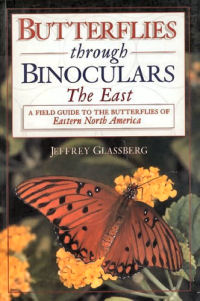 Butterflies Through Binoculars-The East
by Jeffrey Glassberg
Butterflies through Binoculars - The East: A Field Guide to the Butterflies of Eastern North America, by Jeffrey Glassberg. 400 pages. Oxford University Press, USA (January 1999) This magnificent field guide greatly expands on Butterflies Through Binoculars: The Boston-New York-Washington Region--identified by Defenders of Wildlife Magazine as "the first to focus on netless butterflying" and called " a clear winner" by the Audubon Naturalist. Glassberg here shows us how to find, identify, and enjoy all of the butterflies native to the eastern half of the United States and southeastern Canada.
National Audubon Society Field Guide to North American Butterflies, 928 pages. Knopf; Chanticleer Press ed edition (July 12, 1981) A handy field guide with more than 1,000 photographs of all the butterflies of North America north of Mexico, including all true butterflies, the most common skippers, and many migrants and strays. The color plates are visually arranged by shape and color, and thumb-tab silhouettes provide a convenient index to identification of butterflies in the field. The species account for each butterfly provides measurements, descriptions of each stage of the life cycle, and information on coloring or distinguishing markings, flight period, habitat, and range.
A Field Guide to Eastern Butterflies, by Paul A. Opler, edited by Roger Tory Peterson. 512 pages. Houghton Mifflin Harcourt; Rev Sub edition (May 15, 1998) This newly designed field guide features descriptions of 524 species of butterflies. One hundred color photographs as well as 348 color range maps accompany the species descriptions. The 541 exquisite color paintings clearly show even the most minute field marks. Introductory chapters include information on butterfly gardening, habitats, and conservation.
The Life Cycles of Butterflies: From Egg to Maturity, by Judy Burris and Wayne Richards. 160 pages. Storey Publishing, LLC (April 1, 2006) This book describes in text and photos the butterflies that commonly visit gardens in the eastern states. Beginning with a chapter that looks at the basics of butterfly egg laying, the growth of caterpillars, metamorphosis, and butterfly behavior, the authors move to the heart of the book. With exquisite close-up photography, the eggs, caterpillars, chrysalids, and adults of 23 well-known butterflies are revealed.
Attracting Butterflies & Hummingbirds to Your Backyard, by Sally Roth. 304 pages. Rodale Books (October 24, 2002) If you have never read one of Ms. Roth's books you are in for a real treat. Her writing style is wittily informative which makes us enjoy our lessons. She not only teaches us which plants to use in our gardens to attract both these winged wonders, but how to create the kinds of gardens they prefer. Shelter, water, host plants for butterfly caterpillars, and even fruit feeders and hibernating boxes are among the topics within these pages.
Stokes Butterfly Book: The Complete Guide to Butterfly Gardening, Identification, and Behavior, by Donald & Lillian Stokes, Ernest Williams. 96 pages, Little, Brown and Company; 1st edition (October 17, 1991) This popular guide to attracting, identifying, and enjoying all the common North American species of butterflies includes 149 full-color photos, 65 range maps, and two sample garden plans.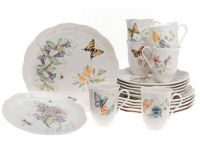 Lenox Butterfly Meadow
Lenox Butterfly Meadow Tableware Collection
Summer teas and spring brunches call for dinnerware as fresh and lovely as the weather. The Lenox Butterfly Meadow pattern features a garden motif of butterflies, bumblebees, ladybugs, and blossoms set against an ivory background. The delicately rendered images, created by Lenox artist Louise Le Luyer, vary between pieces for a charmingly playful table. Crafted from fine bone porcelain, the pattern has gently scalloped rims and is safe in the oven, microwave, and dishwasher. Like all Lenox dinnerware, the Butterfly Meadow line is covered by a lifetime replacement policy.