Montana Law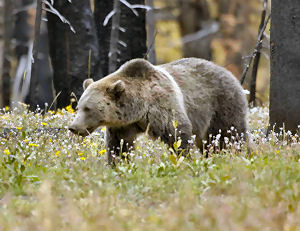 Grizzly Bear Ursus arctos horribilis
Photograph: USFWS photo by (Terry Tollefsbol)
The following information was excerpted from the Montana Revised Statutes, Title 2, Chapter 10.
TITLE 1. GENERAL LAWS AND DEFINITIONS
CHAPTER 1. GENERAL PROVISIONS
Part 5. State Symbols -- Official Designations
SECTION 1-1-508
1-1-508. State animal. The grizzly bear, Ursus arctos horribilis, as preferred by a vote of Montana schoolchildren, is the official Montana state animal.
History: En. Sec. 1, Ch. 407, L. 1983.
Additional Information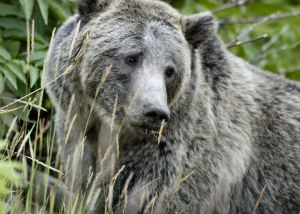 Grizzly Bear Ursus arctos horribilis
Photograph: USFWS photo by (Terry Tollefsbol)
State Animal Grizzly Bear: Montana Office of Tourism.
Grizzly Bear, endangered subspecies (Ursus arctos horribilis): National Wildlife Foundation's eNature.com field guide.
Ursus arctos (Brown Bear, Grizzly Bear): Information about brown bears from the Smithsonian National Museum of Natural History.
Ursus arctos (Brown bear) Information and pictures from the University of Michigan Museum of Zoology's Animal Diversity Web..
Ursus arctos horribilis (Zimmermann, 1780) Ord, 1815: Integrated Taxonomic Information System (ITIS) Here you will find authoritative taxonomic information on plants, animals, fungi, and microbes of North America and the world.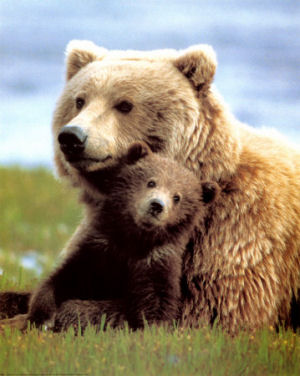 Grizzly with cub
Photobraphs, prints, and posters
Grizzly Bear: Montana Fish, Wildlife & Parks - Threatened and Endangered Species.
Grizzly Bear Recovery: U.S. Fish & Wildlife Service - Mountain Prairie Region: Endangered Species Program.
Montana Grizzly Encounter: Meet Sheena, Christi, and Brutus, just 10 minutes from Bozeman.
Searching for Grizzly Bears in Montana: Postcards From the Field: by Tana Kappel, The Nature Conservancy.
State Animals: Complete list of official state animals.
More symbols & emblems: Complete list of official Montana state symbols.
Face to Face with Grizzlies, by Joel Sartore. 32 pages. National Geographic Children's Books (May 8, 2007) Reading level: Ages 9-12. Ever been face-to-face with a grizzly bear? Joel Sartore has-and he lived to tell this and other great tales in Face to Face with Grizzlies. Through stunning photography and engaging storytelling, this National Geographic expert takes you into the bears' world. Witness a mother bear charge a human intruder. Watch male bears battle. Find out the grizzly's idea of a fast-food take-out.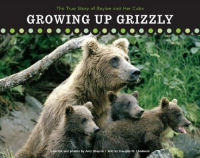 Growing Up Grizzly
Amy Shapira, Douglas H. Chadwick
Growing Up Grizzly: The True Story of Baylee and Her Cubs, by Amy Shapira, Douglas H. Chadwick. Reading level: Ages 4-8, 48 pages, Falcon; First edition (February 1, 2007) Follow the true story of a young bear all alone in the Alaskan wilderness and the big-hearted grizzly family that embraced him as their own.
The Grizzly Bear Family Book, by Michio Hoshino. 56 pages. North-South Books (March 1, 1997) Reading level: Ages 4-8. Michio Hoshino spent almost a year photographing bears in the Alaskan wilderness. In this personal book, he weaves facts about grizzly bears into a compelling narrative which he illustrates with beautiful color photographs.
The Grizzly Almanac: A Fully Illustrated Natural and Cultural History of America's Great Bear, by Robert H. Busch. 224 pages. The Lyons Press; 1st edition (May 1, 2004). Few animals are as awe-inspiring as the grizzly bear, the largest terrestrial carnivore in North America. The Grizzly Almanac is an up-close, richly illustrated look at the animal known to biologists as Ursus arctos horribilis, the "horrible Northern bear." A powerful symbol of wilderness, the grizzly was once widespread from Alaska to Mexico. This comprehensive volume is essential for anyone who wishes to understand the grizzly and its world.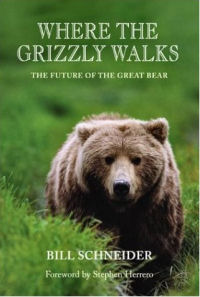 Where the Grizzly Walks
by Bill Schneider
In the Company of Wild Bears: A Celebration of Backcountry Grizzlies and Black Bears, by Howard Smith. 248 pages. The Lyons Press; 1 edition (September 1, 2006) Smith combines accounts of his true-life encounters with bears across North America, from Alaska's Talkeetna Mountains to the Grand Teton and Shenandoah National Parks, with no-nonsense sidebars that dispense useful information for people interested in seeing bears firsthand. Supported on almost every page by Francis's gorgeous photos, the book more than meets Smith's goal of providing an account that is "representative of what it means to walk in bear country."
Where the Grizzly Walks: The Future of the Great Bear, by Bill Schneider, 302 pages, Falcon; First edition (December 1, 2003) Admired for its majesty and often feared for its strength, speed, and supposed aggressiveness, the grizzly bear was once unchallenged as the great apex predator of the American West. But by the 1970s, hunting and habitat loss had reduced its numbers in the lower 48 states to a mere 800 animals occupying just two percent of the bear's former range. Where the Grizzly Walks assesses the bear's current status and its uncertain future at the beginning of the 21st century.
Grizzly Wars: The Public Fight over the Great Bear , by David Knibb. 284 pages. Eastern Washington University Press (November 30, 2008) Long a magnificent symbol of the wild, grizzly bears are perhaps the most controversial species in North America. In Grizzly Wars, David Knibb explores the policy and political issues involved in managing and attempting to save any species, especially one that can pose a grave danger to human beings. The author looks at the grizzly bear recovery areas on both sides of the border, from the North Cascades to the Northern Rockies.